Aid tops billion dollars for tsunami victims
(Agencies)
Updated: 2005-01-01 14:49
Aid pledges for Asia's tsunami victims topped 1.1 billion dollars on a tide of global New Year sympathy, but there was no respite for survivors holding mass burials as the death toll edged towards 126,000.
The United Nations warned the numbers killed by the wall of water could rise to 150,000, with the vast majority in Indonesia, although it said the true figure may never be known nearly a week after mammoth waves tore apart the coasts of the Indian Ocean.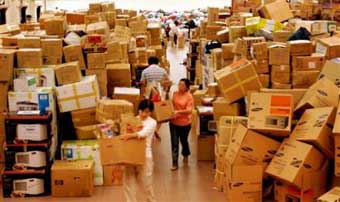 Malaysians carry foods and clothes to be supplied for the Tsunami victims across Asia at a temple in Kuala Lumpur, Malaysia, Friday, Dec. 31, 2004. Government officials in this mostly Muslim country banned firework displays and canceled public concerts and celebrations as a sign of mourning for special prayers nationwide to mark a somber New Year's Eve following the region's earthquake-tsunami disaster. [AP]

The world's most powerful earthquake in 40 years that triggered the tsunamis has set off a chain reaction of donations, with governments and the public racing to contribute to help the millions of homeless.

"We are now counting new pledges by the hour. We're now between 1.1 billion and 1.2 billion dollars," the UN's emergency relief coordinator, Jan Egeland, told reporters in New York.

US President George W. Bush, facing allegations at home and abroad that the United States was "stingy," upped US assistance ten-fold for victims of the "epic disaster" to US$350 million.

"The disaster around the Indian Ocean continues to grow both in size and scope," Bush said in a statement.

China has promised a significant US$60.5 million, making it the biggest donor after the United States, Britain and Sweden -- the European country that looks likely to suffer the biggest death toll in the disaster.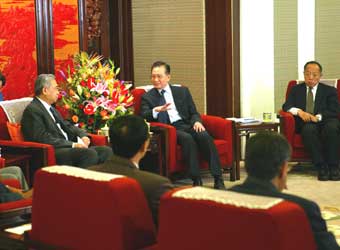 Chinese Premier Wen Jiabao (C) meets with envoys from the tsunami-hit countries in Beijing December 31, 2004. Wen said China will donate an additional 500 million yuan (US$60 million) in aid as well dispatching more rescue teams to tsunami-hit countries in Southern and Southeastern Asia and Africa. [newsphoto]

New Year's celebrations in much of the world were muted or transformed into fund-raisers, with Sydney's fireworks show alone generating more than 850,000 US dollars to the disaster appeal.

US Secretary of State Colin Powell met UN Secretary General Kofi Annan in New York to discuss coordination of relief efforts ahead of a summit on disaster relief scheduled in Jakarta on Thursday.

The prime ministers of Australia and Japan, two members of a US-led tsunami aid coalition announced by Bush, were set to head to Jakarta for the summit, press reports in the two countries said.

Meanwhile, Indonesian President Susilo Bambang Yudhoyono left on Saturday for a brief visit to Meulaboh, a town which was virtually destroyed with more than 10,000 deaths.

Indonesia's westernmost Aceh province, considered the ground zero of the tsunami destruction, continues to be shaken by major aftershocks, with three measuring 5.0 or above on the Richter scale recorded overnight.

Thailand on Saturday said more than 4,800 people had died in the tidal wave disaster -- over half of them foreign tourists -- pushing the confirmed death toll from the international catastrophe near 126,000.

But the UN's Egeland said the true figure across Asia may never be known.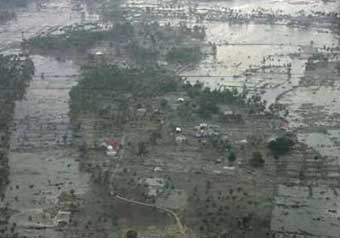 Flattend houses are seen from the air in the tsunami-struck city of Banda Aceh, Indonesia, December 31, 2004. Asia's tsunami death toll soared above 125,000 on December 31 as millions struggled to find food and clean water and persistent rumors of new giant waves sent many fleeing inland in panic. [Reuters]

"What we see is that the figures may be approaching 150,000 dead. The vast majority of those are in Indonesia and Aceh, which is the least assessed area because of logistical constraints," he told reporters.

Indonesian Health Minister Siti Fadilah Supari said officials would start giving only general estimates on the death toll as it was too high to be exact.

Prime Minister Thaksin Shinawatra said Thailand's final death toll is likely to top 7,000 to 8,000.

"We expect to find more corpses as everywhere we went we found bodies," Thaksin said, wishing Thais a happier 2005 after a year dogged by misfortune.

He called for the setting up of a tsunami warning system, amid a chorus of international outrage on why the Indian Ocean lacked the technology to predict seismic waves of the type seen in the Pacific.

In another shortcoming, Aceh and northern Sri Lanka have both been entrenched in long-running insurgencies and have infrastructures woefully ill-suited to a quick dispatch of relief.

In Banda Aceh, the westernmost part of Indonesia which lies closest to the epicenter of last Sunday's violent earthquake, some 15,000 corpses have been dumped in one grave since the region was ravaged by the tsunamis.

Community volunteers spend their days picking bodies off the streets and piling them into the pits, offering releatives lumps of dirt so they can feel the earth where their relatives may have been buried.

Muhammad Kasim, 53, who is in charge of the grave, said it had been impossible to name the dead being brought in by a constant procession of trucks.

"Their villages are destroyed, so their identities can't be known," he said.

A truck backed up to the pit with one body in a black plastic bag partly hanging off, its leg flopping.

An Indonesian Marine kicked the bag down the slope and it opened to expose dark hair. More bags tumbled down the slope after it, splitting open.

"It's difficult if they're in plastic like that," 24-year-old Second Sergeant Nursyam said.

The United Nations refugee agency said it was airlifting 400 tonnes of equipment, including tents, blankets and cooking kits, to meet the needs of 100,000 people in Aceh.

"Their homes and entire towns and villages have been obliterated by the earthquake and tidal waves, so people are in desperate need of emergency shelter," UN High Commissioner for Refugees Ruud Lubbers said.

The mass graves are leading to fears of an outbreak of disease, and to agonizing questions over whether to dispose of bodies quickly or to allow families the chance to try to identify the badly decomposed remains.

In Mullaittivu, a town in the northeastern corner of Sri Lanka devastated by the tsunami, three people have died of a flu that has puzzled the Tamil Tiger rebels in control of the area.

Not taking any chances, guerrillas in gloves and surgical masks are looking for corpses by tracking down the stench.

"You find the corpses by the smell. Since yesterday they have begun to stink very badly. They are extremely decomposed," Tiger commander Vaneer Sivanayaham said.

In government-controlled southern Sri Lanka, foreigners caught up in the tsunami have been pitching in to the huge effort to clean up the island, which fears for the future of its lucrative tourism industry.

Britons Ian and Anna Betts said locals and tourists have been paying themselves for diesel and drivers to get private earthmovers to shift the rubbish from the streets due to a dire lack of official assistance.

"All this money they say on the news is being donated, it's not getting down here. They could use any trucks. Where are the trucks? Where's the food?" Ian Betts said.

The couple, who have friends in hard-hit Thailand they are not sure have survived, said they saw no point leaving.

"We didn't lose anything. We're helping out -- not leaving like the people on the package tours whose buses have come in to take them out again. We don't mind because we're travelling for a long time," Ian said.

Sri Lankan government officials say nearly 50 percent of the tourists have left the country in the last few days following Sunday's tsunamis.

There were around 19,000 foreign tourists on the tropical island when the sea surges killed nearly 29,000 people, including over 100 foreigners.

In Thailand, the interior ministry said foreigners made up 2,407 of the 4,812 dead, or over half.




Today's Top News
Top World News

China donates US$60 million more to tsunami victims




Hu delivers New Year's message




FM confirms 4th death of national in tsunami




US barred from limiting China textiles




Russia orders oil pipeline to Pacific




Yanukovych resigns, vows to keep fighting