Yanukovych resigns, vows to keep fighting
(Agencies)
Updated: 2005-01-01 08:30
Ukraine's Prime Minister Viktor Yanukovych resigned Friday and grudgingly admitted he has little hope of winning the presidency of this ex-Soviet republic. But he vowed to continue his court battle to overturn last week's elections that handed victory to his pro-Western opponent, Viktor Yushchenko.
Yanukovych's resignation, which appeared to take effect immediately, came as Yushchenko and Georgian President Mikhail Saakashvili prepared to welcome the New Year side-by-side on Kiev's Independence Square, the epicenter of mass protests that overturned the political order in this nation of 48 million. The joint appearance of two post-Soviet politicians who have openly and actively courted the West is certain to further irk the Kremlin, which had strongly supported Yanukovych.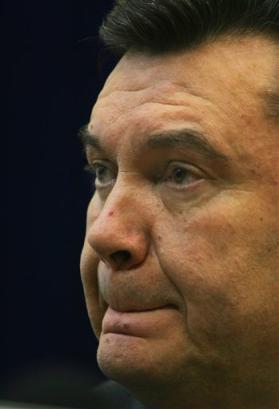 Prime Minister Viktor Yanukovych reacts while listening to questions during his news conference in Kiev Monday, Dec. 27, 2004 file photo. Prime Minister Viktor Yanukovych resigned Friday, Dec. 31, 2004, making a grudging admission that he was unlikely to reverse the presidential election victory of his rival and saying he could not work under him. [AP]

Yushchenko soundly won the court-ordered presidential revote, but Yanukovych has refused to recognize the results, vowing to challenge the results in the Supreme Court. His resignation during a New Year's Eve address to the nation came as his first significant concession since Sunday's vote.

"We are still fighting, but I don't have much hope," Yanukovych said. "I will act as an independent politician, as the rightful winner of the legitimate Nov. 21 election."

Yanukovych claimed victory in that vote, but hundreds of thousands of Ukrainians flooded Kiev's streets to protest against massive fraud. After weeks of protests dubbed the "Orange Revolution" because of Yushchenko's campaign color, the court ruled that the election was corrupted, annulled Yanukovych's victory and ordered Sunday's revote.

Yanukovych has seen much of his support fall away since, losing the backing of outgoing President Leonid Kuchma and watching as many of his top advisers desert him. Parliament passed a vote of no-confidence in his government on Dec. 1, but he ignored it, calling it illegal.

When Yanukovych returned this week after taking a leave for campaigning, the opposition blockaded his government headquarters, refusing to let him convene a Cabinet session. The meeting went ahead in another building without him.

"I believe it is impossible to have any position in a state that is ruled by such officials," he said, in an apparent reference to Kuchma. "This is my personal position."

The resignation immediately triggers the dissolution of the entire 20-member Cabinet. According to the constitution, Kuchma must formally accept Yanukovych's resignation and appoint a new government within 60 days — though he is likely to appoint a caretaker until a new president is inaugurated.

Yuriy Kliuchkovskiy, lawmaker and Yushchenko's ally, called Yanukovych's decision an acknowledgment that his position is "hopeless."

"There is his pride. He didn't want to submit his resignation documents to newly elected President Yushchenko, he decided to submit them to President Kuchma," he said.

Meanwhile, Saakashvili, who was catapulted to power last year in a bloodless revolution that inspired the Ukrainian opposition, made his first stop in Kiev at the opposition's tent camp on Kiev's tree-lined main street. He has displayed his support for Yushchenko by regularly wearing an orange tie.

"I couldn't support you as an official during your revolution, but I was with you and I feel myself again a resident of Kiev," Saakashvili, who studied international law in the Ukrainian capital, told the crowd in Ukrainian.

"Together we are celebrating a free Europe," said Nodar Dumbadze, a member of the Georgian youth movement Kmara that helped lead last year's "Rose Revolution" in Georgia. About 20 Georgian flags flew above the camp, alongside Yushchenko's orange banners.

The bitterly fought presidential race in Ukraine increased tensions between the west and Russia. Russian President Vladimir Putin had rushed to congratulate Yanukovych after his Nov. 21 victory and has accused foreign states of meddling in Ukrainian affairs.

Some Russian politicians have accused the United States of being behind the U.S.-educated Saakashvili's rise to power and of bankrolling the Ukrainian opposition. The Kremlin has seen its relationship with Tbilisi worsen under Saakashvili, as he has moved to boost Georgia's ties with the European Union and the United States to offset the influence of its giant neighbor.

Yushchenko has pledged to nudge Ukraine closer to the West, making it a priority to pursue a future membership in the European Union. He has also left open the possibility of joining NATO at some point.




Today's Top News
Top World News

Nation donates US$60 million more to victims




Hu delivers New Year's message




New Year festivities reined in after tsunami




New laws, rules take effect today




Centre to protect historical heritage




FM confirms 4th death of national in tsunami