Sudan, rebels sign landmark peace deals
(Reuters)
Updated: 2005-01-01 00:11
Sudanese government and rebel officials signed a permanent cease-fire deal Friday and endorsed details on how to implement their peace plan to end a 21-year civil war in southern Sudan, a conflict blamed for 2 million deaths.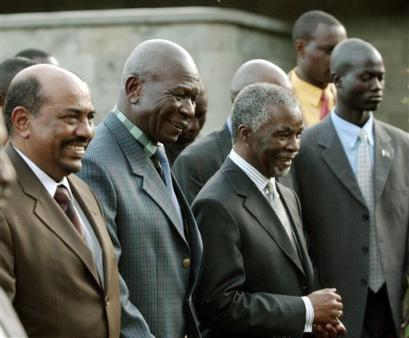 Escorted by security personnel, from left, Sudanese President Omar El Bashir, Kenya's Vice President Moodi Awori and South African President Thabo Mbeki, walk to witness a signing agreement ceremony in Naivasha, Kenya, Friday Dec. 31, 2004. [AP]

The permanent truce will come into force some 72 hours after the deal was signed in Kenya's lakeside town of Naivasha, said Sayed El-Khatib, spokesman of the government delegation at the talks.

United Nations and U.S. officials hope a solution to the civil war in the south will spur an end to the separate conflict between government-backed forces and rebels in the western Darfur region, where disease and hunger have killed 70,000 since March. Nearly 2 million are believed to have fled their homes since the start of the Darfur crisis.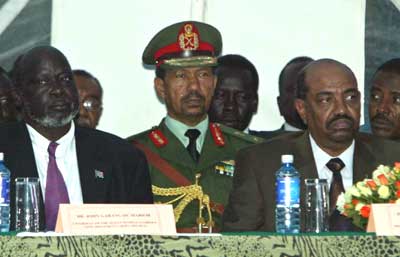 Sudanese President Omar al Bashir (R) sits next to rebel Sudan People's Liberation Movement John Garang (L) during the singing ceremony of two protocols in Naivasha, 90 km (55 miles) west of Nairobi December 31, 2004. Amid singing and whoops of joy, Sudan's government and southern rebels signed the final chapters of a peace deal Friday, paving the way for a comprehensive accord ending Africa's longest-running civil war. [Reuters]

Sudan's two-decade civil war pitted the Khartoum government, led by Arab Muslims who dominated the north, against rebels made up mainly of Christians and animists, who are the majority in the south. The conflict is blamed for more than 2 million deaths, primarily from war-induced famine and disease.

The deals signed Friday clear the way for the warring sides to sign a comprehensive peace deal in early January in the Kenyan capital of Nairobi.

The newly signed agreements detail how to implement protocols worked out during two years of negotiations — concerning how to share power and natural resources, including oil; what to do with their armed forces during a six-year transition period; and how to administer three disputed areas in central Sudan.

The protocols were signed during previous rounds of talks, but the warring sides still had to spell out how the deals would be executed, the government agencies that will be responsible for implementation and the source of funds.

Sudanese government and rebel officials wanted all these issues to be worked out in the peace deal to prevent any side from stalling implementation.

"We now have all the components that will form the comprehensive Sudan peace agreement," chief mediator Gen. Lazaro Sumbeiywo said. "Every topic on our agenda has been discussed and agreed on."

Sudanese President Omar el-Bashir, South Africa's President Thabo Mbeki and Kenyan Vice President Moody Awori observed the signing of the last main protocols.




Today's Top News
Top World News

China donates US$60 million more to victims




Hu delivers New Year's message




New Year festivities reined in after tsunami




New laws, rules take effect today




Centre to protect historical heritage




FM confirms 4th death of national in tsunami