Hu delivers New Year's message
(Xinhua)
Updated: 2005-01-01 00:15
President Hu Jintao delivered a New Year's message Friday evening to all Chinese on the mainland, Hong Kong, Macao and Taiwan, overseas Chinese and friends of different nations on China Radio International (CRI), China National Radio and China Central Television (CCTV).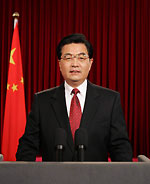 President Hu delivers a new year speak. [Xinhua]

The president reviewed China's achievements scored in "building a relatively prosperous society and pushing forward socialist modernization" in 2004, by taking Deng Xiaoping's Theory and the important thought of "Three Represents" as its guiding ideology and "implementing a scientific concept of development."

"The Chinese of all ethnicities nationwide are uniting and striving to realize China's affluence, rejuvenation, social harmony and people's happiness," he said.

"In the past year, China raised high the banner of peace, development and co-operation by adhering to an independent foreign policy of peace, persevered in taking the road of peace and development, working hard to safeguard world peace and promote a common development, playing a constructive role in a series of major issues concerning global and regional security and development, and advancing friendly exchanges and substantial co-operation between China and other countries," he said.

The president pledged to give priority to "advancing the reform and opening up to the outside world" in the new year, and making "arduous efforts to build a harmonious society and continue pushing forward socialism with Chinese characteristics."

"China will adhere to the policies of 'one country, two system,' 'Hong Kong people governing Hong Kong' and 'Macao people governing Macao' with a high degree of autonomy," he said.

Hu noted that the Chinese mainland "will adhere to the fundamental policy of 'peaceful reunification and one country, two system' and the Eight-Point Proposal on the process to develop cross-strait relations and propel the peaceful reunification of the motherland in the present period," adding that the mainland will continue "to promote cross-strait exchanges in personnel and economic and cultural spheres, and strive for peaceful reunification with the utmost sincerity and effort."

He called for resuming cross-straits talks and negotiation based on the one-China principle as early as possible. "We will never allow anyone to separate Taiwan from China in any form," he said.

At the end of his speech, the president said it is the common aspiration of the people of all countries to safeguard world peace and promote common development.




Today's Top News
Top China News

Hu: China tolerates no attempt to split Taiwan




China donates US$60m more to victims




Aid tops billion dollars for tsunami victims




FM confirms 4th death of national in tsunami




US barred from limiting China textiles




Russia orders oil pipeline to Pacific