PM presses legal case as Ukrainians mark new year
(Agencies)
Updated: 2004-12-31 21:29
KIEV, Ukraine - Prime Minister Viktor Yanukovich on Friday pursued a dogged challenge to his loss in presidential elections while Ukrainians geared up for a tumultuous New Year celebration alongside the preliminary winner.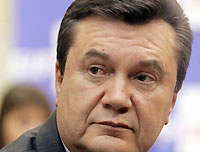 Ukrainian Prime Minister and presidential candidate Viktor Yanukovich looks on during a news conference at his headquarters in Kiev, December 27, 2004. [Retuers]

Preliminary results of last Sunday's vote, ordered after earlier elections were deemed rigged, handed liberal Viktor Yushchenko victory with an eight-point lead over the premier.

But Yanukovich, backed by Russia in the contest, has vowed he will not recognize the result or step down as prime minister.

The Supreme Court rejected efforts to have the vote annulled on procedural grounds. The Central Election Commission, which has turned down a number of his submissions, was examining new arguments.

In Independence Square, focus of weeks of protests in the "orange revolution" backing Yushchenko, preparations were being completed for festivities. Ukrainians eager to put weeks of turmoil behind them intended to turn up en masse.

"We are planning to come to the square," said Natasha, 29, a sales manager in a Western company. "It will be good fun and this year is special for Ukraine. We ought to be there."

Celebrations were to culminate in a midnight appearance by Yushchenko. Also due to appear was Georgian President Mikhail Saakashvili, whose landslide election victory after the "rose revolution" a year ago inspired many activists in Ukraine.

The two men have frequently consulted since Saakashvili came to power after leading the revolt which ousted the ex-Soviet state's veteran President Eduard Shevardnadze.

Saakashvili is also due to meet Ukraine's outgoing president Leonid Kuchma, who initially chose Yanukovich as his successor. PM'S TEAM PURSUES CHALLENGES

Yanukovich's legal team pressed on with its case before the Central Election Commission, citing dozens of procedural violations in Ukraine's 225 regional election jurisdictions.

The Commission Thursday rejected the premier's case concerning the country as a whole, in which he alleged that irregularities had made it impossible to determine a winner.

That ruling could be contested again in the Supreme Court.

"Yanukovich's representatives have said they will appeal the Commission's decision," said court spokeswoman Liana Shlyaposhnikova. "So far we have not received the appeal."

Yushchenko's team says the premier is wasting time.

Further challenges could come once the results are formally proclaimed, delaying the new president's inauguration. There is no indication when that announcement will be made.

The Commission wants to avoid the confusion that occurred after the Nov. 21 poll. Yanukovich was declared the winner, but the Supreme Court overturned the result on grounds of fraud.

The president-elect has in the meantime pushed on with statements about plans to do away with rampant corruption, encourage business and move gradually toward western Europe while cultivating improved relations with Russia.

Canada, influential with its one million ethnic Ukrainians, welcomed Yushchenko's victory, Prime Minister Paul Martin vowing to "continue strengthening Ukraine's governance institutions.

The European Union has offered similar wishes and the United States has said it hopes legal issues would soon be resolved so that Ukrainians could get on with their lives.

Russian President Vladimir Putin, quick to congratulate Yanukovich on the tainted vote, has been silent this time.

The upheaval linked to mass protests has caused disquiet in other ex-Soviet states, where the opposition remains weak.

President Islam Karimov of Uzbekistan, where the opposition was prevented from running in this week's election, denounced "internal instability multiplied by foreign interference."

Kazakhstan's leader Nursultan Nazarbayev, who also tolerates little dissent, said discipline was prized more than democracy.




Today's Top News
Top World News

China to give 500m yuan aid to tsunami victims




Asian tsunami toll jumps to over 125,000




Argentina club fire kills at least 174




Farming trade deficit hits record




China not to adopt dual nationality




Yao Ming tops NBA All-Star voting