China to give 500m yuan aid to tsunami victims
(Xinhua/Agencies)
Updated: 2004-12-31 15:51
Premier Wen Jiabao announced Friday that China will add an additional 500 million yuan (US$60.46 million) of humanitarian aid to the Indian Ocean tsunami victims.
Wen made the announcement while meeting with diplomatic envoys from the tsunami-hit South and Southeast Asian countries and representatives of some international organizations in Beijing.
China has sent out a rescue team and more rescuers are available when needed by disaster-hit countries, Wen said.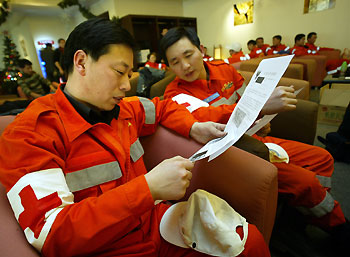 Members of a Chinese search and rescue team with mobile hospital capability read the latest news while waiting for a flight to Aceh, Indonesia, yesterday in Beijing.[Xinhua]
Chinese people are very much concerned with the catastrophe and are greatly sympathetic for the victims, Wen said, expressing his condolence to the victims in the tsunami.
"The Chinese people are very concerned about the sudden disaster and we have deepest sympathy for the people affected," the premier said.
"The people who have been affected are in our minds and in our hearts," Wen said. "On behalf of the Chinese government and people and President Hu Jintao and myself, I would like to express our consolation to the disaster-hit people and our condolences to the families of those who died in the disaster."
The international community has pledged more relief efforts for tsunami-devastated South and Southeast Asian countries as the death toll from the earthquake and tsunamis climbed to more than 115,000 Thursday.
The disaster not only hit the people in South and Southeast Asian countries, but also harmed all the people on this planet, Wen noted.
China has been frequented by natural calamities and has received the humanitarian aids from friendly nations, acknowledged the premier.

China is convinced that under the leadership of their respective governments and with the assistance from the international communities, the tsunami-ravaged countries would recover from the disaster and re-build their home, the Chinese premier said.

He said China is a developing country, but is providing aid out of gratitude for relief it had received for its own disasters.
Beijing is now the third biggest monetary donor behind Britain and Sweden. The United States has made an initial pledge of $35 million.
The death toll from the tsunami, triggered by a magnitude 9.0 earthquake off Indonesia on Sunday, rose to more than 126,000 on Friday in the 13 countries.
"What is particularly encouraging is that the assistance was swift, it was unsolicited and it was timely," said Sri Lankan Ambassador Nihal Rodrigo, whose country posted a death toll of more than 28,500 with over 5,000 missing and almost 890,000 people displaced.
Today's Top News
Top China News

PLA troops active in tsunami relief




Al-Zarqawi reportedly arrested in Iraq




US$3 million private aid ready for victims




Chinese avoid weddings in Year of Rooster




Shares greet 2005 by ending at 5-year nadir




Baghdad governor slain; 5 US troops die