Sharon, Peres reach deal on Israel unity government
(Agencies)
Updated: 2004-12-31 09:26
Israeli Prime Minister Ariel Sharon reached a deal with Shimon Peres on Thursday to name the opposition leader his senior deputy, clearing a key obstacle to a unity government able to abandon the occupied Gaza Strip.
Israeli troops killed nine Palestinians during a raid into Gaza, the bloodiest in two weeks, where fighting has not ebbed despite expectations that moderate Mahmoud Abbas will win a presidential poll to replace Yasser Arafat next month.
Most Israelis want to quit Gaza and right-winger Sharon has been negotiating with centre-left Labour opponents on a unity government able to uproot settlers from the Palestinian territory and a small chunk of the West Bank next year.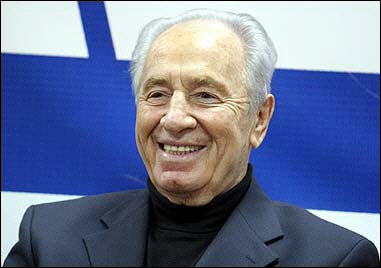 Former Israeli prime minister Shimon Peres smiles during a meeting with students at the headquarters of his Labour party in Tel Aviv. Peres will serve as Israeli Prime Minister Ariel Sharon's number two in a new coalition government. [AFP]

To end legal wrangling over titles, Sharon and Peres agreed that the Labour leader and veteran peacemaker would be the most senior "deputy to the prime minister" in the new coalition.

But the ruling Likud's Ehud Olmert would keep his position as the real next in line to Sharon with the title of "acting prime minister," officials in Sharon's office said.

Olmert would stand in where necessary and take over if Sharon dies.

"The green light has been given for putting together a government," said Michael Eitan, chairman of the parliamentary committee that would otherwise have needed to discuss amending the law.

Israeli commentators said a government could be named as early as Monday.

Sharon's plan is to evacuate 8,000 settlers living among 1.3 million Palestinians in Gaza, captured by Israel in the 1967 war. Four of 120 West Bank settlements would also go.

Meanwhile Israel began a process of compensating settlers slated for removal, striking its first deal with a business at a Gaza industrial zone to move into Israel, an official said.

At the same time Israel said it would give Gaza settlers more money to reinforce their homes against mortar bombs fired by Palestinian militants, media reports said.




Today's Top News
Top World News

Third Chinese confirmed dead; assistance rushing in




Asian tsunami toll jumps to over 125,000




Farming trade deficit hits record




China rings alarm over possible flu pandemic




Yao Ming tops NBA All-Star voting




FM: Six-party talks to advance