Musharraf to stay on as army chief
(Agenices)
Updated: 2004-12-31 09:15
Pakistani President Pervez Musharraf formally told the nation that he would stay on as army chief after controversially breaking an earlier promise to hang up his uniform by the year's end.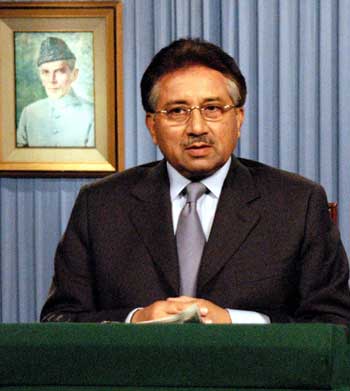 Pakistan's President Pervez Musharraf speaks during a televised address to the nation in Islamabad December 30, 2004. In an address to the Pakistani nation, Musharraf on Thursday reiterated his intention to retain his dual role of army chief and called on the opposition to accept the decision of the majority. [Reuters]

Musharraf, who took power in 1999, said in a television and radio address that opposition parties were "threatening democracy" by refusing to accept his dual military and civilian titles.

The general, a key ally in the US war on terror, said he needed his army role to increase Pakistan's prosperity and security, combat terrorism and push forward the ongoing peace process with nuclear rival India.

Wearing a sober grey suit for Thursday's 50-minute speech, which was preceded by a reading from the Koran and a rendition of the national anthem, he said: "I have decided to retain both the offices."

Musharraf had vowed in another television broadcast in December 2003 that he would become a fully civilian leader. But last month Pakistan's parliament enacted a controversial law allowing him to backtrack.

He had also told private television earlier December that he would renege on the promise, saying he would give his reasons in his national address.

Musharraf claimed Thursday that under his military rule he had changed Pakistan's destiny, bringing it from the brink of becoming a "failed state" to reduce poverty and increase political freedom.

He largely blamed his decision on the opposition Muttahida Majlis-e-Amal (MMA) Islamic alliance, which in return for his pledge to quit the military by December 31, 2004, backed constitutional changes giving him extra powers.

Musharraf said he refused to violate the constitution, which states that he can keep both military and civilian roles until 2007, and accused his opponents of rejecting the "rule of the majority".

"I know that uniform is a non-issue for the people of Pakistan. They (the opposition) are doing it to take political mileage out of it," he added.

However, he extended a "hand of friendship" to opposition parties, saying he wanted to create a bright future for the country.

Musharraf toppled prime minister Nawaz Sharif in October 1999. He appointed himself president in June 2001 and won a referendum in April 2002, followed by a parliamentary vote of confidence last December.

He has drawn criticism at home for allying himself with the United States after the September 11, 2001 attacks and late last year he survived two assassination attempts which were blamed on Islamic militants.

Musharraf said he had taken into account the "global, regional and internal situation", including the need to carry on the peace dialogue with India over the divided Himalayan state of Kashmir.

Musharraf's government has recently made efforts at reconciliation with opposition groups considered more liberal than the Islamic alliance, including the Pakistan People's Party (PPP) of former prime minister Benazir Bhutto.

However, the PPP dismissed Musharraf's speech, saying in a statement that it was the "end of democracy when the country was governed by a military ruler as opposed to the will of the people".

MMA parliamentary leader Hafiz Hussain Ahmed told AFP that Musharraf had "broken a promise he had made before the entire nation".





Today's Top News
Top World News

Asian tsunami toll jumps to over 125,000, fear lingers




3rd Chinese confirmed dead; aid rushing in




Farming trade deficit hits record




China rings alarm over possible flu pandemic




Yao Ming tops NBA All-Star voting




Fishing fleet cutback preserves resources