Militant groups warn Iraqis not to vote
(Agencies)
Updated: 2004-12-31 08:54
Three militant groups warned Iraqis against voting in Jan. 30 elections, saying Thursday that people participating in the "dirty farce" risked attack. All 700 employees of the electoral commission in Mosul reportedly resigned after being threatened.
The warning came a day after insurgents in Mosul, which has seen increased violence in recent weeks, launched a highly coordinated assault on a U.S. military outpost. The United States said 25 insurgents were believed slain and one American soldier was killed in the battle, which involved strafing runs by U.S. warplanes.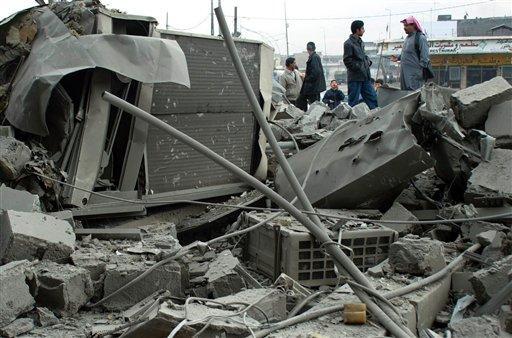 Residents search trough the rubble of a building destroyed during an airstrike the previous day in the northern Iraqi city of Mosul, Thursday, Dec. 30, 2004. U.S. troops and warplanes killed at least 25 insurgents as they attacked an American outpost Thursday in northern Iraq with a car bomb and explosives. [AP]

The United States, which has said the vote must go forward, has repeatedly sought to portray recent attacks that have killed dozens of people as the acts of a reeling insurgency, not the work of a force that is gathering strength.

The radical Ansar al-Sunnah Army and two other insurgent groups issued a statement Thursday warning that democracy was un-Islamic. Democracy could lead to passing un-Islamic laws, such as permitting homosexual marriage, if the majority or people agreed to it, the statement said.

"Democracy is a Greek word meaning the rule of the people, which means that the people do what they see fit," the statement said. "This concept is considered apostasy and defies the belief in one God _ Muslims' doctrine."

Ansar al-Sunnah earlier posted a manifesto on its Web site saying democracy amounts to idolizing human beings. Thursday's joint statement reiterated the threat that "anyone who accepts to take part in this dirty farce will not be safe."

Insurgents have intensified their strikes against the security forces of Iraq's U.S.-installed interim government as part of a continuing campaign to disrupt the elections for a constitutional assembly.

The statements by the Sunni Arab-dominated insurgent groups seemed aimed at countering Shiite leaders' claims that voting in the election is every Muslim's duty. Shiites, who make up 60 percent of the population, hope to use the vote to power from minority Sunnis, who were favored under Saddam Hussein.

Iraqis will elect a national assembly that is to write a new constitution.

The Al-Jazeera satellite channel reported that all 700 workers for the electoral commission in Mosul resigned Thursday because they had been threatened and that Iraq's leading Sunni political party, the Iraqi Islamic Party, had withdrawn from the race.

If true, the move will severely hamper efforts to prepare for the vote in Mosul, which has been too dangerous for most work to even begin though the vote is now only a month away.

Farid Ayar, spokesman of the Independent Electoral Commission of Iraq, could not confirm the Al-Jazeera report.

"We have been trying to contact our people in Mosul to see if the report is accurate but we have not been able to reach them," Ayar told The Associated Press.

Wednesday's attack in the northern city of Mosul exhibited a coordination rarely seen among Iraq's insurgents. The violence began with a massive truck bomb exploding just outside a U.S. checkpoint, followed by attacks by squads of 10-12 insurgents.

A Stryker vehicle reinforcing the Americans was hit by a roadside bomb and a second car bomb. U.S. forces then called in airstrikes by F-18 and F-16 fighter jets, which launched three Maverick missiles and conducted several strafing runs.

U.S. officials called the attack a sign of desperation ahead of the vote.

"The fact of the matter is we're keeping the insurgents off balance and they're reeling backward. They're trying to come at us and we're giving it right back," spokesman Lt. Col. Paul Hastings said.

"The terrorists are growing more desperate in their attempts to derail the elections and they're trying to put it all on the line and give it all they can."

Still, Iraq's third-largest city has become more worrisome in the weeks since a U.S.-led invasion routed insurgents from their base in the Sunni-dominated city of Fallujah in mid-November.

Across Iraq, dozens of insurgents, Iraqi civilians and security forces have been killed in attacks over the last 48 hours, and the guerrillas have shown new ingenuity to inflict large casualties.

Fourteen U.S. soldiers died Dec. 21 when a suicide bomber walked into a mess tent in Mosul packed with soldiers having lunch. In all, 22 people were killed and dozens wounded in the blast. The Ansar al-Sunnah claimed responsibility.

Late Tuesday, insurgents lured police into a house in Baghdad after issuing an anonymous tip and then detonated nearly a ton of explosives. Twenty-nine people were killed, including 22 civilians and seven police, and several surrounding houses were leveled.

Mohammed Salah, a Cairo, Egypt-based expert on Islamic militancy, suggested that insurgents may be experimenting with new tactics to test the Americans after the guerrillas lost their stronghold in Fallujah, west of Baghdad. Up to now, their chief weapons have been roadside bombs and suicide attacks.

"Since they are always pursued, they try to be creative," Salah said. "They have to be creative because they know repetitiveness is dangerous for them."

There was no claim of responsibility for the latest Mosul attack, but it followed a Wednesday warning from Ansar al-Sunnah that Iraqis should stay away from U.S. and Iraqi military installations.




Today's Top News
Top World News

Third Chinese confirmed dead; assistance rushing in




Asian tsunami toll jumps to over 125,000




Farming trade deficit hits record




China rings alarm over possible flu pandemic




Yao Ming tops NBA All-Star voting




FM: Six-party talks to advance