Israeli troops kill 9 Palestinians in Gaza raid
(Agencies)
Updated: 2004-12-31 08:48
Israeli troops killed nine Palestinians on Thursday, including two teenagers, as tanks pushed into the southern Gaza Strip in what the army called a raid to stop mortar and rocket attacks on Jewish settlements.
Continuing violence in Gaza has raised doubts over optimism for talks following Yasser Arafat's death last month and the emergence of a new Palestinian leadership seen as moderates.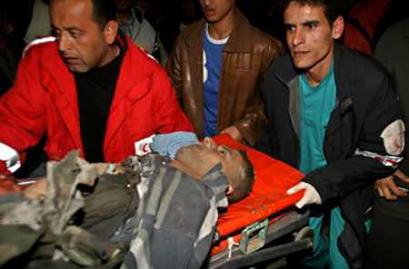 Medical staff wheel a Palestinian man into a hospital after a missile strike in the Gaza Strip December 30, 2004. An Israeli drone fired a missile at Palestinian militants in the southern Gaza Strip on Thursday, killing four, witnesses said. [Reuters]

The violence poses a particular challenge to Palestinian leader Mahmoud Abbas, who is widely expected to win a Jan 9. election to succeed Arafat and favors ending armed struggle. Israeli drones staged two strikes on the city of Khan Younis, firing missiles that killed seven militants, four from Abbas's Fatah movement, Palestinians said. Others belonged to the Islamic Hamas militant group, they added.

The army said three killed in the first raid early on Thursday were part of a squad firing at nearby settlements.

"I estimate there are 10 to 15 squads," Brigadier Aviv Kochavi, commander of forces in Gaza, told Army Radio.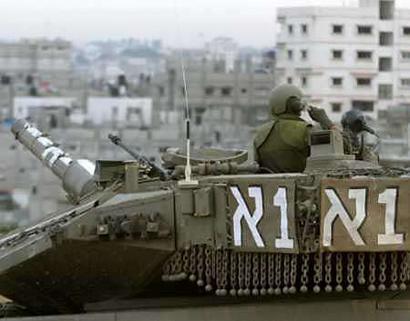 An Israeli soldier watches over the Gaza strip's Khan Younis refugee camp from atop his tank on December 30, 2004. [Reuters]

After the raid, medics and witnesses said Israeli soldiers killed two 17-year-old youths, including one with Down's syndrome, watching clashes. The army said soldiers fired at men thought to be laying explosives.

Later Israel reinforced its troops in Khan Younis and brought in more armored vehicles before another missile fired by a drone killed four militants. A military spokesman said an aircraft fired at and hit men planting an explosive devise.

Three of those killed belonged to the Abu Rish Brigades, an armed wing Fatah movement, Palestinians said.

19 WOUNDED

At least 19 Palestinians were wounded in Khan Younis, including six in the latest air strike, witnesses said, while an Israeli woman was hurt by a mortar at a settlement, Israel said.

Further south, Israeli troops shot and critically wounded two Palestinians after they fired a rocket at an army vehicle.

In the West Bank, Israeli soldiers arrested three Al-Aqsa members, including the brother of a local commander of the group in the town of Jenin, military sources and Palestinians said.

Despite scores of raids during a 4-year-old Palestinian uprising, mortar fire has persisted and even intensified ahead of an Israeli plan to remove the 8,000 settlers living among 1.3 million Palestinians in the occupied Gaza Strip next year.

Militants hope to portray any Israeli withdrawal as a retreat under fire, while Israel wants to smash them first.

Abbas wants Palestinians to stop armed struggle and use peaceful means of resistance. But Hamas has rejected his call.

"The enemy knows nothing but the language of killing Palestinians and therefore, we have no choice but to continue the resistance," said a Hamas spokesman.

Israel moved closer to abandoning occupied Gaza as Prime Minister Ariel Sharon and the opposition Labour party reached a deal that appeared to clear a final obstacle to a unity government able to remove troops and settlers.

Palestinians fear that Sharon's "Disengagement Plan," backed by Western countries, will give them Gaza at the cost of a stronger Israeli hold in the West Bank. Both territories were captured by Israel in the 1967 Middle East war.




Today's Top News
Top World News

Third Chinese confirmed dead; assistance rushing in




Asian tsunami toll jumps to over 125,000




Farming trade deficit hits record




China rings alarm over possible flu pandemic




Yao Ming tops NBA All-Star voting




FM: Six-party talks to advance