Yao Ming tops NBA All-Star voting
(Agencies)
Updated: 2004-12-31 08:38
Center Yao Ming, the Houston Rockets' Chinese import, has all but clinched a third straight start in the National Basketball Association All-Star Game, according to fan ballotting figures.
Yao is the overall leader in voting so far, with 1,373,458 votes. He has a 62,000-vote edge over Miami Heat center Shaquille O'Neal, the leader in the Eastern Conference.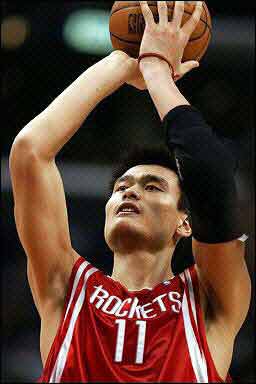 In the second batch of returns to be announced by the league, Yao boasts a lead of more than one million votes over Brad Miller (197,784) of Sacramento among Western Conference centers.
The 54th NBA All-Star Game will be played in Denver on February 20. Voting continues through January 25, and the starters will be announced February 3.
Minnesota's Kevin Garnett (1,142,804) and San Antonio's Tim Duncan (886,547) lead Western Conference forwards, with Dallas' Dirk Nowitzki of Germany a distant third (482,220).
Houston's Tracy McGrady (1,065,230) and Kobe Bryant of the Los Angeles Lakers (1,005, 230) pace Western Conference guards and are the other two players who received more than one million votes. Phoenix guard Steve Nash of Canada, who has helped lead the Suns to a NBA-best record of 25-4, is third at the position with 540,147 votes.
O'Neal also has a commanding lead at his position as Detroit center Ben Wallace received just under 400,000 votes.
Vince Carter, recently acquired by the New Jersey Nets, leads forwards in the East with 938,817. He leads Orlando's Grant Hill.
Among Eastern Conference guards, Cleveland's LeBron James (843,363) and Philadelphia's Allen Iverson (825,179) lead Miami's Dwyane Wade (608,760).
Today's Top News
Top Sports News

Third Chinese confirmed dead; assistance rushing in




Asian tsunami toll jumps to over 125,000




Farming trade deficit hits record




China rings alarm over possible flu pandemic




Yao Ming tops NBA All-Star voting




Six-party talks to advance: Spokesman