Asian tsunami toll jumps to over 125,000
(Agencies)
Updated: 2004-12-31 08:08
Asia's tsunami death toll soared above 125,000 and aid agencies warned many more people -- particularly children -- could die in epidemics, ushering in a somber New Year's Eve for the world.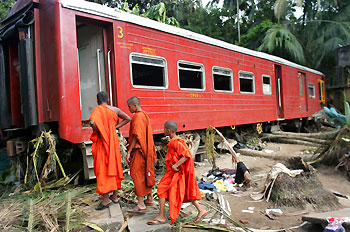 Buddhist monks look at a wrecked carriage after a whole train was destroyed by Sunday's tsunami in the town of Paraliya, 90 km (56 miles) south of Colombo, Sri Lanka,December 30, 2004. [Reuters]

While authorities rushed to identify and bury the dead, many reduced to rotting corpses after days in tropical heat, a U.N. masterminded relief operation rapidly focused more on Thursday on getting food and clean water to millions of survivors.

"This is an unprecedented, global catastrophe and it requires an unprecedented, global response," U.N. Secretary General Kofi Annan told reporters on Thursday as U.N. officials said up to five million people were without basic services.

Annan, overseeing what could be the U.N.'s largest natural disaster relief effort, held talks with a four-country coalition announced by US President Bush to take a lead role. Washington has linked up with Australia, India and Japan.

U.N. emergency relief coordinator Jan Egeland said the World Health Organization had informed him that diarrhea and respiratory diseases were on the rise after Sunday's disaster.

"We could be in a situation that more children could die from diarrhea in the next weeks than those who were killed by the tsunami," said Egeland.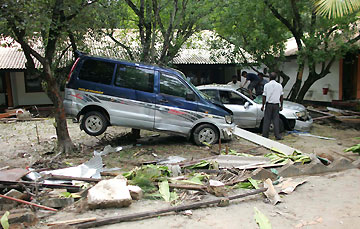 Vehicles are strewn around the renowned Nilavelli beach hotel which was destroyed in the tsunami on the east coast town of Trincomalee in Sri Lanka December 29, 2004. [Reuters]

The Asian disaster cast a long shadow over the world's New Year celebrations, especially as about 5,000 foreign tourists -- mostly Europeans -- were still missing.

Sweden, Norway and Finland, hard hit by the disaster as many Scandinavians like to escape their cold winters for the Asian sunshine, plan to fly flags at half mast to start the New Year.

FAST RISING DEATH TOLL

The death toll shot up more than 50 percent on Thursday with still no clear picture of conditions in some remote villages as well as islands around India and Indonesia.

Rescue workers pressed on into isolated villages devastated by a disaster that could yet eclipse a cyclone that struck Bangladesh in 1991, killing 138,000 people.

Indonesia's Health Ministry said just under 80,000 people -- some 28,000 more than previously announced -- had died in the northern Aceh province that was close to a 9.0 magnitude undersea quake that triggered the tsunami.

The airport of the main city, Banda Aceh, was busy with aid flights, but residents said little was getting through to them. Hungry crowds jostling for aid biscuits besieged people delivering them in the city. Some drivers dared not stop.

"Some cars come by and throw food like that. The fastest get the food, the strong one wins. The elderly and the injured don't get anything. We feel like dogs," said Usman, 43.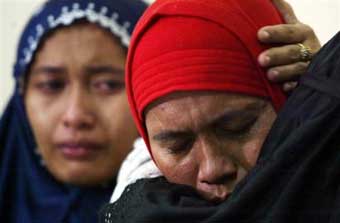 Acehnese women weep over the loss of relatives after tidal waves hit following Sunday's earthquake, at the airport in Banda Aceh, Aceh province, Indonesia, Tuesday, Dec. 28, 2004. At the northern tip of Indonesia's Sumatra island, emergency workers find that 10,000 people were killed in a single town near the epicenter of Sunday's earthquake, and survivors report entire towns inundated by water and starving families surviving on coconuts. [AP]

City residents fled their homes when two aftershocks revived fresh memories of the worst earthquake in 40 years.

"This isn't just a situation of giving out food and water. Entire towns and villages need to be rebuilt from the ground up," said Rod Volway of CARE Canada, whose emergency team was one of the first into Aceh.

Many villages and resorts from Indonesia to Sri Lanka are now mud-covered rubble, blanketed with the stench of corpses.

In Indonesia, thousands of bodies decomposing in the tropical heat were tumbled into mass graves. Health officials said polluted water posed a much greater threat than corpses.

SURVIVORS ORGANIZE RELIEF WORK

In Sri Lanka's worst-hit area Ampara, residents ran relief efforts themselves, going round with megaphones, asking people to donate pots and pans, buckets of fresh water and sarongs.

Dutch, German and Swiss forensic teams flew to Thailand to help identify now hard-to-recognize bodies by collecting dental evidence, DNA samples, fingerprints, photographs and X-rays.

People worldwide opened their hearts and wallets to give millions of dollars to help relief efforts, jamming phone lines and Web sites and outpacing governments in their generosity.

Britain's Disasters Emergency Committee said it had collected more than $39 million, less than a day after launching an appeal on behalf of 12 top British charities.

"It's quite a phenomenal response," a spokeswoman said.

Amazon.com collected $4.8 million in donations from online shoppers at its Web site.

Bush, like other world leaders facing criticism for what some say was a tardy early response to the crisis, said he was sending a team headed by his brother, Florida Governor Jeb Bush, and Secretary of State Colin Powell to assess Asia's needs.

The United States said a pledge of $35 million was just a start, and sent an aircraft carrier group toward Sumatra and other ships including a helicopter carrier to the Bay of Bengal.

A New York Times editorial, however, denounced the U.S. pledge as a "miserly drop in the bucket."

The World Bank offered $250 million in relief, bringing total international aid to nearly $500 million.

The Paris Club group of creditors was to examine a debt moratorium for countries hit by the tsunami that devastated southern Asia, a source close to the Club said.

Separately, Italy called on the Group of Eight rich nations to hold a summit to discuss a joint response, but the incoming G8 chairman, Britain, said no meeting was planned.

German Chancellor Gerhard Schroeder said he would propose to the European Union that top industrial nations form bilateral "partnerships" with tsunami-hit countries.

"Our states for corresponding areas there. Our cities for their cities and our villages for their villages," Schroeder said in his New Year's address. "German schools and children, supported by their parents, could sponsor schools over there."




Today's Top News
Top World News

China to give 500m yuan aid to tsunami victims




Asian tsunami toll jumps to over 125,000




3rd Chinese confirmed dead; aid rushing in




Fire in Buenos Aires club kills 133




Farming trade deficit hits record




China rings alarm over possible flu pandemic