Farming trade deficit hits record
By Zhao Huanxin (China Daily)
Updated: 2004-12-30 00:31
China is expected to post an unprecedented US$5.5 billion agricultural trade deficit this year, the Ministry of Agriculture sources said yesterday.
"The country has become a net importer of agricultural products three years after joining the World Trade Organization," said Ke Bingsheng, director of the ministry's Research Centre for Rural Economy.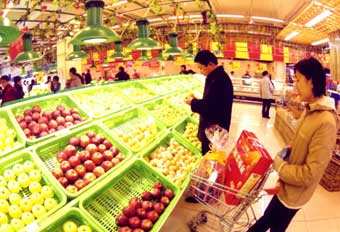 Customers make their choice among a varieties of imported fruits at a supermarket in Lianyunguang, east China's Jiangsu Province in this January 18, 2004 file photo. The Ministry of Agriculture said China's farming trade deficit hit a record high this year -- US$5.5 billion. [newsphoto]

The scenario is partly a result of wider market access to foreign commodities as the country consistently fulfills its commitments to reduce tariff rates on agricultural goods and implemented tariff-rate quotas, Ke said in an exclusive interview with China Daily.

The US$5.5 billion agricultural trade deficit also has come into being because some European and American countries have been offering hefty subsidies on agricultural products, which distorts world market prices, the director said.

In addition, ever-increasing, non-tariff barriers remain the biggest source of frustration to China's exporters of animal products.

Such exports have amounted to US$2.83 billion through November, compared with imports of US$3.69 billion, a deficit of US$855 million, according to latest customs statistics.

China already recorded a US$636 million deficit in its animal products trade last year, partly because of the ever-growing technical barriers imposed on Chinese agricultural products.

Another factor contributing to the flat line in China's agricultural trade is the strained supply and demand relationship in the domestic market, which has led to price hikes.

Self-sufficiency

Ke said the glaring import volume should not cause panic.

Even if China uses up its committed tariff-rate quotas in corn, rice and wheat imports, the imports will just contribute to less than 4 per cent of the country's total consumption, meaning China's self-sufficiency in grain still exceeds 96 per cent, Ke said.

Minister of Agriculture Du Qinglin earlier said China has greatly improved its grain production capacity, and has the necessity and ability to rely on itself to ensure food supply.

The country's grain output will well surpass the targeted 455 million tons this year, Du said on Wednesday in Beijing.

Farmers affected

Chinese farmers have already felt the pinch brought on by the influx of foreign products.

For example, by December, China will have imported 2 million tons of cotton, more than double its committed tariff-rate quotas, according to Ke.

Although such huge imports seemingly benefit the textile industry for the time being, it will adversely affect the incomes of cotton-planters and ultimately undermine the development of China's cotton sector, Ke said.

Another case in point is the glaring amounts of edible oils, soybeans and other oil-bearing imports, which are likely to account for 40 per cent of the country's total farm produce imports this year.

If such imports were somehow reduced, domestic prices would surely have surged to fatten Chinese farmers' wallets, Ke said.

Anyway, farmers in coastal provinces, including Shandong, Guangdong and Zhejiang are beneficiaries of expanded trade among vegetables and fruits, in which the country as a whole is expected to register a surplus of US$4.52 billion in 2004, according to Ministry of Agriculture estimates.

Looking into the future trend, Ke said supply-demand changes and domestic policies may have a bigger influence on agricultural trade than WTO factors.

For example, China is expected to import a third of the world's total cotton exports in 2004. If such open market policies were adjusted, the country would cut imports and see a drastic increase in domestic cotton production, Ke said.

"When considering world and domestic factors... China is likely to prolong its agricultural trade deficit (in the years ahead)," Ke said.

Ni Hongxing, deputy director of the ministry's Agriculture Trade Promotion Centre, said it is still early to conclude a deficit may continue, however.

Ni said his centre will be brainstorming the issue and try to pinpoint its future development course.




Today's Top News
Top China News

Third Chinese confirmed dead; assistance rushing in




Asian tsunami toll jumps to over 125,000




Farming trade deficit hits record




China rings alarm over possible flu pandemic




Yao Ming tops NBA All-Star voting




FM: Six-party talks to advance