New tsunamis possible; residents flee
(Agencies)
Updated: 2004-12-30 20:45
BANDA ACEH, Indonesia - Tens of thousands of residents fled coasts in India, Sri Lanka and Thailand after warnings of possible new tsunamis Thursday, and pilots in Indonesia dropped food to cliff-rimmed villages yet to be visited by outsiders four days after the disaster.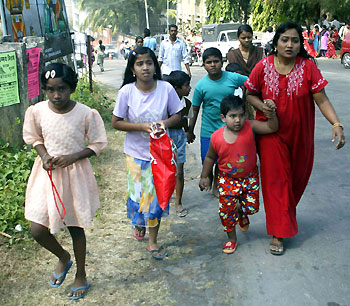 A woman and her children walk on the main road in Port Blair after the Indian government issued tsunami alerts for all coastline areas December 30, 2004. [Reuters]

India issued a tsunami warning at midday Thursday following aftershocks in the Indian Ocean region, prompting tens of thousands to flee the southeastern coast. Hours later, no waves had arrived and the warning appeared to have been false.

Surveys of the swath of tropical Asia struck by Sunday's 9.0 earthquake and tsunamis were gaining ground, with relief workers still uncovering scenes of flattened villages and survivors living on coconuts.

The death toll topped 84,000, with Indonesia worst affected, followed by Sri Lanka, India and Thailand. With tens of thousands still missing, that number was almost certain to grow, amid fears that disease could bring a new wave of deaths.

The tsunami warning sparked panic among people still rattled by the weekend's devastation.

"We got into a truck and fled," said 40-year-old Gandhimathi of Nagappattinam in Tamil Nadu state, who said authorities told her to leave her home. "We took only a few clothes and left behind all of our belongings, everything we had."

Sri Lanka's military later told residents there to be vigilant but not to panic, while coastal villagers climbed onto rooftops or sought high ground. "There is total confusion here," said Rohan Bandara in the coastal town of Tangalle.

Tsunami sirens in southern Thailand sent people dashing from beaches, but only small waves followed the alarms.

An estimated 5.7 magnitude aftershock was recorded in seas northwest of Sumatra by the Hong Kong observatory Thursday morning, along with earlier, overnight quakes at India's Andaman and Nicobar islands. But a 5.7 quake would be about 1,000 times less powerful than Sunday's, and probably would have "negligible impact," said geologist Jason Ali of University of Hong Kong.

Meanwhile, military ships and planes rushed to get desperately needed aid to the ravaged coast of Sumatra, the Indonesian island closest to Sunday's quake. Countless corpses strewn on the streets rotted under the tropical sun causing a nearly unbearable stench.

Food drops began along the coast, mostly of instant noodles and medicines, with some of the areas "hard to reach because they are surrounded by cliffs," said Budi Aditutro, head of the government's relief team.

On the streets of Banda Aceh, a provincial capital in Sumatra, fights have broken out over packets of noodles dropped from military vehicles.

"I believe the frustration will be growing in the days and weeks ahead," U.N. Undersecretary-General for Humanitarian Affairs Jan Egeland said.

The United States, India, Australia and Japan have formed an international coalition to coordinate worldwide relief and reconstruction efforts, U.S. President George W. Bush announced.

"We will prevail over this destruction," Bush said from his Texas ranch Wednesday.

The number of deaths in Indonesia stood at about 52,000. Authorities there said that did not include a full count from Sumatra's west coast, and UNICEF estimated the toll for that country alone could be 80,000.

Sri Lanka reported 22,800 dead, India more than 7,300 and Thailand 1,800 ¡ª though that country's prime minister said he feared the toll would go to 6,800. A total of more than 300 were killed in Malaysia, Myanmar, Bangladesh, the Maldives, Somalia, Tanzania and Kenya.

The disaster struck a band of the tropics that not only is heavily populated but attracts tourists from all corners. Throughout the world, people sought word of missing relatives, from small-town Sri Lankan fishermen to Europeans on sand-and-sun holidays.

On hundreds of Web sites, the messages were brief but poignant: "Missing: Christina Blomee in Khao Lak," or simply, "Where are you?"

But even as hope for the missing dwindled, survivors continued to turn up.

A 2-year-old Swedish boy was reunited with his father days after the toddler was found alone on a roadside in Thailand's southern beach resort island of Phuket. In Sri Lanka, a lone fisherman named Sini Mohammed Sarfudeen was rescued Wednesday by an air force helicopter crew after clinging to his wave-tossed boat for three days.

The body count mounted as survey teams reached remote areas. Peter Ress, operations support chief for the International Federation of Red Cross and Red Crescent Societies, said the toll could top 100,000.

Rescuers on Thursday plied the dense forests of India's remote Andaman and Nicobar islands, where authorities fear as many as 10,000 more people may be buried in mud and thick vegetation. Many hungry villagers were surviving on coconut milk, rescuers said.

Mohammad Yusef, 60, a fisherman who fled his village and was holed up at a Catholic church in the territory's capital Port Blair along with about 800 others, said all 15 villages on the coast of Car Nicobar island had been destroyed.

"There's not a single hut which is standing," he told The Associated Press. "Everything is gone. Most of the people have gone up to the hills and are afraid to come down," Yusef said.

Many villagers had not eaten for two days and said that crocodiles had washed ashore during the disaster, compounding the horror of more than 50 aftershocks since Sunday's quake.

In southern Thailand, rescue and forensic teams from Australia, Japan, Germany and Israel fanned out in a race to find survivors and identify rapidly decomposing corpses.

"We have to have hope that we'll find somebody," said Ulf Langemeier, heading a team of 15 Germans who combed a wrecked resort early Thursday. Langemeier said there's always a chance of finding survivors trapped under rubble when earthquakes strike on land, but "when waves enter a building you have no chance."




Today's Top News
Top World News

Third Chinese confirmed dead; assistance rushing in




Farming trade deficit hits record




China rings alarm over possible flu pandemic




Hu lauds west-east gas line




Six-party talks to advance: Spokesman




Fishing fleet cutback preserves resources