US soldier, 25 insurgents killed in Mosul battle
(Agencies)
Updated: 2004-12-30 20:35
MOSUL, Iraq - A frontal assault on U.S. troops by dozens of Iraqi insurgents in Mosul left an American soldier and about 25 guerrillas dead in one of the boldest attacks yet on occupying forces in Iraq.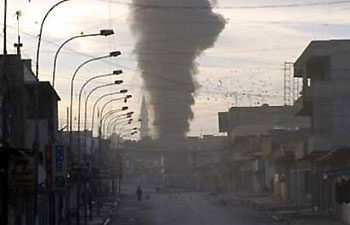 A column of smoke rises over a deserted street after a suicide truck bomb attack in the north Iraq city of Mosul December 29, 2004. [Reuters]

Battle raged late on Wednesday as President Bush said his forces would do all they could to make it possible to hold next month's election in Mosul and other violent cities. But many residents of Mosul say they are too afraid to vote.

The soldier died of wounds, the military said on Thursday.

He had been on a patrol that was hit by a suicide car bomb close to a U.S. outpost. Gunmen tried to overrun the area, sending in another suicide truck bomber and firing mortars and rockets in an apparent bid to wipe out an entire U.S. unit.

About 15 U.S. troops were wounded before jets screamed in low over the rooftops to bomb the attackers and force them to break off, leaving about 25 insurgents dead, U.S. military spokesman Lieutenant Colonel Paul Hastings said.

Insurgents fought pitched battles in Falluja last month after U.S. Marines, hoping to quell revolt before the Jan. 30 election, stormed the rebel bastion west of Baghdad. Guerrillas have also mounted mass assaults on Iraqi police in Mosul, including three on one station on Tuesday and Wednesday.

But Wednesday's attack was one of the stiffest U.S. forces have faced since the guerrilla war began last year.

A series of other attacks in the past 10 days, along with a new endorsement from Osama bin Laden, have underscored the continued vigor of the insurgency despite the loss of Falluja.

Bin Laden publicly backed Jordanian Islamist Abu Musab al-Zarqawi as al Qaeda's leader in Iraq. Zarqawi appears to have also allied with followers of Saddam Hussein.

"ZARQAWI AIDE" HELD

The U.S.-backed Iraqi government has announced successes, publicising arrests by U.S. forces. On Wednesday it said a man it described as a senior aide to Zarqawi, Fadil Hussain Ahmed al-Kurdi, also known as Ridha, had been seized in Baghdad.

"Ridha was responsible for facilitating communications between al Qaeda and the Zarqawi terror networks as well as coordinating the movement of terrorists in and out of Iraq," the government said. It did not say when he was detained.

Some among Saddam's fellow minority Sunni Arabs fear voting will mean domination by the long-oppressed Shi'ite majority. Sunni leaders say violence in the Sunni north and west means the vote will be unfair and leave their community under-represented.

The U.S. military has conceded it is not in control of some parts of Mosul and plans to send thousands more troops to Iraq's third city for the election. Many residents of the largely Sunni Arab city of two million still say they are too afraid to vote.

Bush said bin Laden's message showed the importance of an election he said would counter al Qaeda's "dark vision." "The task at hand is to provide as much security as possible for the election officials as well as for the people inside cities like Mosul to encourage them to express their will," Bush said.

U.S. commanders say Zarqawi and other militant leaders probably fled Falluja, possibly to Mosul. The city was also home to many of Saddam's army officers, who may have joined the insurgency. The variety of tactics being employed by the rebels, the quantities of weaponry at their disposal and their apparent willingness to stand and fight and take heavy losses against well-armed Americans are giving U.S. forces cause for concern.

U.S. generals conceded this month that they face a "sophisticated" and increasingly effective enemy.




Today's Top News
Top World News

Panels to watch price order of textile exports




Quake and tsunami toll may top 100,000




Farming policies yield rare harvest




Banks open up ATM cards to three nations




China to freeze aircraft orders in 2005




Social security allowances to be raised