Millions hunt food as tsunami toll passes 87,000
(Agencies)
Updated: 2004-12-30 20:35
BANDA ACEH, Indonesia - Millions of people on Indian Ocean shores scrambled for food and clean water on Thursday, with disease and hunger now the main threats stalking survivors of the most devastating tsunami on record.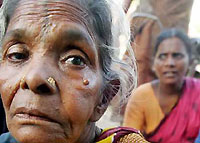 Women survivors of Sunday's tsunamis wait to register with government officials for relief aid in Cuddalore, India December 29, 2004. [Retuers]

The death toll rose above 87,000 but the true scale of the disaster may not be known for weeks, if ever, as rescuers battled to reach remote areas and grieving survivors searched for bodies.

The scale that was known was staggering.

"Villages have been washed away," said Rod Volway of CARE Canada, whose emergency response team was one of the first into Indonesia's northern Aceh province, the worst-hit area with more than half of known deaths.

"This isn't just a situation of giving out food and water. Entire towns and villages need to be rebuilt from the ground up."

Some areas have yet to be reached. The death toll could rise to 100,000, said Peter Rees of the International Federation of Red Cross and Red Crescent Societies.

U.N. officials say children could make up a third of victims.

As the world pledged $220 million in cash and sent a flotilla of ships and aircraft laden with supplies, history's biggest relief operation battled with the enormity of the task.

"As many as 5 million people are not able to access what they need for living," said David Nabarro, head of a World Health Organization (news - web sites) (WHO) crisis team.

Many villages and resorts are now little more than mud-covered rubble, blanketed with the stench of corpses after a 9.0 magnitude underwater quake off the Indonesian island of Sumatra triggered the tsunami. Thousands of bodies rotting in the tropical heat were tumbled into mass graves.

AID CHAOS

Authorities predict a second round of deaths among those who survived Sunday's monster wave from diseases such as dysentery, cholera and typhoid fever caused by contaminated food and water.

Survivors in Aceh complained aid was only trickling in despite a mountain of supplies stacking up at the local airport. Aid officials blamed poor coordination with the military.

"There's no information. Just what you hear on the street. The coordination is very bad," said Banda Aceh resident Zulkarnaen, 36.

Hungry crowds jostling for aid biscuits besieged people delivering them in the town, so some drivers dared not stop.

"Some cars come by and throw food like that. The fastest get the food, the strong one wins. The elderly and the injured don't get anything. We feel like dogs," said Usman, 43.

In Sri Lanka's worst-hit area Ampara, residents ran things themselves, going around with loudhailers, asking people to donate pots and pans, buckets of fresh water and sarongs.

"The government has done nothing for us so far," said shopkeeper Mohammed Tamir, who lost a wife and daughter.

Indonesian aircraft dropped food to isolated areas along the western coast of Sumatra, an island the size of Florida.

"Frustration will be growing in the days and the weeks ahead," said U.N. emergency relief coordinator Jan Egeland.

Well over a million people have been left homeless. Hospitals are overwhelmed with the injured -- an estimated 100,000 or more.

The United Nations (news - web sites) prepared what could be its largest appeal for donations to cope with its biggest, costliest relief effort.

President Bush (news - web sites) said a U.S. pledge of $35 million was just a start. A U.S. military unit based in Japan will set up a post in Thailand to run U.S. efforts.

The Pentagon (news - web sites) is sending an aircraft carrier group to Sumatra and another group including a helicopter carrier was headed for the Bay of Bengal.

The financial costs, estimated at up to $14 billion, are tiny relative to human suffering. Japan's 1995 Kobe earthquake killed 5,000 but cost $132 billion.

FRESH TSUNAMI ALERT

The strongest earthquake in 40 years and the unprecedented tsunami it triggered kept nerves jangling in the region.

India issued fresh alerts for all areas hit by the killer tsunami, prompting a panicked exodus from coastal areas, and in the Andaman and Nicobar islands, near the epicenter of Sunday's quake, police said aftershocks could cause high waves and evacuated hundreds of residents from some coastal areas.

But there were no signs of giant waves and the U.S. Geological Survey (news - web sites) said it was unaware of any aftershock large enough to trigger a fresh tsunami.

Overnight aftershocks in Indonesia's Banda Aceh, also near the epicenter, sent people fleeing their homes.

"I was sleeping, but fled outside in panic. If I am going to die, I will die here. Just let it be," said Kaspian, 26.

In north Sri Lanka, survivors recovering corpses faced a new danger -- floating land mines from a long-running conflict.

Sunday's waves tore relatives from each other's arms, swept trucks and buses through buildings and flipped boats onto land.

Holiday-makers were among those caught by surprise. Nearly 5,000 foreigners are missing, mostly in Thailand.

Officially, only some 200 tourists have been reported as killed but some 1,500 Swedes, 1,000 Germans and hundreds of others are reported missing. Dutch, German and Swiss forensic teams flew into Thailand to help identify bodies.

The quake was so powerful, U.S. scientists said it made the Earth jolt on its axis and shifted islands. Indonesia, Sri Lanka, India and Thailand faced death tolls in the thousands. Hundreds were killed in the Maldives, Myanmar, Malaysia and east Africa.

The tsunami is the world's biggest disaster since a cyclone killed 130,000 people in Bangladesh in 1991.

Former German Chancellor Helmut Kohl, who narrowly escaped the devastation while on a Sri Lanka holiday, said it looked like World War II.

"It reminded me of the images from the war that I lived through as a youth. It looked like a bomb attack," he said.





Today's Top News
Top World News

Panels to watch price order of textile exports




Quake and tsunami toll may top 100,000




Farming policies yield rare harvest




Banks open up ATM cards to three nations




China to freeze aircraft orders in 2005




Social security allowances to be raised