Banks open up ATM cards to three nations
By Sun Min (China Daily)
Updated: 2004-12-30 13:37
Travellers will be able to use renminbi-denominated bank cards issued by mainland banks in Republic of Korea, Thailand and Singapore beginning on January 10, 2005, the People's Bank of China announced yesterday.
That means bank cards issued by domestic banks with the logo of "China Unionpay" will be accepted by automated teller machines (ATMs) and point-of-sale (POS) machines that display the logo in the three countries.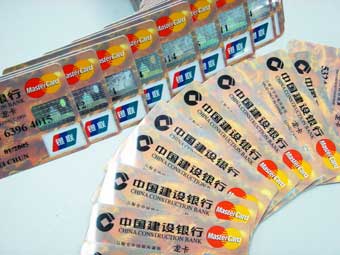 Renminbi-denominated cards issued by the Chinese banks with the Unionpay logo will be able to be used the Republic of Korea, Thailand and Singapore beginning on January 10, 2005. [newsphoto]

It is another major step by Chinese banks to expand the use of renminbi cards overseas.

In January and September this year, Hong Kong and Macao special administrative regions started to accept such renminbi Unionpay cards at local POS machines.

But the cards, convenient as they are, can only be used to cover expenses for items like shopping, restaurants, accommodations and transportation, and other small-volume cash withdrawals overseas.

Each card can be used for the withdrawal of cash equivalent to no more than 5,000 yuan (US$600) per day overseas.

No over-the-counter transactions will be allowed, according to the central bank release.

China Unionpay Co Ltd is the only national payment network for Chinese banks.

A company release said yesterday that 75 domestic banks have opened the service to have their renminbi cards used in Hong Kong and Macao this year.

Cards issued by these banks can be used in Republic of Korea, Thailand and Singapore when the gates are opened. And more domestic banks are expected to join the network soon.

Statistics with China Unionpay also say that Unionpay card holders had drawn out 730 million yuan (US$88 million) in cash through ATMs in Hong Kong and Macao by the end of November.

More than 11,000 shops and stores in Hong Kong accept such cards for payment. However, so far, no overseas banks have been able to issue renminbi cards in the mainland.





Today's Top News
Top China News

Farming policies yield rare harvest




Agenda ready for full NPC session




Quake and tsunami toll may top 100,000




China to freeze aircraft orders in 2005




Social security allowances to be raised




Court: Nike pirates stickman character