Bush promises long-term help for Asia
(Agencies)
Updated: 2004-12-30 11:24
US President Bush assembled a four-nation coalition to organize humanitarian relief for Asia and made clear Wednesday the United States will help bankroll long-term rebuilding in the region leveled by a massive earthquake and tsunamis.
U.S. officials braced for the death toll to exceed 100,000.
"It's just beyond our comprehension to think about how many lives have been lost," Bush said after emerging from a holiday vacation at his Texas ranch to make his first comments on the four-day-old disaster.
U.S. embassy officials continued to hunt for 2,000 to 3,000 Americans who remain unaccounted for, and asked travelers to check in with families and U.S. diplomatic posts. At least 12 Americans are known dead from Sunday's quake and subsequent tsunamis that struck a dozen countries from Thailand to Somalia.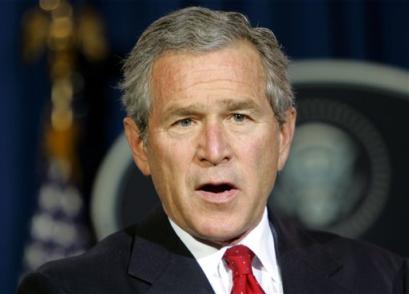 US President Bush makes a statement from his Crawford, Texas ranch, Wednesday, Dec. 29, 2004. Bush said Wednesday the United States, India, Australia and Japan have formed an international coalition to coordinate worldwide relief and reconstruction efforts for the Asian region ravaged by a deadly earthquake and tsunamis. [AP]

From airlifts of rice and water purifiers to the deployment of an entire Marine expeditionary force, the United States marshaled resources across the globe to augment its initial $35 million aid package and make sure the hardest hit locations got the short-term help they requested.

Bush said he phoned the leaders of stricken countries to solicit specific needs and assure them the initial aid package "is only the beginning of our help." He also laid the foundation for a long-term international recovery plan by forming the coalition with Japan, Australia and India and inviting other nations to join.

"We will prevail over this destruction," Bush promised.

Eventually, Secretary of State Colin Powell told BBC, "this core will expand and the entire international community will be involved to include the European Union" and take up such issues as debt relief for hard-hit countries.

Both the president and officials back in Washington made high-profile efforts to tout the breadth of U.S. aid, ticking off figures they hoped would rebut comments by a U.N. official and others suggesting that the United States had been stingy or slow to react.

The president called the U.N. official's comments Monday "very misguided and ill informed." His State Department spokesman was more blunt: "We don't have anything to apologize for," Richard Boucher said.

During his holiday vacation at his ranch where he was riding his bike and clearing brush, Bush offered condolences to those half-a-globe away struck by the unprecedented death and destruction.

"I know that our fellow citizens are particularly troubled to learn that many of the deaths were young children, and we grieve for their families, their moms and dads who are just, you know, heartsick," he said.

While the death toll stood at more than 75,000 Wednesday, U.S. officials feared it would top six figures as rescue forces get to hard-to-reach locations and the initial shock gives way to disease, hunger and thirst.

"I think it's going to be well over 100,000," said Andrew Natsios, the chief of the U.S. Agency for International Development, which distributes foreign aid.

Natsios' agency was particularly focused on clean water, sanitation and disease, which pose the next threats to ravaged areas.

Marc Grossman, undersecretary of state, will lead a U.S. task force to coordinate the American response and urge other nations to assist in relief efforts. A late night conference call was scheduled to link officials in the four capitals.

Bush said he was open to other ideas, including a suggestion from German Chancellor Gerhard Schroeder for a moratorium on the debt of hard-hit Somalia and Indonesia.

Members of Congress already began sizing up where the next U.S. disaster funds will come from in a budget already stretched by the war on terror and Iraq (news - web sites). "I would recommend rescinding some of the many billions of dollars for Iraq, which remain unspent, in order to help finance the relief operations in South Asia," offered Sen. Patrick Leahy (news, bio, voting record), D-Vt., a frequent Bush critic.

The administration has spent little of the $18.4 billion approved by Congress last year for Iraq reconstruction. It says spending has been slowed by security problems.

In Washington, Joint Chiefs of Staff Director of Operations Lt. Gen. James T. Conway announced new military deployments intended to survey damage and help with recovery. Three military scouting teams began arriving Wednesday in Thailand, Sri Lanka and Indonesia, Conway said.

The Pentagon has committed six C-130 cargo planes and nine P-3 reconnaissance planes, and diverted warships from Hong Kong and Guam. The ships, some of which will take a week or more to reach the region, carry helicopters, a field hospital and water purification equipment, Conway said.

Bush urged Americans to send cash, not blankets, food or used clothing. "To me it makes more sense to send cash to organizations that could then use that cash to make sure we match resources with specific needs on the ground," he said.

The president also expressed concern that the Asian region wasn't prepared with a warning system that foretold the massive tsunamis and threw his support behind creation of a worldwide system. "It makes sense for the world to come together to develop a warning system to help all nations," he said.

Closer to home, he asked Commerce Secretary Don Evans and Interior Secretary Gale Norton to investigate whether the United States is adequately prepared for tsunamis that might strike U.S. coasts.




Today's Top News
Top World News

Asian tsunami toll jumps to over 125,000, fear lingers




3rd Chinese confirmed dead; aid rushing in




Farming trade deficit hits record




China rings alarm over possible flu pandemic




Yao Ming tops NBA All-Star voting




Fishing fleet cutback preserves resources