Hacker hits Nike website, wishing a happy New Year
(chinadaily.com.cn)
Updated: 2004-12-30 11:20
Nike (China)'s offcial website was hacked yesterday by a naughty Hacker who signed as Danny and wished a happy New Year.
The hacked website was restored and returned to normalcy at 11pm, The Beijing Times reported on Thursday.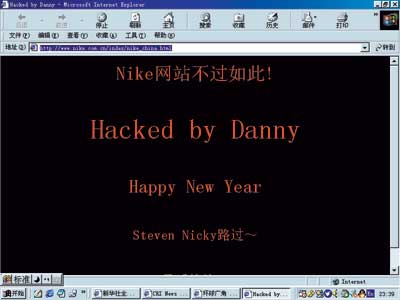 The hacked website of the US sports apparel giant Nike (China) [sohu]


Bold red characters in both Chinese and English appeared on the screen against a black backdrop through www.nike.com.cn. The intruder mocked the website of the world famous sportswear maker and wish Happy New Year in his "victory speech" inscribed as Danny.

The Nike world website www.nike.com remained intact. The enquiry call over the hacking matter to Nike Beijing office remained unanswered yesterday.

It is unknown whether the hacking was related to Nike¡¯s advert featuring NBA star LeBron James battling a cartoon kungfu master and dragons. China banned the ads, describing them as an insult to the country's national dignity.

The commercial, titled "Chamber of Fear" was broadcast on local TV stations and CCTV 5, the national television sports channel, before being pulled last month.




| | |
| --- | --- |
| | |
| Fan Bingbing plays a silm Concubine Yang | |

| | |
| --- | --- |
| | |
| Gong Li in ad. photoes | |

| | |
| --- | --- |
| | |
| CCTV names 2004 top ten economic personalities | |
Today's Top News
Top Life News

China to give 500m yuan aid to tsunami victims




Asian tsunami toll jumps to over 125,000




3rd Chinese confirmed dead; aid rushing in




Argentina club fire kills at least 174




Farming trade deficit hits record




China rings alarm over possible flu pandemic