Court: Nike pirates stickman character
By Liu Li (China Daily)
Updated: 2004-12-30 10:09
Nike just did it, a court has found.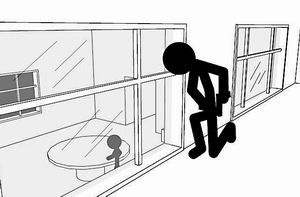 The stickman image created by Chinese flash maker Zhu Zhiqiang [sohu]


As in infringing on a cartoon stickman character created by a 28-year-old Chinese cartoon creator.

The goliath sportswear firm was ordered by a Beijing-based court yesterday to pay Zhu Zhiqiang 300,000 yuan ($36,000) for a stickman television ad that Nike broadcast in Beijing last year.

Zhang Zaiping, a Nike representative, told China Daily yesterday Nike disagrees with the court's decision.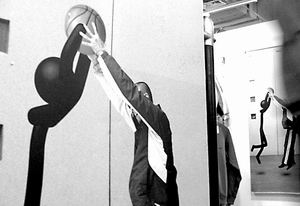 Nike's vast ad. billboard featuring the pirated stickman image. [sohu]


"We will most probably appeal to a higher court," he said.

Meanwhile, Zhu told China Daily he is satisfied with the judgment although the compensation he will receive is less than the 2 million yuan (US$242,000)he had requested.

"I got what I wanted -- confirmation on my copyright over my stickman," he said yesterday.

But Zhang said "The Zhu's stickman figure is within the public domain and lacks originality. Thus, it should not be protected by copyright law at all."

According to Nike's representative,Nike did not pirate the logo from the young Chinese, but paid 25 million yuan (US$3 million) for the ad.

"It was created by the famous advertising company Wieden and Kennedy," Zhang said.

But according to the court, "ahead of the completion of the cartoon character of the stickman by Zhu in 2000, there was no such artistic work in China. So the character was original and should be protected by Chinese laws."

The court decided the characteristics of the stickman used in advertisement by Nike was nearly the same as Zhu's stickman.

"Nike used images similar to the plaintiff's work in its advertisement without receiving authorization from the plaintiff, resulting in copyright infringement."

The court also required Nike to stop such infringement behaviour in the future and to issue a public apology to Zhu.




| | |
| --- | --- |
| | |
| Fan Bingbing plays a silm Concubine Yang | |

| | |
| --- | --- |
| | |
| Gong Li in ad. photoes | |

| | |
| --- | --- |
| | |
| China issues first Diaoyu Islands post card | |
Today's Top News
Top Life News

Third Chinese confirmed dead; assistance rushing in




Asian tsunami toll jumps to over 125,000




Farming trade deficit hits record




China rings alarm over possible flu pandemic




Yao Ming tops NBA All-Star voting




Fishing fleet cutback preserves resources