O'Neal bracing for suspension ruling
(Agencies)
Updated: 2004-12-30 09:34
Indiana forward Jermaine O'Neal will go before a federal judge on Thursday to see if he can continue playing for the Pacers. If the ruling goes against him, and O'Neal returns to the suspended list, he said he'll accept it.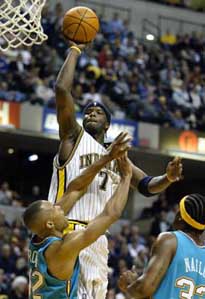 Indiana Pacers center Jermaine O'Neal (7) shoots over New Orleans Hornets' P.J. Brown, left, and Lee Nailon during the first quarter in Indianapolis, Monday, Dec. 27, 2004. [AP]

"I got to," O'Neal said before Wednesday night's game against the Charlotte Bobcats. "It will be hard. I'll be disappointed, but I'll put it in God's hands. I've got a lot of faith."

Originally suspended by NBA commissioner David Stern for 25 games for fighting with fans during the Nov. 19 Pacers-Pistons brawl, an arbitrator reduced the ban to 15 games. The NBA then challenged arbitrator Roger Kaplan's authority to hear O'Neal's grievance, and a federal judge temporarily upheld Kaplan's ruling last week, allowing O'Neal to play.

Both sides will be back in court Thursday in New York, where Judge George B. Daniels will consider the merits of the NBA's lawsuit and whether O'Neal will have to serve the remaining 10 games of his suspension.

O'Neal has played two games since his suspension was lifted, giving the Pacers the low-post presence they sorely lacked while he was gone. O'Neal has scored 37 points and grabbed 18 rebounds, including 16 points and 11 rebounds in a win over New Orleans on Monday.

His biggest worry now is whether or not a return to the suspension list would be disruptive to the Pacers, who are just getting accustomed to having him back.

"We're trying to take a step forward, trying to put some things together with this team," said O'Neal, who broke from his practice of not speaking to the media before a game. "I will be disappointed, but we'll go forward."

Pacers coach Rick Carlisle was reluctant to discuss Thursday's hearing.

"I'm dealing in certainties and the certainty is he's here tonight," Carlisle said. "Tomorrow is another day. Right now, tomorrow seems like light years away."

Carlisle praised O'Neal for the way he has handled himself during the suspension, and for staying in shape while he was away from the team.

"He's dealt with it with unbelievable dignity and integrity, it hurt him very deeply," Carlisle said. "It's been tough for him, but he's dealt with it with real class."

For O'Neal, the toughest part of the brawl and suspension was explaining it all to his 5-year-old daughter, Asjia. She attends all the home games, then didn't understand when she saw Daddy watching a Pacers game on TV. When she asked him if he was watching a tape, he had to tell her what was going on.

"I told her 'Daddy was involved in a situation nobody should be involved in,'" O'Neal said. "The worst thing you want to do is change the way a child looks at you. My daughter looks up to me as a dad, and as a player. There's millions of other kids who look up to me the same way.

"I feel terrible I was involved in it. I want to be a guy that people say 'Not only is he a great player, he's a great person."




Today's Top News
Top Sports News

Farming policies yield rare harvest




Agenda ready for full NPC session




Quake and tsunami toll may top 100,000




Social security allowances to be raised




Watchdog to tighten control of bad loans




Gas pipeline may earn a profit next year