Former US attorney general to defend Saddam
(Agencies)
Updated: 2004-12-30 09:14
The head of Saddam Hussein's legal team said Wednesday that he has enlisted the aid of former U.S. Attorney Ramsey Clark in the fallen leader's defense.
Ziad al-Khasawneh said Clark was asked to help with the case after Saddam told his Iraqi lawyer last week to convey his regards to the former U.S. official.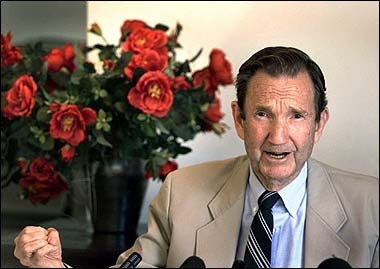 Former US attorney general Ramsey Clark is to join the defence team of Saddam Hussein, a spokesman for the toppled Iraqi president's lawyers said. [AFP/File]

Clark's law office in New York City declined to comment on the report and said Clark was scheduled to be out of the country until next week.

Clark, who served as attorney general under the late President Lyndon Johnson for three years in the 1960s, is a staunch anti-war opponent who has met Saddam several times over the last 15 years. He was considered a friend of Iraq under Saddam when the United Nations slapped an embargo on Baghdad following its 1990 invasion of Kuwait.

Khasawneh said Clark met with members of the defense team Tuesday in Jordan.

Iraq's deputy prime minister told reporters in Baghdad Wednesday that Saddam's trial will likely start at the beginning of 2005. Saddam was arraigned in a Baghdad court in July on charges of war crimes and genocide.




Today's Top News
Top World News

Farming policies yield rare harvest




Agenda ready for full NPC session




Quake and tsunami toll may top 100,000




Social security allowances to be raised




Watchdog to tighten control of bad loans




Gas pipeline may earn a profit next year