U.S. launches offensive after Iraq ambush
(Agencies)
Updated: 2004-12-30 08:52
U.S. forces launched a new offensive Wednesday against insurgents in an area south of the capital dubbed the "triangle of death," while militants ambushed an elite Iraqi police unit in a Baghdad neighborhood known for its loyalty to ousted dictator Saddam Hussein, killing 29 people, most of them civilians.
The militants set off a huge explosion in the staunchly Baathist neighborhood of Ghaziliya as a contingent of special police and national guards were about to raid a house late Tuesday after receiving an anonymous tip. The blast killed 22 civilians and seven officers, and damaged a dozen nearby homes, a police spokesman said.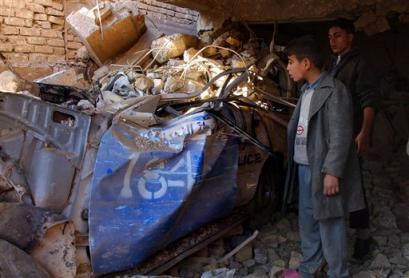 People look at a damaged patrol car covered by rubble of houses destroyed in a blast in west Baghdad Wednesday Dec. 29, 2004. Insurgents lured police to a house in west Baghdad with an anonymous tip about a rebel hideout Tuesday night, then set off explosives, killing at least 29 people and wounding 18, police said Wednesday. Seven policemen were among the dead. [AP]

Between 1,700 to 1,800 pounds of explosives were used in the blast, a U.S. military statement said. American and Iraqi troops searched the rubble for survivors through the night and rescued one civilian.

It was not immediately clear whether any of the casualties were guerrillas who appeared to have lured the police into the building. The area is a predominantly Sunni Muslim neighborhood where support for Saddam has traditionally been strong.

The fighting came as an insurgent group which claimed responsibility for the Dec. 21 suicide bombing of a U.S. base near Mosul ¡ª in which 22 people were killed ¡ª warned Iraqis not to take part in parliamentary elections scheduled for next month.

"We also warn everyone to keep away from all military targets, whether they were bases, American Zionist patrols, or the forces of the pagan guard, and police," Ansar al-Sunnah said.

The group is believed to be made up mainly of Sunnis and has focused on targeting Americans and those viewed as collaborating with them. It has avoided outright civilian targets.

The latest warning followed Monday's audiotape statement from al-Qaida leader Osama bin Laden urging Iraqis to boycott the elections and praising attacks against Americans and those who cooperate with them.

US President Bush denounced bin Laden's appeal, saying the Jan. 30 election marks a crossroads for Iraq.

"The stakes are clear in this upcoming election," Bush told reporters at his Texas ranch. "It's the difference between the ability for individuals to express themselves and the willingness of an individual to try to impose his dark vision on the world, on the people of Iraq and elsewhere. It's very important that these elections proceed."

Insurgents have intensified their strikes against the security forces of Iraq's U.S.-installed interim government as part of a continuing campaign to disrupt the elections for a constitutional assembly.

Government troops are supposed to protect polling stations, and the insurgents' strategy ¡ª which includes attacking police stations, checkpoints and patrols ¡ª appears aimed at demonstrating the security forces are incapable of handling the job.

Brig. Gen. Jeffery Hammond, assistant commander of the 1st Cavalry Division that controls Baghdad, said Wednesday that U.S. troops had begun a major anti-insurgency operation south of Baghdad, focused on areas such as around Mahmoudiya, a town about 25 miles south of the capital.

U.S. and Iraqi forces have come under repeated attacks by car bombs, rockets, and small arms fire in the area, dubbed the "triangle of death." The latest operation followed a weeklong campaign in November and early December to root out insurgents in the area.

U.S. commanders had hailed the November offensive to retake Fallujah as a major tactical victory, but violence elsewhere in Iraq has only escalated since the fall of the main insurgent bastion 40 miles west of Baghdad. The vast majority of the estimated 6,000 guerrillas based there apparently slipped out to northern Iraq and the area south of Baghdad, which includes Mahmoudiya.

"We believe that many insurgents that left Fallujah settled throughout areas in Baghdad and specifically in southern sector of Baghdad and north of Babylon," Hammond said.

Top U.S. commanders have acknowledged that insurgent offensive is expected to continue at least until the elections.

In the northern city of Mosul, two car bombs exploded as a U.S. patrol was passing Wednesday, wounding two soldiers and damaging a vehicle, U.S. military spokesman Lt. Col. Paul Hastings said.

U.S. forces who returned to the scene took small arms fire and then called in helicopter airstrikes. Five insurgents were killed and four more U.S. soldiers were wounded, Hastings said.

Meanwhile, Iraq's interim government sought to boost the efficiency of its security forces by merging of its 35,000-man paramilitary National Guard and the nascent armed forces. The move appeared to be an effort to streamline Iraq's security apparatus ahead of the elections and bring its forces under centralized command.

Also Wednesday, Iraq's deputy prime minister Barham Saleh said Saddam will likely be brought to trial early next year though no date has been announced.




Today's Top News
Top World News

Farming policies yield rare harvest




Agenda ready for full NPC session




Quake and tsunami toll may top 100,000





Social security allowances to be raised




Watchdog to tighten control of bad loans




Gas pipeline may earn a profit next year