5 million in need of food, toll nears 80,000
(Agencies)
Updated: 2004-12-30 08:42
Up to 5 million people around the Indian Ocean waited for food and clean water on Thursday as nations hit by one of the biggest tsunamis on record rush to bury their dead and avert the threat of disease.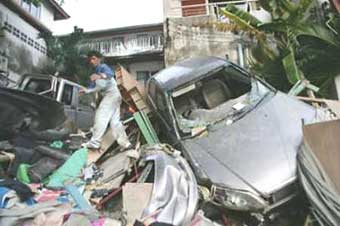 A worker clears debris in the Thai resort island of Phuket, December 29, 2004. Rescuers scoured remote coastlines around the Indian Ocean for survivors of Sunday's devastating tsunami. [Reuters]

Countries around the world mobilized to send rescue teams, food and millions of dollars in aid to help survivors in the hardest-hit nations of Indonesia, Sri Lanka, India and Thailand cope with the aftermath of the century's worst natural disaster.

Anger began to be heard above the grief as families left with no homes or possessions wanted to know why help was taking so long to reach them.

"There is no food here whatsoever. We need rice. We need petrol. We need medicine. I haven't eaten in two days," said Vaitai Usman, a woman in her mid-30s, gesturing angrily at her filthy sarong, saying it was the last of her possessions, as relief teams began arriving in Indonesia's Banda Aceh city.

Indian Ocean nations rushed to recover bloated corpses from seawater, mud, collapsed buildings and other debris after being hit by a giant wave of water on Sunday triggered by a 9.0 magnitude underwater quake off the Indonesian island of Sumatra.

"I would not be at all surprised that we will be on 100,000 (deaths) when we know what has happened on the (Indian) Andaman and Nicobar islands," Peter Rees of the International Federation of Red Cross and Red Crescent Societies (IFRCS) said.

India's High Commissioner to Britain, Kamalesh Sharma, told CNN on Wednesday India's death toll was nearly 10,000 and expected to rise.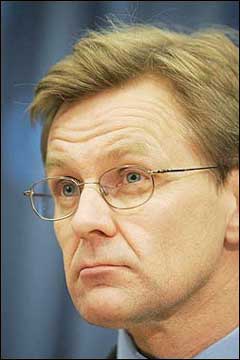 Jan Egeland, United Nations undersecretary general for humanitarian affairs and emergency relief coordinator, speaks during a news conference December 29, 2004 at UN headquarters in New York on relief efforts to countries affected by the South Asian earthquake and tsunami. Egeland said with billions of dollars of damage, the largest ever relief operation is required in the aftermath of the disaster. [AFP]

"On the mainland the figure has now crossed 6,000 ... The most worrisome is the Andaman and Nicobar islands where the figure has already reached 3,000 fatalities," Sharma said.

The increase in Indian victims puts the overall toll so far at nearly 80,000 people.

With a large proportion of Asia's populations under 18, U.N. officials say up to a third of the victims could be children.

U.N. Emergency Relief Coordinator Jan Egeland said in New York aid workers have reached most of the stricken areas.

"It will take maybe 48 to 72 hours more to be able to respond to the tens of thousands of people who would like to have assistance today -- or yesterday, rather," he said. "I believe the frustration will be growing in the days and the weeks ahead."

Fresh television pictures on Wednesday gave some idea of the unforgiving force of the killer wave, dragging terrified family members from each other's clutches, sweeping trucks and buses through buildings, flipping ships on to land.

The quake was so powerful, U.S. scientists said it made the Earth jolt on its axis.

MILLIONS IN NEED

"Perhaps as many as 5 million people are not able to access what they need for living," David Nabarro, who heads the World Health Organization's health crisis team, told Reuters. "Either they cannot get water, or their sanitation is inadequate or they cannot get food."

Egeland said some 50 to 60 nations had given or pledged more than $220 million in cash.

Indonesia, Sri Lanka, Thailand and south India faced death tolls of catastrophic proportions. Hundreds of people were also killed in the Maldives, Myanmar and Malaysia and more than 130 died in East Africa.

Thousands of tourists enjoying their Christmas holidays at Indian Ocean resorts, principally in Thailand, could be among the victims. Some 1,500 Swedes, 1,000 Germans, 600 Italians and nearly 450 Norwegians were missing.

Norway's government said the tsunami threatened to become one of the worst disasters for its nation in modern times.

Relatives and friends in many countries began to blame their governments for not realizing the scale of the disaster sooner and for only now sending rescue teams and aid to stricken areas.

US President Bush responded to criticism from one senior U.N. official of "stinginess" from rich nations by saying the U.S. pledge of $35 million in aid was just a start.

"These past few days have brought loss and grief to the world that is beyond our comprehension," Bush said during a break from his holiday in Crawford, Texas.

Indonesia has suffered the biggest number of victims, with 45,268 known dead, although the toll could rise to 80,000 in Aceh alone, the province closest to the quake's epicenter.

At Khao Lak beach in Thailand, where officials say up to 3,000 people may have died, Thai and German rescuers searched the wreckage of a half-built luxury hotel after villagers said they had heard calls for help from people trapped inside.

In Washington, one U.S. official said Thailand's death toll was likely to be much higher because rescue teams had yet to reach some areas.

Primitive tribes on India's remote Andaman and Nicobar islands were running out of the coconuts they were living on, with whole communities wiped out.

"The water was just too strong," said Surya Darmar, lying on an army cot in Indonesia's Banda Aceh with a broken leg. "I held my children for as long as I could, but they were swept away."




Today's Top News
Top World News

Asian tsunami toll jumps to over 125,000, fear lingers




3rd Chinese confirmed dead; aid rushing in




Farming trade deficit hits record




China rings alarm over possible flu pandemic




Yao Ming tops NBA All-Star voting




Fishing fleet cutback preserves resources