Soybean oil fails to meet quality standards
By Zhang Feng (China Daily)
Updated: 2004-12-29 03:07
Several batches of cooking oil, mostly distributed in Northeast China, failed to meet quality-control test.
At least two companies are now recalling product batches while health officials try to determine what happened to some batches of soybean oil found to contain high levels of free fatty acids.
The free fatty acids content of some popular soybean oil brands, such as Jinlongyu, Fulinmen and Jinxiang, surpassed the maximum allowed, said the Ministry of Health on Monday.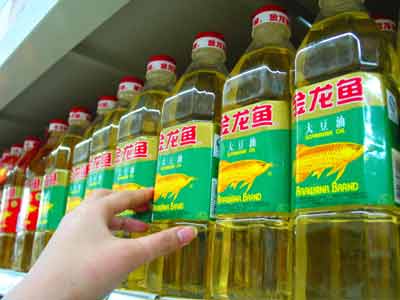 Jinlongyu soybean oil (900 millilitre a bottle) produced on April 24, 2004 sat on the shelf in a supermarket in Jinan, capital city of East China's Shandong Province on Tuesday. Jinlongyu soybean oil, Fulinmen soybean oil (produced on November 26, 2003, 1.8 litre a bottle), and Jinxiang soybean oil (produced on December 15, 2003, 5 litre a bottle) have been found to contain higher levels of free fatty acids by the Ministry of Health.[newsphoto]
Too many free fatty acids could mean that the oil may not be up to quality standards, may be past due or going bad, said ministry spokesman Mao Qun'an.
The ministry found the poor-quality oil as part of a nationwide testing of 574 separate oil products across 13 provinces.
Some 52 products found in Liaoyuan and Siping cities in Jilin Province failed to meet standards.
Among them were oil products sold by the top two oil producers in China by volume, Jinlongyu and Fulinmen.
The ministry asked the producers to recall the products as soon as possible, Mao said.
Both Jinlongyu and Fulinmen said yesterday they have not found any products produced by the same factory and at the same time as the recalled ones.
Shanghai-based Fulinmen, for its part, has not said why its products sold in Siping went bad but it is actively co-operating with the ministry to investigate, said Funlinmen marketing official Guo Xin.
However, Fulinmen has decided to recall all the products with the same batch number as those found by the ministry to be below standard.
The producer of Jinlongyu, Kerry Oils and Grains Business Development (Shenzhen) Co.,Ltd, also plans to recall its products with the same batch number, all of which are now being sold in Northeast China.
Soybean oil is growing in popularity as customers' tastes expand.
Cooking oils are generally made from soybean, peanut or corn, said Cai Pingping, a saleswoman from Ito Yokado Supermarket in Beijing.
Although many people have consulted her about the quality problem of Jinlongyu and other brands in the past two days, sales have not been affected, Cai said.
"Products with the same batch number as the unqualified ones have only been sold in Northeast China, which makes people here feel comfortable," said Cai.
Today's Top News
Top China News

Farming policies yield rare harvest




Agenda ready for full NPC session




Quake and tsunami toll may top 100,000




Social security allowances to be raised




Court: Nike pirates stickman character




Former US attorney general to defend Saddam