Gas pipeline may earn a profit next year
By Xie Ye& Fu Jing (China Daily)
Updated: 2004-12-29 03:07
The US$5.2 billion west-east natural gas pipeline may earn a profit next year.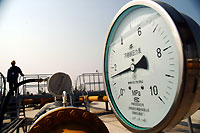 A pumping station in Shanghai is shown in this October 19 file photo. [newsphoto]

The project almost broke even this year, its first year of operation, said Su Shulin, vice-president of PetroChina, at a press conference yesterday.

He attributed the good performance to better than expected demand for gas.

The project carries gas from deserts in the remote Xinjiang Uygur Autonomous Region to Shanghai through a 4,000-kilometre-long pipeline.

The pipeline project, a flagship project of the government's plan to boost the economy of impoverished western areas, was to commence official commercial operation today.

A section of the pipeline has been delivering oil since January from its back-up gas field in Changing, Shanxi Province.

Su said the project has almost reached the break-even point this year, as the gas consumption exceeded 1.3 billion cubic metres.

He expected it to earn a profit next year as consumption climbs to 4.0 billion cubic metres, Su added.

By 2007, consumption is expected to reach the designed capacity of 12 billion cubic metres, one year ahead of the original plan.

There had been widespread fears that the pipeline would turn out to be unprofitable due to lackluster demand for expensive gas.

However, as prices for alternative fuel such as oil and coal have soared,, the gas from the west has a good prospect.

"The market demand is robust," said Su.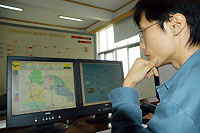 A technician watches the pressure adjusting system in a file photo taken on October 19. [newsphoto]

PetroChina sealed another 12 purchase contracts yesterday. The contracts allow the company to lock consumption for more than two decades.

So far, 40 companies have signed supply contracts, setting eventual consumption at 12 billion cubic metres annually.

Xu Dingming, director of the Energy Bureau of the National Development Reform Commission, said the project marks a "new chapter" for China's gas industry.

Gas consumption is expected to see rapid growth in the coming 15-20 years, Xu said.

Gas makes up 3 per cent of the total energy consumption mix in China, compared with more than 20 per cent in the world.

China is expected to boost the consumption of gas in a bid to reduce pollution and optimize energy consumption.

It aims to increase the percentage taken up by gas in the overall energy sources mix to 10 per cent by 2010. The level is currently 3 per cent.




Today's Top News
Top China News

Farming policies yield rare harvest




Agenda ready for full NPC session




Quake and tsunami toll may top 100,000




Social security allowances to be raised




Court: Nike pirates stickman character




Former US attorney general to defend Saddam