Bridge over Yangtze River starting construction
By Jiang Wei (China Daily)
Updated: 2004-12-29 22:19
Construction of a large-span bridge over the Yangtze River section in Southwest China's Chongqing Municipality began yesterday.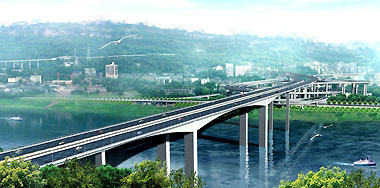 An artist depiction of the bridge. [Xinhua]

The 1,741-metre-long Chaotianmen bridge, to link the south and the north banks of the river, should play a big role in alleviating transportation pressures in of the city's urban areas.

With light rail on its lower level and a six-lane highway on a top level, the expanse will become the platform for several methods of public transportation in the city after its completion over the next three and half years.

Local governments will pour over 3 billion yuan (US$360 million) into this project, which will be constructed by China Harbour Engineering Company (Group), the leading bridge construction firm in the country.

"We are confident that we will successfully complete the project by 2008 and we believe the bridge will become a new landmark architecture in Chongqing," said Liu Huaiyuan, president of China Harbour.

Peng Jiang, a young man who lives along the Yangtze River's south bank, could not hide his excitement about the project.

"It takes me half an hour to nearly one hour to cross the river by ship, but it will take only several minutes by bus when the bridge is completed, " Peng told China Daily.

Ships highly depend on the weather: They do not operate when it is dark or when there is fog, which happens frequently in Chongqing, especially in winter, he added.

Meanwhile, the bridge means more than transportation convenience for the city.

According to the municipal government, a vast area along the Yangtze River has been designed to be a central business district, including part of Yuzhong District, part of Nan'an District and part of Jiangbei District.

Geographical disadvantages have confined the economic growth of Nan'an and Jiangbei.

Experts predict that by providing better transportation to citizens, the bridge will drive real estate growth and industrial development in the area.




Today's Top News
Top China News

Panels to watch textile export orders




Quake and tsunami toll may top 100,000




Farming policies yield rare harvest




Banks open up ATM cards to three nations




China to freeze aircraft orders in 2005




Social security allowances to be raised