Yanukovich appeals Ukraine vote results with election officials
(Agencies)
Updated: 2004-12-29 21:41
Ukraine's Prime Minister Viktor Yanukovich contested the results of a presidential rerun vote with election officials as the winner of the poll Viktor Yushchenko prepared unperturbed to take office.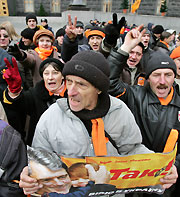 Ukrainian demonstrators, wearing orange campaign ribbons of opposition leader Viktor Yushchenko, flash victory signs and shout slogans during a rally outside the Cabinet of Ministers in central Kiev, December 29, 2004. Supporters of Ukraine's next president Yushchenko lifted a blockade of the government building on Wednesday after receiving assurances that Prime Minister Viktor Yanukovich would not try to enter the building. [Reuters]

The central election commission announced that Yanukovich had filed a complaint over results of Sunday's historic election, which showed Yushchenko winning by more than 2.2 million votes.

"Yanukovich's team filed a complaint just before midnight on Tuesday over violations in all (voting) districts," commission spokeswoman Zoya Charikova told AFP. "The commission now has two days to examine the appeal."

The move means that Ukraine's five-week election saga, which has roiled this ex-Soviet nation and raised tension between Russia and the West, is likely to drag on into the New Year amid legal wrangling.

The prime minister, who was stripped of victory in an earlier presidential runoff in November because of widespread fraud, has vowed to contest the results of the repeat election to the supreme court.

Yanukovich was due to hold a press conference in late afternoon.

Observers say the appeals are unlikely to scuttle the results of Sunday's election because Yanukovich lacks mass popular support and because the number of irregularities that did occur were not enough to narrow the gap between the two candidates in final vote tallies.

Yanukovich campaign manager Taras Chornovil shared the pessimism Wednesday, saying: "Everything is absolutely predetermined, there will not be any decisions in our favor."

Western observers have generally hailed Sunday's rerun for making great progress toward international standards and said that the violations that did occur were not of the systemic kind that marred the November 21 vote.

Russian observers have however criticized the poll, as well as their Western counterparts for a lack of "objectivity" in monitoring the election.

According to complete preliminary ballot counts released by the central election commission Tuesday, Yushchenko had won the weekend election by a comfortable margin of 52 percent to Yanukovich's 41 percent, a difference of more than 2.2 million votes.

Yushchenko, confident his victory would withstand any legal challenges, has gone about preparing to assume power, discussing a program for his first 100 days in office at a meeting Tuesday with top advisors.

"My government and I will make EU membership a principal policy goal," he said, repeating his campaign pledge, in an interview with a Dutch daily Algemeen Dadbald on Wednesday.

He stressed that Ukraine "has to solve its problems with Russia first... Even if we cannot get an ideal with Russia we ould try to build a good relationship... It is in the best interests of Ukraine."

Congratulations over the vote have poured in since Sunday's election, with German Chancellor Gerhard Schroeder saying Tuesday: "I am convinced that Ukraine under your leadership will continue to forcefully pursue its course toward democracy and a market economy under the rule of law."

Yushchenko delivered a fresh blow to Yanukovich Wednesday, when a government meeting that the prime minister had planned to chair was cancelled after opposition supporters blocked the seat of government in Kiev.

Hundreds of orange-clad Yushchenko supporters surrounded the building, chanting and beating on garbage cans for several hours, before leaving when authorities assured them the cabinet meeting had been cancelled.




Today's Top News
Top World News

Farming policies yield rare harvest




Agenda ready for full NPC session




Quake and tsunami toll may top 100,000





Social security allowances to be raised




Watchdog to tighten control of bad loans




Gas pipeline may earn a profit next year