2,008 students support panda as Olympics mascot
(Agencies)
Updated: 2004-12-29 15:32
A total of 2,008 students from Chengdu, capital of south-western Sichuan province, have made a huge picture of a giant panda from pieces of cloth to support the rare animal's bid to be the mascot of the 2008 Olympic Games to be held in Beijing.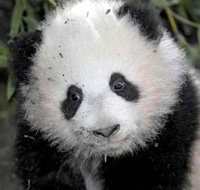 The quilt show began when 2,008 students from Chengdu Experimental Foreign Language School stepped onto the playground holding 29 large pieces of red cloth, which were printed with different parts of a panda.
About 30 minutes later, a large black and white panda appeared was assembled.
The picture, which covers 2,008 square metres, will be sent to Beijing to support the panda as the choice for the 2008 Olympic Games' mascot, Su Yuandong, a local official said.
Called the "home of pandas," Sichuan province has campaigned for the animal to be chosen as the Olympic mascot since June, when the Beijing Organising Committee for the 2008 Games (BOCOG) began scouting for a mascot.
The provincial government has committed to award one million yuan to the designer of a panda that wins the mascot competition.
BOCOG said that by December one, the deadline for submission, it had received a total of 662 valid entries including 37 works of foreign designers from Japan, South Korea, Singapore, Britain and the United States.
Beside the giant panda, China's mostly treasured wildlife, the Tibetan antelope and the "Monkey King," are among the proposed images for the Olympic mascot, BOCOG said.

| | |
| --- | --- |
| | |
| Halle Berry voted the Hollywood best-looking | |

| | |
| --- | --- |
| | |
| Kung fu star Jet Li escapes killer tsunami | |

| | |
| --- | --- |
| | |
| 'Chinese Hacker' defaces McDonald's website | |
Today's Top News
Top Life News

China rushes aid to tsunami battered countries




Tsunami toll rises to 68,000; aid teams arrive




43 Chinese missing in Phuket after tsunami




FM: Lee's visit a blow to China-Japan ties




State to speed up public info flow




Banquet to raise money for the poor