Colombia nabs reputed drug cartel leader
(Agencies)
Updated: 2004-12-29 10:10
Colombian police captured a reputed leader of the Norte del Valle drug cartel Tuesday, the latest arrest in a U.S.-backed effort to dismantle a gang accused of trafficking half of all cocaine sold in the United States in the 1990s.
Dagoberto Florez, a reputed capo or leader in the cartel, was on a list of most wanted alleged cocaine kingpins sought by U.S. authorities under a court order handed down in New York in May. The U.S. government offered a $5 million reward for his capture.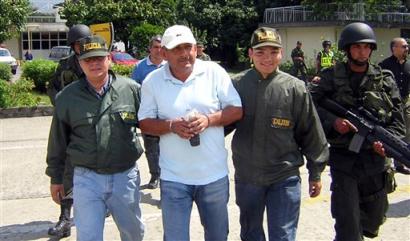 Photo provided by the U.S. Immigration and Customs Enforcement (ICE) showing the arrest of Dagoberto Florez, center, a reputed cocaine cartel leader wanted in the U.S. on drug-related charges, Tuesday, Dec. 28, 2004 in Medellin, Colombia. [AP]

Police seized Florez early Tuesday in a rural area outside Medellin, Colombia's second largest city 250 miles northwest of the capital, the national police chief, Gen. Jorge Daniel Castro, told reporters. He declined to provide details on the capture, and said it hasn't been decided who, if anyone, would receive the reward money.

Florez was among nine reputed Norte del Valle cartel leaders being sought for extradition after U.S. investigators traced a money trail from three small wire transfer businesses in New York to cartel leaders in Colombia. Florez was the second on the list to be captured, following the arrest in October of Gabriel Puerta-Parra.

"His arrest today is yet another example of the unprecedented law enforcement cooperation between the United States and Colombia," Michael J. Garcia, an assistant secretary for the Department of Homeland Security, said in a statement issued Tuesday.

In its heyday in the late 1990s, the Norte del Valle cartel, named for the region of Colombia where the gang originated, trafficked about half of the cocaine sold in the United States. The U.S. government says the cartel exported $10 billion worth of cocaine over the past 15 years.

Under President Alvaro Uribe, a strong Washington ally, Colombia has extradited more than 100 alleged drug traffickers to the United States. Earlier this month, he extradited Gilberto Rodriguez Orejuela, a co-leader of the dismantled Cali cartel, who is considered the most powerful drug trafficker to ever see the inside of a U.S. prison.




Today's Top News
Top World News

Chinese aid joins world tsunami rescue




Asian tsunami toll approaches 60,000




Building resumes at Olympic centre




FM: Lee's visit a blow to ties




State to speed up public info flow




Billions of US dollars to cross borders