Nuggets fire coach Jeff Bzdelik
(Agencies)
Updated: 2004-12-29 08:56
Following a lackluster loss to Cleveland earlier this month, Denver coach Jeff Bzdelik questioned whether his players were in shape and said he was losing sleep because of the Nuggets' inconsistent play.
Unfortunately for him, things never really got better.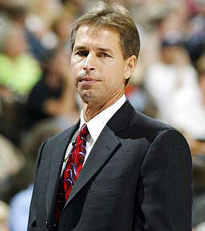 This 2003 photograph shows Jeff Bzdelik. The Denver Nuggets sacked Bzdelik and named assistant Michael Cooper interim coach, a day after the National Basketball Association team's sixth straight defeat. [AFP]

Denver fired Bzdelik on Tuesday, one day after the Nuggets lost their sixth straight game and failed again to live up to the high expectations that came with the offseason addition of All-Star forward Kenyon Martin. Assistant Michael Cooper took over on an interim basis after Bzdelik became the first NBA coach to be fired this season.

"Right now, I really felt the team needed a change," general manager Kiki Vandeweghe said. "Sometimes it's nothing the head coach is doing wrong. It's just that a change of voice sometimes is the positive."

The Nuggets clearly needed to change something.

Expected to contend in the Western Conference after Martin came from New Jersey in a sign-and-trade deal, the Nuggets instead have been plagued by bad luck, inconsistency and lopsided home losses.

The season got off to a horrible start when shooting guard Voshon Lenard, Denver's only legitimate outside threat, was lost for the season with a torn Achilles' tendon in the opener.

The Nuggets also started the year without power forward Nene and have used 10 different starting lineups, with star forward Carmelo Anthony missing the past five games with a sprained ankle.

But bumps and bruises were only part of Denver's problems.

The Nuggets have been wildly inconsistent, grinding out wins against playoff teams one game and getting blown out at home the next.

"That's the messed up thing. He's not out there playing," Martin said. "He's the head coach and he's got to take the blame. I'm sure if they could fire us, they probably would."

The Nuggets opened the season 2-5, won 10 of their next 12 games and have since lost eight of their last nine. They are 13-15 after a 104-101 loss at lowly Golden State on Monday night.

"I didn't feel like the team was responding the way we had hoped," Vandeweghe said. "These things don't happen overnight, it's an evolution. I can't pinpoint when this trend started, but it started a while ago."

A longtime assistant and scout under Pat Riley in Miami and New York, Bzdelik earned his first head coaching job with Denver in 2002. Though the Nuggets struggled to a 17-65 record in his first season, worst in the league, Bzdelik was credited with turning them into a hardworking, defensive-minded team.

A roster overhaul and the addition of Anthony made all the difference in 2003-04. Denver improved by 26 games to 43 wins ¡ª the sixth-best turnaround in NBA history ¡ª to reach the playoffs for the first time in nine years. The Nuggets gave Minnesota all it could handle in a five-game first-round series.

But through all the success, Bzdelik wasn't able to get any security from the front office.

Vandeweghe refused to give Bzdelik a contract extension last season. It seemed the only reason he was back this year was because of a contract clause that called for his option to be picked up if the Nuggets reached the playoffs.

It was a situation that had Bzdelik, 73-119 in just over two seasons with Denver, looking over his shoulder.

"None of us have any guarantees on tomorrow," Bzdelik said. "I've seen coaches with five or six years left on their contract and get let go and players not responding to them. So I was proud of the effort our players had exhibited over the last several games."

Now it's Cooper's turn.

A member of the Lakers' "Showtime" teams of the 1980s, Cooper coached the Los Angeles Sparks (news) to two WNBA championships and a finals appearance in four years before joining the Nuggets this season.

"This is tough, but my goal now is to get us playing a little better," Cooper said. "We'll concentrate on defense and just try to continue the winning ways this team ended last season and sort of started with at the beginning of the season."




Today's Top News
Top Sports News

Chinese aid joins world tsunami rescue




Asian tsunami toll approaches 60,000




Building resumes at Olympic centre




FM: Lee's visit a blow to China-Japan ties




State to speed up public info flow




Banquet to raise money for the poor