Thousands more US troops sent to Baghdad
(Agencies)
Updated: 2004-12-29 08:47
An extra 5,000 US troops have been deployed in Baghdad ahead of January's elections, a top US commander said, sketching a plan to tackle an expected surge in violence in the run up to polling day.
"We anticipate more assassinations and car bombs," Brigadier General Jeffrey Hammond of the 1st Cavalry Division told reporters.
"We face an evil and pathetic minority that is after one thing: spreading fear to gain power."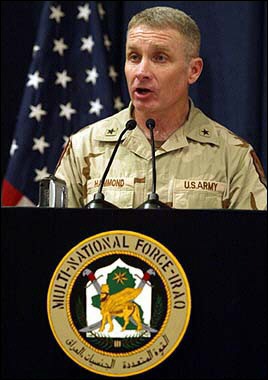 US Brigadier General Jeffery Hammond of the 1st Cavalry Division, gives a press conference in Baghdad. Hammond said there would be 5,000 extra troops deployed in Baghdad for the upcoming elections. [AFP]

Task Force Baghdad -- which includes about 34,000 US and other foreign troops and military personnel -- has already been boosted by 5,000 soldiers ahead of the legislative elections, according to Hammond.

This is comprised of 3,500 soldiers of the 1st Cavalry's Second Brigade, whose tour of duty was extended, and 1,500 new soldiers from the 82nd Airborne Division.

US Secretary of Defense Donald Rumsfeld said last week that the total number of US troops in Iraq has already been increased to 150,000 from 138,000 for the elections.

Hammond repeated what US military and government officials have been stressing both here and in Washington -- that primary responsibility for securing elections would be with Iraqi forces despite serious concerns over their readiness for the task.

"Iraqi security forces will be in the lead," he said.

"We do not have a role in operating polling stations or any other aspect of the electoral process, we are prepared to assist when called."

He expressed confidence that a force of about 7,500 national guardsmen in Baghdad trained and mentored by 540 officers from his division are ready to handle the challenges of securing the country's first democratic elections since the fall of Saddam Hussein's regime.

"This is not the ICDC of the past; these guys want to be part of the solutions," he said referring to the Iraqi Civil Defense Corps, the national guard's predecessor.

US-led multinational force spokesman Brigadier General Erv Lessel told AFP Monday that the plan on election day was to have Iraqi police and other security forces at polling sites, which Hammond said are expected to number 1,400 in Baghdad.

There would be an outer ring of Iraqi police, national guard and other security forces and US-led forces would be further out providing support in an "on-call capacity."

But Hammond cautioned that the city's estimated 18,000-strong police force had a long way to go from focusing on traffic control and securing police stations to having more confidence and initiative to take charge of law and order.

He said the city needs a force of about 25,000.

The job of getting Iraqi forces on their feet has been complicated by a relentless and almost daily campaign of violence and bombings against them by insurgents.

Hammond said the "tipping point" in favour of US and Iraqi forces in their fight against insurgents, whom he described as a "potent enemy," will come when they win over the majority of the Iraqi population.

To that end he is spending thousands of dollars on billboards and television spots asking average Iraqis to come forward with information and tips that may lead to the capture or killing of insurgents.

"I want to be able to go into their living rooms and lay out the evil and good and let them make their choice," he said.

Hammond said security and access to non-military personnel at US bases in the Baghdad area has been thoroughly reviewed in the wake of a suicide bombing one week ago at a dinning hall on a US base in the northern city of Mosul.

"We learn and react and we have done that with the Mosul incident," he said.




Today's Top News
Top World News

Chinese aid joins world tsunami rescue




Asian tsunami toll approaches 60,000




Building resumes at Olympic centre




FM: Lee's visit a blow to ties




State to speed up public info flow




Billions of US dollars to cross borders