25 die in string of Iraq insurgent attacks
(Agencies)
Updated: 2004-12-29 08:40
With car bombs, assassinations and raids on police stations, insurgents killed at least 25 people, including Iraqi policemen and a deputy governor, across the volatile Sunni Triangle on Tuesday, and a militant group claimed it executed eight Iraqi employees of an American security company.
The string of attacks ! including one in which 12 policemen's throats were slit in their station ! were the latest by the insurgency targeting Iraqis working with the American military or the U.S.-backed government ahead of the Jan. 30 national elections.
Brig. Gen. Jeffery Hammond, assistant brigade commander in the 1st Cavalry Division that controls Baghdad, said attacks by insurgents are expected to escalate further in the run-up to the ballot.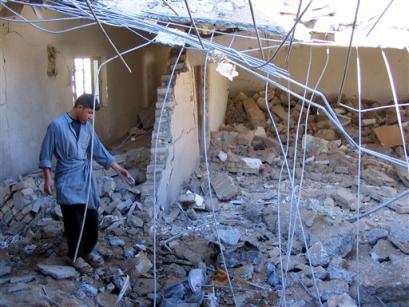 A man checks a destroyed police station 20 kilometers (12 miles) south of Tikrit, Iraq, Tuesday Dec. 28, 2004. Twelve policemen died when gunmen attacked the station. [AP]

"We anticipate that the enemy will (continue with) attacks, intimidation, assassinations and other messages designed to destroy life in Baghdad," Hammond said, adding that Iraqi security forces will bear the brunt of providing security for the elections and that U.S. troops will back them up only if needed.

Iraqi leaders said the guerrillas ! who are mostly Sunni Muslims and have been blamed for attacks against Iraq's Shiites ! are bent on triggering ethnic strife before next month's poll.

"The terrorists intend to destroy Iraq's national unity," a statement issued by the Interim National Assembly said. "Their intentions are to harm this country which faces crucial challenges amid a very difficult period."

Shiite Muslims, who make up around 60 percent of Iraq's people, have been strong supporters of the elections, which they expect to reverse the longtime domination of Iraq's Sunni minority. The insurgency is believed to draw most of its support from Sunnis, who provided much of Saddam Hussein's former Baath Party membership.

Near Saddam's hometown of Tikrit, gunmen attacked a police station, overwhelmed 12 Iraqi policemen there, slit their throats and then blew up the building, said Lt. Col. Saad Hmoud, a local police official.

The deputy governor of the restive Anbar province, Moayyad Hardan al-Issawi, was assassinated near Ramadi, east of Baghdad, police official Abdel Qader al-Kubeisy said.

Gunmen who shot him left a statement next to his body: "This is the fate of everyone who deals with the American troops." The statement was signed by the group Mujahedeen al-Anbar, or "holy warriors of Anbar."

Such flagrant attacks appear designed to cause panic among Iraqi officials and security forces and to provoke a sectarian conflict between Shiites and Sunnis.

Militants released a videotape Tuesday, saying they have executed eight and released two Iraqis who were employed by Sandi Group, an American security company, and had been held hostage since Dec. 13. The claim could not be independently verified.

The insurgents claiming to represent three Iraqi militant groups ! the Mujahedeen Army, the Black Banner Brigade and the Mutassim Bellah Brigade ! said in the tape obtained by APTN that "the eight have been executed because it was proven that they were supporting the occupational army." The other two will be released for the lack of evidence, a statement read by one of the militants.

In other strikes Tuesday, a car bomb killed five Iraqi National Guardsmen and injured 26 near Baqouba, a town 35 miles northeast of Baghdad, after the paramilitary troops cordoned off an area in order to disarm a roadside bomb, said U.S. Maj. Neal O'Brien.

In Baqouba itself, unidentified gunmen assassinated Capt. Na'em Muhanad Abdullah, a local police commander, and wounded three other men, a spokesman said.

Elsewhere Tuesday, a car bomb exploded in the village of Muradiya, about 20 miles northeast of Baghdad, killing five civilians and wounding dozens, said Ahmed Fouad, a doctor in the Baqouba General Hospital.

In Mosul, 225 miles northwest of Baghdad, a gunman attacked a police station in the northeastern Hadbaa district, killing one policeman, said police Capt. Ahmed Khalil.

In the central city of Samarra a suicide attacker detonated his car in the city center wounding 10 people, including three children, police Maj. Saadoun Ahmed Matroud.

Shortly after the explosion, people were told through mosques loud speakers to stay indoor because of a curfew, and U.S. and Iraq troops set up roadblocks, witnesses said.

In Babil province south of Baghdad, police said they arrested 10 armed men in a raid in the area of Jbila after intelligence indicated the suspects were allegedly plotting to attack a police station there, Capt. Hady Hatif said.

At Samarra, U.S. troops killed three rebels when they attacked an American post with small-arms and rocket propelled grenades, the U.S. military said. There were no injuries to U.S. soldiers or damage to equipment.




Today's Top News
Top World News

Chinese aid joins world rescue




Tsunami death toll climbs to 52,000




Building resumes at Olympic centre




State to speed up public info flow




Billions of US dollars to cross borders




Rebels strike Iraqi forces after bin Laden call