Rebels strike Iraqi forces after bin Laden call
(Agencies)
Updated: 2004-12-29 08:02
Insurgents overran a police post near Saddam Hussein's home town on Tuesday, hauled out 12 men and shot them dead in a dramatic show of force, a day after Osama bin Laden declared holy war on the U.S.-backed election.
The dawn massacre in Tikrit, where the guerrillas also blew up the police station, was the bloodiest in a spate of attacks in Iraq's Sunni minority heartlands north of Baghdad; at least five other policemen were killed and several National Guards.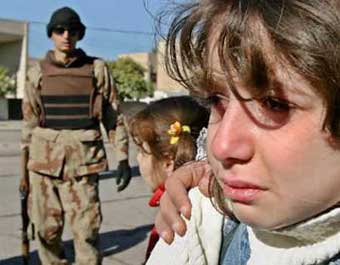 A seven year-old Iraqi girl cries near an armed guardsman after a car bomb exploded near her school in northern Baghdad, December 28, 2004. A car bomb targeting a senior officer in the U.S.-backed Iraqi National Guard killed one person and injured eight, witnesses and a police source said. [Reuters]

In Samarra, U.S. forces banned cars from the streets after an attack on a police station and two attacks on U.S. troops. A suicide car bomber failed to kill a National Guard general in Baghdad.

The timing of the attacks and broadcast of the al Qaeda leader's audiotape seemed coincidental but together they racked up the pressure on Iraqi voters to stay at home on Jan. 30 and seemed aimed to instil fear in Iraq's new security forces.

Both have grave implications for U.S. prospects in Iraq.

Outgoing Secretary of State Colin Powell said in a television interview that the United States "cannot allow murderers and terrorists" to deny the Iraqi people their right to vote and pledged to carry on with the Jan. 30 ballot.

Bin Laden's call for a boycott of the election and his endorsement of Islamist ally Abu Musab al-Zarqawi's campaign of bombing and kidnap will find few willing supporters in Iraq. But the threat of being killed will put many off voting anyway.

A group led by Zarqawi said on Tuesday it had tried to kill Iraqi Shi'ite leader Abdel Aziz al-Hakim on Monday and warned of more attempts on his life, according to an Internet statement.

"Hakim, we tell you that if the arrow has failed to strike you, there are other arrows in our pouch," the statement said.

Hakim, head of the Supreme Council for the Islamic Revolution in Iraq (SCIRI), survived a suicide car bombing which killed 13 people and wounded 53.

In another setback for the Jan. 30 vote, the most prominent party from Saddam's long dominant Sunni minority pulled out of the election on Monday, saying violence in Sunni areas meant the vote could not be fair.

The chances have risen that an assembly will be elected that gives Shi'ites an exaggerated majority, and so finds little legitimacy among Sunnis. That will upset Washington's hopes for a representative government that can handle its own security.

"The party that pulled out, we hope that they will review their actions and take another look at security closer to the event, and perhaps rejoin the process," Powell also told Fox television in an interview on Tuesday.

Security may also have to remain in U.S. hands if Iraqi forces succumb to the relentless intimidation of the insurgents.

EXECUTION-STYLE KILLINGS

Hours after the purported bin Laden audiotape was broadcast on Al Jazeera television, calling anyone who voted an "infidel," gunmen swarmed over the Mukashifa police compound, just south of Tikrit, after dawn, police and a U.S. military spokesman said.

Rounding up the dozen officers in the compound, they shot them execution-style, gunning down one who tried to flee, a police source told Reuters. They then blew up the station.

Five other policemen were killed in four other attacks south of Tikrit around the same time. At Baquba, northeast of Baghdad, a suicide car bomber killed five people and wounded 22, most of them National Guards attending the scene of an earlier bomb.

"Jihad in Iraq is a duty and shirking it is baseless," a voice, apparently bin Laden's, said.

He also called for financial contributions to back the al Qaeda operations of Zarqawi, whose group claimed responsibility for the assassination attempt on the National Guard general.

"Happy is he who takes part in this war with his wealth or his body," he said. "As ... the expenses of al Qaeda in Iraq are 200,000 euros ($272,800) a week, not counting the expense of other groups."

At Samarra, where clashes have resumed since a major U.S. offensive in October, two civilians died and eight were wounded when a suicide car bomber hit a U.S. convoy, witnesses said.

A U.S. spokesman said four soldiers were slightly hurt. Troops also killed three gunmen who attacked them in the city earlier. A policeman was killed and four wounded when rebels then attacked a police station in broad daylight. U.S. vehicles and mosque minarets ordered cars off the streets for the day.

At Sineeya, near the northern oil refining town of Baiji, the town council resigned after the assassination of its leader.

POWELL CAUTION

The day's bloodshed was a reminder of the potency of the alliance between international Sunni Islamists, like Zarqawi and Iraqi nationalists from the 20-percent Sunni Arab minority, who see elections handing power to the 60-percent Shi'ite community.

If Sunni areas fail to vote, Powell said the resulting assembly should at least give a nod to the Sunni minority when it appoints a new government.

"For the government to be representative and for the government to be effective, the transitional national assembly would certainly have to take into account the ethnic mix," Powell said.

U.S. officials, including Defense Secretary Donald Rumsfeld on a Christmas visit to soldiers in Iraq last week, stress the need to expand and improve Iraq's security forces as a means of ensuring U.S. troops, now numbering 150,000, can go home.

But the performance of Iraqi forces has been patchy and they are prone to infiltration by militants like the suicide bomber who killed 21 people in a U.S. mess hall in Mosul a week ago -- the bloodiest single incident of the war for the Americans.




Today's Top News
Top World News

Chinese aid joins world rescue




Tsunami death toll climbs to 52,000




Building resumes at Olympic centre




State to speed up public info flow




Property transfer protection for emigrants




Rebels strike Iraqi forces after bin Laden call