Tidal waves death toll rises to 40,000
(Agencies)
Updated: 2004-12-28 21:19
BANDA ACEH, Indonesia - The death toll from the epic tsunami that rocked 11 countries rose to 40,000 people Tuesday, and food and supplies poured into the region, part of what the U.N. said would be the biggest relief effort the world has ever seen. Millions remained homeless.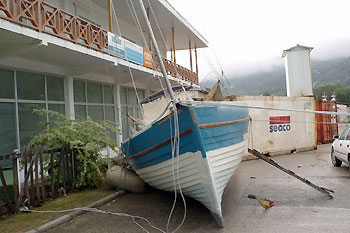 A boat lies in a road in Victoria town, Mah Island in the Seychelles, following surges in the water level after an earthquake off the Indonesian island of Sumatra sent devastating tsunami waves across the Indian ocean on Sunday, in this photograph taken on December 27, 2004. [Reuters]

Rescuers struggled to reach remote locations where thousands more were likely killed by the deadliest tsunami in 120 years. Bodies, many of them children, filled beaches and choked hospital morgues, raising fears of disease across the region.

Sri Lanka raised its death toll past 18,700. Hundreds died when a train carrying 1,000 passengers from Colombo to Galle was thrown off its tracks by Sunday's waves, police chief B.T.B. Ariyapala said Tuesday.

The waves wrenched most of the train's cars into twisted metal, he said. The passengers were dead or missing; about 150 bodies had been recovered.

In Indonesia, the country closest to Sunday's 9.0 magnitude quake that sent walls of water crashing into coastlines thousands of miles away, the count rose to 15,000, a number the vice president said could rise.

Purnomo Sidik, the national disaster director, told The Associated Press the toll rose by almost 10,000 people after the government received reports from the previously unreachable western coast of Sumatra.

Some 4,400 died in India; 1,500 perished in Thailand. The Red Cross said malaria and cholera could add to the toll.

Desperate residents on Indonesia's Sumatra Island ! 100 miles from the quake's epicenter ! looted stores Tuesday. "There is no help, it is each person for themselves here," district official Tengku Zulkarnain told el-Shinta radio station.

The disaster could be the costliest in history, with "many billions of dollars" of damage, said U.N. Undersecretary Jan Egeland, who is in charge of emergency relief coordination. Hundreds of thousands lost all they owned, he said.

In Galle, Sri Lanka, officials used a loudspeaker atop a fire engine to tell residents to place bodies on the road for collection. Muslim families used cooking utensils and even their bare hands to dig graves. Hindus in India, abandoning their tradition of burning bodies, held mass burials.

Soldiers and volunteers in Indonesia combed through destroyed houses to try to find survivors ! or bodies. The toll in Thailand included at least 700 foreign tourists.

Stories of survival emerged amid the devastation.

A blond-haired 2-year-old found sitting alone on a road in Thailand and taken to a hospital was reunited with his uncle, who saw the boy's picture on the hospital's Web site.

"When I saw Hannes on the Internet, I booked an air ticket to come here in less than five hours," said a man who identified himself only as Jim. Hannes Bergstroem's mother died in the tsunami; his father was in another hospital, the Swedish paper Aftonbladet reported.

In Malaysia, a 20-day-old baby was found floating on a mattress soon after the waves hit Sunday. She and her family were reunited.

But the geographic scope of the disaster was unparalleled. Relief organizations used to dealing with a centralized crisis had to distribute resources over 11 countries on two continents.

Helicopters in India rushed medicine to stricken areas. In Sri Lanka, the Health Ministry dispatched 300 physicians to the disaster zone by helicopter.

Sri Lankan Foreign Minister Lakshman Kadirgamar said the United States was sending helicopters. An airborne surgical hospital from Finland arrived, and a German aircraft was en route with a water purification plant.

UNICEF officials said about 175 tons of rice arrived in Banda Aceh, Indonesia, and six tons of medical supplies were to arrive by Thursday. But most basic supplies were scarce.

A new danger emerged Tuesday: UNICEF said uprooted land mines in Sri Lanka threatened to kill or maim aid workers and survivors. "Mines were ... washed out of known mine fields, so now we don't know where they are," said Ted Chaiban, the Sri Lanka chief of UNICEF.

Scores of people were also killed in Malaysia, Myanmar, Bangladesh, and Maldives. Deaths were even reported in Africa ! in Somalia, Tanzania and Seychelles, close to 3,000 miles away.

On the remote Indian islands of Andaman and Nicobar, off the northern tip of Sumatra, officials still hadn't established communications. An estimated 3,000 deaths there were not counted in the official toll.

It was the deadliest known tsunami since the one caused by the 1883 volcanic eruption at Krakatoa ! located off Sumatra's southern tip ! which killed an estimated 36,000 people.

Many of the dead and missing were children ! as many as half the victims in Sri Lanka.

"Where are my children?" asked 41-year-old Absah, as she searched for her 11 youngsters in Banda Aceh, the city closest to Sunday's epicenter. "Where are they? Why did this happen to me? I've lost everything."

The streets in Banda Aceh were filled with overturned cars and rotting corpses. Shopping malls and office buildings lay in rubble, and thousands of homeless families huddled in mosques and schools.

Relatives wandered hallways lined with bodies at the hospital in Sri Lanka's southern town of Galle, a stunned hush broken only by wails of mourning.

Momentum grew to create a tsunami warning system like the one that guards Pacific coasts. Foreign Minister Alexander Downer said Australia would push for its creation.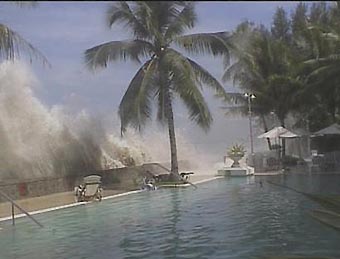 Video grab shows a tidal wave in Penang after tsunami waves hit southern Asia on Sunday in this amateur video footage taken December 26, 2004. [Reuters]

"I know it looks like a bit like closing the door after the horse has bolted," Downer said Tuesday. But he said he hoped such a system would save lives in the future.

The United States dispatched disaster teams and prepared a $15 million aid package. Japan pledged $30 million and Australia $8 million.

Indonesia's Aceh province exemplified the challenge to aid workers. The government until Monday barred foreigners because of a separatist conflict. Communications lines were still down and remote villages had yet to be reached.

"There is not anyone to bury the bodies," said Steve Aswin, a UNICEF official in Jakarta. "They should be buried in mass graves but there is no one to dig graves."

Sri Lankan police waived the law calling for mandatory autopsies, allowing rotting corpses to be buried immediately. "We accept that the deaths were caused by drowning," police spokesman Rienzie Perera said.

India on Tuesday said a nuclear power plant damaged by tidal waves was safe and that there was no threat of radiation.







Today's Top News
Top World News

White Paper: Strong army ensures China unity




Tidal waves death toll rises to 40,000




Russia, China to hold massive joint drill




'Chinese Hacker' defaces McDonald's website




Watchdog to tighten control on flight safety




Powell, White House hail Ukraine election