Powell, White House hail Ukraine election
(Agencies)
Updated: 2004-12-28 09:58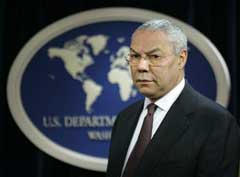 U.S. Secretary of State Colin Powell speaks during a press briefing at the State Department, Monday, Dec. 27, 2004 in Washington. He urged Russia to join with the United States in helping Ukraine. [AP]

Reveling in the apparent election of a pro-Western president in Ukraine, the Bush administration on Monday urged Russia to join with the United States in helping the former Soviet republic. "Let's all join together now and see what we can do," Secretary of State Colin Powell said.

Setting aside the vigorous backing Russian President Vladimir Putin gave Prime Minister Viktor Yanukovych in his campaign for the presidency, Powell said, "I don't expect this to be a blot on U.S-Russian relations."

The pro-Western candidate, Viktor Yushchenko, appeared to be the winner of a runoff Sunday after Ukraine's Supreme Court threw out an earlier runoff Yanukovych victory amid U.S. and European allegations of widespread corruption.

While "some shortcomings remain," Powell said, "it appears that the Ukrainian people finally had an opportunity to choose freely their next president."

"This is an historic moment for democracy in Ukraine," Powell said at a State Department news conference.

Rejecting any suggestion the Bush administration backed Yushchenko, he said U.S.-funded organizations such as the National Endowment for Democracy merely helped Ukrainian citizens to participate in open, free elections.

"All we wanted to see was a full, free, fair election, and that appears now to be what happened," he said.

But Dimitri Simes, president of The Nixon Center, said there was much more to it than that.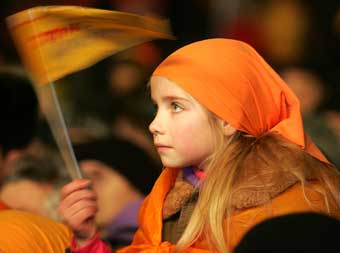 A young supporter of Ukrainian opposition leader Viktor Yushchenko, waves an orange campaign flag, as she takes part in a celebration rally in central Kiev, December 27, 2004. West-leaning Yushchenko looked certain on Monday to become Ukraine's next president, but his opponent Prime Minister Viktor Yanukovich refused to concede defeat. [Reuters]

"We were not just training observers and not just providing education to Ukrainian judges," Simes said. "We were helping people in civil disobedience."

Powell did not say explicitly what help the Bush administration, and by invitation Russia, might provide to a Yushchenko-led Ukraine.

But analysts had seen a victory by the pro-Western leader of the Orange revolution an opportunity for Ukraine to align itself more directly with European groupings.

Yanukovych, by contrast, was seen as looking eastward toward Russia.

"I am delighted," said Radek Sikorski, director of the new Atlantic Initiative at the American Enterprise Institute. "A reformer and friend of the West and someone as levelheaded as Yushchenko has won and won convincingly."

Sikorksi, a former deputy foreign minister of Poland, said the United States should signal Yushchenko that "if Ukraine wants to join the club of the democratic West it will be welcome."

At the same time, Sikorksi in an interview urged Russia to "revise its attitude" toward former Soviet republics that "it patronizingly calls the Near Abroad."

"Russia has to get used to the fact that Ukraine is an independent country," he said.

Simes said that from the Western standpoint, Yushchenko was a better candidate, adding, "We should be pleased when he is certified the winner."

"We should help him with Ukraine's involvement in international institutions," Simes said. "But we should not promise more than we can provide and not encourage him to have an artificial conflict with Russia."

Russia provides Ukraine with the bulk of its energy at subsidized prices, "and we should not gloat or provoke Moscow," he said.




Today's Top News
Top World News

Defence document warns separatists




Chinese missing as tsunami toll hits 24,000




Russia, China to hold massive joint drill




Watchdog to tighten control on flight safety




Powell, White House hail Ukraine election




Renminbi exchange rate kept stable