NY play 'Fat Pig' tackles the last taboo
(Agencies)
Updated: 2004-12-28 09:07
Every day at work, the insults rain down on Ashlie Atkinson. "Fat pig," "beast," "huge," and "fat sow" are among them.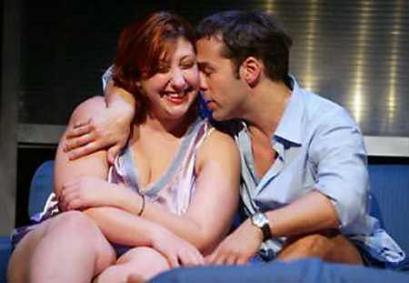 Actors Ashlie Atkinson and Jeremy Piven appear in this undated photo as they perform in film director and playwright Neil LaBute's off-Broadway play 'Fat Pig' at the Lucille Lortel Theatre in New York. [Reuters]


And then there are the jokes, like the one about being pregnant with twins and another about eating for five.

But it's all in the name of art and the actress insists the insults don't get to her.

"It sounds like a lie, but it's not that painful because it's a play," she said in an interview. "It's much more painful in the real world."

Atkinson plays Helen, the main character in the new play "Fat Pig" from film director and playwright Neil LaBute, best known for creating characters who fit the label "sexist pig."

His 1997 film "In the Company of Men" was the story of two men who plot to humiliate a naive deaf woman for fun, and he has just published a collection of short stories, "Seconds of Pleasure," about yet more misogynists.

"Neil does not endorse the behavior of his characters, he simply reveals it," Atkinson said of the writer. He likes to turn over rocks so people can "see all the slimy little grubs underneath."

In "Fat Pig," a good-looking young professional named Tom meets the "generously proportioned" Helen, and, to his surprise, finds her funny and attractive. As the relationship develops, he faces abuse and mockery from his caustic friend Carter and former girlfriend Jeannie.

LaBute, whose film credits include "Nurse Betty" and "Possession," says he doesn't like to pander to his audiences and misogynist characters such as Carter allow him to voice thoughts that break the boundaries of polite conversation.

"I'm just a professional pain in the ass," LaBute said.

"While Carter can come off as a bit of an ass, he's someone that also says a lot of things that we take to be true," he told Reuters. "They may not be put in a fashionable way but often they're worth saying."

FEAR OF DIFFERENCES

Expounding his philosophy of life toward the end of the play, Carter says: "People are not comfortable with difference. You know? Fags, retards, cripples. Fat people. Old folks, even. They scare us or something.

"We're all just one step away from being what frightens us. What we despise," he adds.

The dialogue is painful at times, but also witty, and the play has won rave reviews in previews this month in New York, where it is showing off-Broadway.

At 5 feet, 8 inches (173 cm) and weighing 200 pounds (91 kg), Atkinson is large for an actress. As a child growing up in Arkansas she suffered some schoolyard teasing but never felt pressure to slim down.

The 27-year-old said her scariest scene in the play was frolicking in bed with Tom wearing very little -- except a fat-suit to pad out her size 16 belly and bottom to a size 22.

She said she always expected to play character parts -- "maids, homeless people and fat best friends."

"I don't think these parts existed five, 10 or 15 years ago where I can be a romantic lead and have genuine loves scenes that are real and intimate and are not a joke on either my character or the character with whom she's having sex."

The play addresses Tom's inability to deal with the pressure of his friend's prejudice about his "fat chick." In doing so, it makes some trenchant comments on a society that struggles with obesity but idolizes slim physiques and where insults about weight can seem to be the last area untouched by concerns of "political correctness."

LaBute said he was inspired by his own experience of dieting and losing 60 pounds (27 kg), only to regain all the weight. What first sparked the creative juices was simply the phrase "Fat Pig," which he thought would make a good title.

"I was thinking of it in terms of how that's often used disparagingly and it seems it's used more often toward women," he said, beginning to sound like a feminist -- a label he says is no closer to the truth about him than misogynist.

For Atkinson, the play is about bravery: "Loving your fat girlfriend when people make fun of her or ... feeling positive about yourself when all the messages you get from society and the media tell you you should be ashamed of yourself.

"In America there's a lot of people that would rather risk death than disapproval," she said.

It's clear that Atkinson has conquered that fear herself -- she appears in the final scene in a swimsuit. "We couldn't find a swimsuit in a size 22 without a slimming panel in it," she says with a smile.

"We cut it out. None of that nonsense here."




| | |
| --- | --- |
| | |
| Angelina Jolie visit Children with cancer | |

| | |
| --- | --- |
| | |
| 'Spiderman' climbs world's tallest building | |

| | |
| --- | --- |
| | |
| Andy Lau's ex-girlfriend to write kiss-and-tell book | |
Today's Top News
Top Life News

Defence document warns separatists




Chinese missing as tsunami toll hits 24,000




Russia, China to hold massive joint drill




Watchdog to tighten control on flight safety




Powell, White House hail Ukraine election




Renminbi exchange rate kept stable