Sharon moves up Gaza withdrawl date
(Agencies)
Updated: 2004-12-28 08:52
Israeli Prime Minister Ariel Sharon said Monday he will seek final Cabinet approval for a Gaza withdrawal in February, four months earlier than planned, and he threatened harsh retaliation if Palestinian militants try to disrupt the pullback.
The warning came as Israel released 159 prisoners in a gesture to Egypt and the new Palestinian leadership.
Sharon told lawmakers on the Foreign Affairs and Defense Committee he is pushing forward the Cabinet vote at the request of Israel's attorney general, according to meeting participants. The idea, he said, is to give settlers six months to prepare for their evacuation.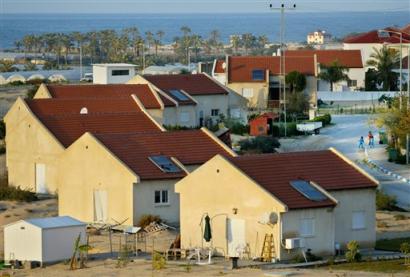 A general view of the southern Gaza Strip Jewish settlement Peat Sadeh, is seen Sunday, Dec. 26, 2004. A total of 20 families from the settlement have finalized agreements with the government to move and the community will be the first dismantled under Prime Minister Ariel Sharon's Gaza disengagement plan, an Israeli government official said Sunday. [AP]

The early vote does not change the schedule for the actual pullout, which is to begin in July but it was the latest sign of Sharon's determination to carry it out.

Under Sharon's plan, Israel will pull out of the entire Gaza Strip and four West Bank settlements next year, uprooting 8,800 settlers from their homes.

Sharon says the continued occupation of Gaza, where 8,200 settlers live amid 1.3 million Palestinians, is untenable. Jewish settlements in Gaza come under attack daily.

During Monday's closed meeting, Sharon pledged to strike hard at militants who try to attack Israelis during the pullout.

"This evacuation will not be carried out under fire," he was quoted as saying. "We conveyed a serious warning (that) ... our response will be most severe."

When Sharon unveiled his plan early this year, he envisioned the pullout as a unilateral act, saying there was no serious Palestinian negotiating partner.

But since the death of Palestinian leader Yasser Arafat on Nov. 11, Sharon has said he would be willing to coordinate the withdrawal with the new Palestinian leadership if it cracks down on militants.

Sharon said he hopes that after Jan. 9 presidential elections, the Palestinians will begin taking action such as sending their security forces to areas used by militants in Gaza to stage rocket and mortar attacks.

"They can do this, but nothing has been done so far," Sharon was quoted as saying.

Sharon also warned that Palestinians have acquired shoulder-fired anti-aircraft missiles, which prompted Israel to ban crop dusting near Gaza. On Monday, Sharon said the small planes would take to the air again and warned Palestinians of severe reprisals if they fire at them.

Israel has quietly backed Abbas, who is considered a moderate, and has approved a series of measures meant to facilitate next month's voting.

In another gesture to Abbas, Israel released 159 Palestinian prisoners Monday. Abbas welcomed the release but said Israel must free the thousands of prisoners still serving lengthy terms.

About 7,000 Palestinians are held by Israel on security-related charges, and Abbas is under intense pressure at home to win their freedom.

The prisoners released Monday had no more than two years remaining on their sentences, and dozens were held only for staying in Israel without entry permits ¡ª mostly to work. Israel refuses to release Palestinians imprisoned for fatal attacks on Israelis.

The release was part of a prisoner swap with Egypt, which freed an accused Israeli spy on Dec. 5. Israeli officials described Monday's release as a sign of warming ties with Egypt.

Akram al-Heymouni, a 47-year-old leader in the ruling Fatah movement, was greeted by about 150 people at his home in the West Bank city of Hebron. His five children jumped on him and hugged him, and his 69-year-old mother broke down in tears.

"This is a step in the right direction," said al-Heymouni, who was released after 33 months in jail, six months ahead of schedule. But expressing widespread sentiment, he said Israel must release more prisoners, especially those serving longer sentences.

Abbas demanded on Saturday that Israel release all prisoners, including Marwan Barghouti, a leader of the Palestinian uprising who is serving five life sentences for murder.

Mohammed Dahlan, a former Palestinian security chief, was permitted to meet Barghouti in prison on Monday. Dahlan said he and Barghouti would favor a cease-fire and resumption of peace talks if Israel halts "aggression" against the Palestinians.

Barghouti, who recently gave up a bid to seek the Palestinian presidency, also called on his followers to support Abbas.

Meanwhile, Israeli police detained Palestinian candidate Mustafa Barghouti, a distant relative to the imprisoned leader, in the Old City of Jerusalem, claiming he was in the area illegally. He was released after several hours, an aide said.

Jerusalem police spokesman Shmuel Ben-Ruby said Barghouti had permission to travel through Jerusalem, but not to remain in the city.

Barghouti is running a distant second to Abbas in opinion polls.

In the West Bank city of Nablus, Israeli troops shot and killed Wael Riyahi, a fugitive militant, after he tried to run over soldiers who were trying to arrest him, the army said.

In Gaza, a Hamas member was killed when explosives he was handling detonated prematurely, Palestinian security officials said.




Today's Top News
Top World News

Defence document warns separatists




Chinese missing as tsunami toll hits 24,000




Russia, China to hold massive joint drill




Watchdog to tighten control on flight safety




Nine Vietnamese ships detained in Hainan




Renminbi exchange rate kept stable