Yushchenko to face obstacles in Ukraine
(Agencies)
Updated: 2004-12-28 08:40
Reformer Viktor Yushchenko, whose victory in Ukraine's presidential election was all but assured Monday despite his opponent's threat to appeal the outcome, is expected to move quickly to bolster ties with the West while trying to ease tensions with Russia.
Yet there are questions about how fast he can open up to the European Union, NATO and other Western structures, pursue plans for an ambitious economic overhaul and tackle widespread corruption.
Six months of electoral wrangling have left the country bitterly divided between Ukraine's west and a Russian-speaking east, a region that backed Prime Minister Viktor Yanukovych in Sunday's vote and remains angry that his victory in a Nov. 21 ballot was overturned. Yushchenko also heads a political coalition whose factions are not united in their goals.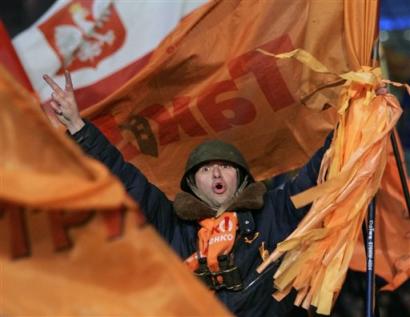 A supporter of Ukrainian opposition leader Viktor Yushchenko wearing a military helmet shouts during a rally in Kiev's main Independence Square Monday, Dec. 27, 2004, with a Polish flag at the background. Yushchenko celebrated his apparent victory in Ukraine's presidential election Monday, thanking his supporters for spending weeks camped out on freezing streets in a show of force that helped overturn results of a previous round marred by fraud. [AP]

With nearly all ballots counted from an election that saw a 77 percent turnout, Yushchenko had just over 52 percent of the votes and Yanukovych 44.2 percent.

Speaking at Kiev's Independence Square, where mammoth crowds gathered for weeks to protest fraud in last month's election, a jubilant Yushchenko told supporters: "Thousands of people that were and are at the square were not only waiting for this victory but they were creating it."

Yanukovych refused to concede defeat, telling reporters he would go to the Supreme Court to challenge the results once the election commission released its final tally.

Later, however, he said he had lost respect for the court over its ruling that annulled the results of the earlier election, which Yushchenko's camp, international observers and even members of the Central Electoral Commission assailed as fraudulent.

"It breached the constitution and the law," Yanukovych said of the court. "Today, I can't have faith in such a chamber."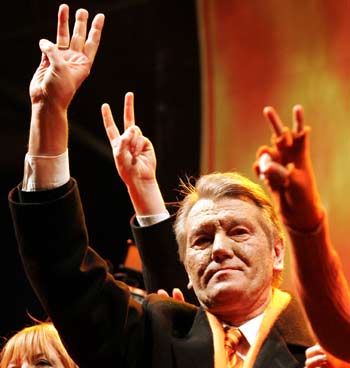 Ukrainian opposition leader Viktor Yushchenko greets supporters during a rally in Kiev's main Independence Square December 27, 2004. Viktor Yushchenko claimed victory on Monday in a re-run of Ukraine's rigged presidential election, hailing the beginning of a new era in the former Soviet republic. [Reuters]

An international observer delegation said that with Sunday's revote Ukraine had made good progress toward meeting international standards for elections.

"It is our judgment that the people of this great country have made a great step forward to free and fair elections by electing their future president," said Bruce George, head of the delegation from the Organization for Security and Cooperation in Europe, the Parliamentary Assembly of the Council of Europe and other election watchdogs.

Thousands of people celebrated on Independence Square on Monday night, but their numbers were far smaller than the hundreds of thousands who jammed the plaza at the height of the protests last month. "Today is a golden day," said Mykola Rak, a 62-year-old sporting an armband of orange, Yushchenko's campaign color.

European leaders congratulated Yushchenko on his victory, and US Secretary of State Colin Powell called it a "historic moment for democracy in Ukraine."

Powell also called on Russia to work with the Bush administration in helping this former Soviet republic. "Let's all join together now and see what we can do," he said.

But there was no immediate comment on the election from the government of Russian President Vladimir Putin, which backed Yanukovych. Last month, by contrast, Putin repeatedly congratulated Yanukovych on his purported victory, even before the announcement of the final results that were later annulled.

Despite his leanings toward the West, Yushchenko must pay heed to the Kremlin and told journalists last week that "I have no intention of creating new problems" with Russia. He said his first foreign trip as president would be to Moscow.

Russia is Ukraine's biggest trade partner and a major investor here, and it is extremely nervous about eastward-expanding European institutions such as the European Union and NATO. Eastern Ukraine, where just under half the country's 48 million people live, also is intent on keeping close ties with the former imperial and Soviet ruler.

Yushchenko faces a rocky road as he prepares to become president, both medically and politically.

He was poisoned with a nearly lethal amount of dioxin, which he blamed on the government, and will need monthly blood tests to track how quickly the poison is leaving his body. Doctors have said they expect a gradual recovery, although they fear an increased long-term risk of a heart attack, cancer or other chronic diseases.

The political team that Yushchenko is relying on to fulfill the dreams of millions of Ukrainians ¡ª who have turned his very name into a mantra of hope ¡ª is a cobbled-together coalition with vastly different ideas about how much power the presidency should have.

The coalition has cut its teeth in the rough-and-tumble Ukrainian parliament, where filibustering and dramatic walkouts regularly trump compromise.

One of Yushchenko's most stalwart allies, Yulia Tymoshenko, has said she wants the post of prime minister ¡ª but many Ukrainians, especially in pro-Yanukovych strongholds, scorn the radical lawmaker who has pushed a radical political agenda.

The long campaign also has deepened the rift between Ukraine's Russian-speaking, heavily industrialized east and cosmopolitan Kiev and the west, where Ukrainian nationalism runs deep.

Yushchenko has said he hopes to heal the hostile feelings within two years.

He "will have to be very attentive to this (eastern) region, to its problems ... because right now, they believe he is ignoring them, that he is hostile toward them," said Darya Glushenko, a political analyst at the Kiev-based International Center for Policy Studies.

Yushchenko, a former Central Bank chief, has pledged to move Ukraine closer to the West. He thinks Ukraine could possibly aim at an associate membership in the European Union within three to five years, but says any opening to NATO "has to be approached very patiently."

Yushchenko has said he might take another look at some privatizations of state enterprises, including this summer's sale of the country's largest steel producer, Kryvorizhstal. It was sold to a company controlled by outgoing President Leonid Kuchma's son-in-law, Viktor Pinchuk.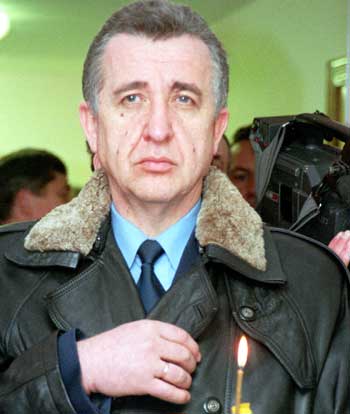 Ukrainian transport minister Heorhiy Kyrpa makes the sign of the cross and holds a lit candle in Kiev. Ukrainian transport minister and one of Ukraine's most prominent businessmen was found dead December 27, 2004 at his home outside Kiev, a government source said. Picture taken January, 2001. [Reuters]

On a more mundane level but one essential to maintaining popularity, Yushchenko will have to tackle the government's $216 million budget deficit and inflation running at more than 10 percent a year. He has said he intends to boost employment with public works, improved conditions for small- and medium-sized businesses, and an attack on corruption.

An official of the outgoing administration who had been accused of helping Yanukovych's supporters vote at multiple polling stations in the Nov. 21 election was found dead of a gunshot wound Monday, a spokesman for the national railway said.

The body of Transport Minister Heorhiy Kirpa, 58, was in his country house outside Kiev, spokesman Eduard Zanyuk said. Ukrainian media speculated the death was a suicide, but Zanyuk said it was still under investigation.




Today's Top News
Top World News

Defence document warns separatists




Chinese missing as tsunami toll hits 24,000




Russia, China to hold massive joint drill




Watchdog to tighten control on flight safety




Nine Vietnamese ships detained in Hainan




Renminbi exchange rate kept stable