Bodies piled on coasts after tsunami kills 22,700
(Agenceis)
Updated: 2004-12-28 02:03
Rescuers scoured the sea for missing tourists and fishermen in Asia Monday and fears of disease grew as emergency services struggled with rotting bodies from a devastating tsunami that killed more than 22,700 people.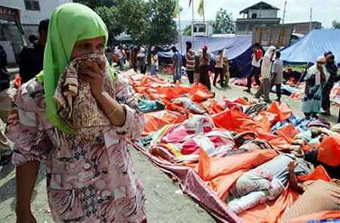 An Acehnese woman walks past dead bodies in the Indonesian city of Banda Aceh December 27, 2004. [Reuters]

The disaster spared no one. Western tourists were killed sunbathing on beaches, poor villagers drowned in homes by the sea and fishermen died in flimsy boats. The 21-year-old grandson of Thai King Bhumibol Adulyadej was killed on a jet-ski.

"We have a long way to go in collecting bodies," said Thailand's Prime Minister Thaksin Shinawatra, who expected the 866 death toll in his country to go much higher. One Thai official estimated up to 30 percent of the dead were foreigners.

Sri Lanka was hardest hit by the tsunami -- a wall of water triggered by the world's biggest earthquake in 40 years with a magnitude of 9.0 that erupted off the northern Indonesian coast. Colombo officials said their latest death toll had nearly doubled to 10,200 and 200 foreign tourists were feared dead.

"It smells so bad ... The human bodies are mixed in with dead animals like dogs, fish, cats and goats," said Marine Colonel Buyung Lelana, head of an evacuation team in Indonesia's Aceh province on the island of Sumatra.

Families around the world anxiously sought news of loved ones on Christmas holidays whose dreams of sunshine in the east were turned into scenes of disaster. Calls from worried relatives swamped hotlines set up by ministries and tour firms.

"Our paradise turned into hell," said American tourist Moira Lee, 28, who was on Patong Beach in Phuket, Thailand.

With at least seven Asian nations and one in East Africa counting the human and economic cost of the tragedy, Western nations pledged aid and geologists asked why warning systems that could have saved thousands of lives were not in place.

Struggling with destroyed communications, power outages and swamped and debris-strewn roads, emergency workers were shocked by the sheer scale of the catastrophe.

"We are used to dealing with disasters in one country. But I think something like this spread across many countries and islands is unprecedented. We have not had this before," Yvette Stevens, a U.N. emergency relief official, said in Geneva.

BODIES IN TREES, MAKESHIFT MORGUES

Other areas worst affected by Sunday's tsunami were southern India, where more than 6,600 were listed dead, northern Indonesia with nearly 5,000 drowned and Thailand's devastated southern tourist isles and beaches.

Deaths were also reported in Bangladesh, Malaysia, the Maldives, Myanmar and distant Somalia where 38 people were killed by swollen seas.

The earthquake triggered a tsunami of up to 33 feet high, sometimes traveling as fast as an airliner, flattening houses, hurling fishing boats onto roads, sending cars spinning through swirling waters into hotel lobbies and sucking sunbathers, babies and fishermen out to sea.

Hundreds of thousands were left homeless.

Smaller tremors followed Sunday's earthquake, the world's biggest since 1964 and the fourth-largest since 1900.

The tsunami had echoes of another apocalyptic seismic event that originated in Indonesia when the island volcano of Krakatoa erupted in 1883 causing a tsunami that killed 36,000 people.

Indonesian rescue workers pulled hundreds of bodies from treetops, rivers and wrecked homes in Aceh province, desperate to clean up before disease could spread from rotting bodies polluting water supplies.

Volunteers laid children's bodies in rows under sarongs at makeshift morgues. Others were stacked in white fish crates.

"I am hoping there are still enough coffins available," said Mustofa, mayor of Aceh's Bireuen regency. One senior official said the toll in Aceh province could rise to 10,000. Deaths were previously put at 3,000.

In Banda Aceh, capital of Aceh near the quake's epicenter, troops were unloading piles of bodies from military trucks on Monday after the tsunami swept several kilometers inland.

In the center of the sprawling city, dozens of bodies were scattered on streets, while masses of debris -- a mix of mud, ruined trucks and cars, mangled motorcycles and wood from shattered houses -- had yet to be cleared.

Throughout the region, relatives hunted through piles of dead stacked up in hospital corridors and prayed for the safe return of thousands still missing. Some pinned up photographs to try to track down the missing.

DEATH CAME FROM THE SEA

"Death came from the sea," Satya Kumari, a construction worker living on the outskirts of Pondicherry, India, told Reuters. "The waves just kept chasing us. It swept away all our huts. What did we do to deserve this?"

Among those killed in Sri Lanka were at least nine Japanese tourists who had been watching elephants in a park when the tsunami swept over them.

"The scale of the tragedy is massive ... this is a grave tragedy which we have not been prepared for," President Chandrika Kumaratunga told the BBC.

Hundreds of thousands in Sri Lanka left homeless and fearing another wave sheltered in temples and schools.

Weeping relatives scrambled over hundreds of bodies piled in a hospital in nearby Karapitiya, shirts or handkerchiefs clutched over their noses against the stench of decaying flesh.

"We are struggling to cope. Bodies are still coming in," said Dr H.G. Jayaratne of Karapitiya Teaching Hospital.

Hundreds of corpses lay bloated and disfigured throughout the lobby and corridors of the hospital.

Thailand evacuated injured survivors from its southern beaches Monday.

Britons, Danes, Swedes, Swiss, Australians, Italians and at least one New Zealander and an American were among the dead on Phuket, where at least 130 people were killed.

Diplomats from 28 countries arrived on the resort island to help the survivors. On Phuket's Patong beach, hotels and restaurants were wrecked and speed boats rammed into buildings.

Many foreign tourists, some evacuated in bathing costumes, were left destitute, possessions and passports lost to the sea.

Among the missing in India were 200 Hindu pilgrims who went for a ritual sea bath. Hundreds scattered petals on the water and sacrificed chickens to pray for their loved ones' return.

Iran Monday sent condolences to Asian countries struck by a tsunami a year to the day after an earthquake killed 31,000 people in the Iranian city of Bam.




Today's Top News
Top World News

Defence document warns separatists




Chinese missing as tsunami toll hits 24,000




Indian army chief visits China




Nine Vietnamese ships detained in Hainan




Renminbi exchange rate kept stable




Growth leaves China high and dry