Indian army chief visits China
By Jiang Zhuqing (China Daily)
Updated: 2004-12-28 00:33
China will make concerted efforts with India to promote co-operation between the two armies, a senior military official said Monday.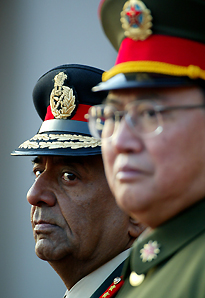 Visiting General N.C. Vij (L), India's chief of Army Staff, at a welcoming ceremony hosted by Xiong Guangkai (R), deputy chief of the general staff of the PLA, yesterday in Beijing. [newsphoto]

Xiong Guangkai, deputy chief of the general staff of the People's Liberation Army, made the remarks when meeting with India's Chief of Army Staff General N.C. Vij.

During their hour-long meeting, the generals exchanged views on international and regional situations, bilateral military relations and other issues of common concern.

Relations between China and India have maintained good momentum in all aspects in recent years, Xiong said, while military ties have been enhanced.

General Vij said India views developing relations with China with great importance, and Indian-Chinese friendship is conducive to maintaining peace and stability in the region and in the world at large.

The general expressed hopes that the nations and armies will increase exchanges and co-operate at various levels to heighten ties.

Vij's visit reflects the overall development of Sino-Indo relations, Pei Yuanying, a former Chinese ambassador to India, said in an interview with China Daily.

Agreements have been reached on broader issues within the political framework, he said.

Trade volume between the world's most populous developing countries has surpassed US$1.2 billion this year, said Pei. "That achievement was realized a year earlier than the goal set by the two nations."

Vij, who has been to other cities of the country since his arrival last Wednesday, is the highest ranking Indian army officer to have visited China since 1994.

He will also meet with other Chinese national and military leaders during his eight-day visit as a guest of the PLA Headquarters of the General Staff.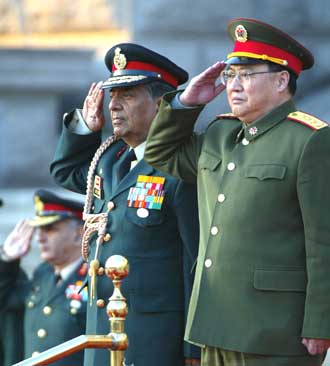 Xiong Guangkai (R), deputy chief of the general staff of the PLA, and visiting General N.C. Vij, India's chief of Army Staff, salute at a welcoming ceremony in Beijing December 27, 2004. [newsphoto]
Today's Top News
Top China News

Paper: Strong army ensures China unity




Chinese missing as tsunami toll hits 24,000




Russia, China to hold massive joint drill




Watchdog to tighten control on flight safety




Powell, White House hail Ukraine election




BMW to recall 1,685 cars made in China