Tsunami kills 22,477, Taiwan tourist dies
(Xinhua)
Updated: 2004-12-27 20:26
The death toll in the massive tsunamis triggered by a magnitude 8.7 earthquake in South and Southeast Asia on Sunday has reached 22,477. Following are the figures reported from some countries:
Country Deaths
Sri Lanka 10,029
Indonesia 4,725
India 6,800
Thailand 839
Malaysia 42
Maldives 32
Myanmar 10
The numbers are based on local official and media reports as of 1100 GMT Monday and they are subject to continuos updating.
Travel warning
National Tourism Administration (NTA) said Monday travel agencies should be very cautious of arranging travel packages to Southeast Asia nations ravaged by devastating earthquake and tsunami Sunday.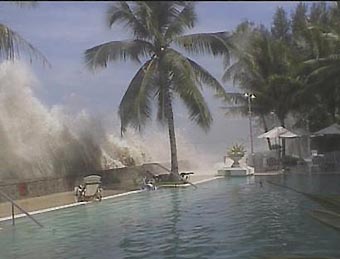 Video grab shows a tidal wave in Penang after tsunami waves hit southern Asia on Sunday in this amateur video footage taken December 26, 2004. [Reuters]


Currently, there are approximately 1,000 stranded Chinese tourists in Phuket island of Thailand and Maldives, an NTA official told Xinhua earlier Monday.

The national administration has relayed the acute, detailed information about tourists they had pooled from main such travel ports as Beijing, Shanghai and southern Guangdong Province to the Chinese Ministry of Foreign Affairs and relevant offices shortly after learning the quake rocked Southeast Asian nations, the official noted.

Tourism administrations at all levels will work closely with these travel agencies, the official said.

Moreover, the China International Travel Service (CITS) told Xinhua that the tourists in their travel packages to Southeast Asia are all secure.

Monday's Beijing Daily say six leading travel agencies in the national capital of Beijing reported their 300-strong tourists safe and sound in Southeast Asian countries.

Yang Weihong, manager of Southeast Asia travel of China Travel International (CTI) in Beijing, was quoted as saying that the agency is ready to cancel all the travel packages to Southeast Asia nations, which are scheduled to set off Wednesday, and to return all the fees collected to applicants for overseas trips.

Hot line set up

Chinese Foreign Ministry set up a hot line, 86-10-65963511, Monday to help the public learn information about their Chinese relatives and friends in South and Southeast Asian areas affected by earthquake and tsunamis.

One tourist from China's island province of Taiwan has been confirmed dead in tsunami-hit Thailand, according Foreign Ministry sources. No other casualty of Chinese citizen in the disaster-hit areas was reported.

The Foreign Ministry and Chinese embassies and consulates in the affected countries are taking immediate actions to extend assistance to Chinese citizens in those areas.




Today's Top News
Top China News

Defence document warns separatists




Tsunami kills 22,477, Taiwan tourist dies




Hu sends condolences; relief team ready




Anti-secession law called 'timely'




Antarctic team halfway to peak




Law to make officials 'take blame and quit'