Asia tsunami kills 15,500, rush to find bodies
(Agencies)
Updated: 2004-12-27 16:08
Soldiers searched for bodies in treetops, families wept over the dead laid on beaches and rescuers scoured coral isles for missing tourists as Asia counted the cost Monday of a tsunami that killed more than 15,500.
Idyllic palm-fringed beaches across southern Asia were transformed into scenes of death and devastation by the waves unleashed from the world's biggest earthquake in 40 years that struck off the Indonesian island of Sumatra early Sunday.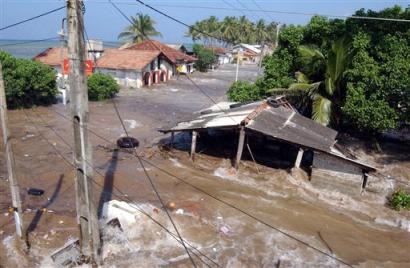 Tidal waves wash through houses at Maddampegama, about 60 kilometers (38 miles) south of Colombo, Sri Lanka, Sunday, Dec. 26, 2004. Massive waves triggered by earthquakes crashed into villages along a wide stretch of Sri Lankan coastline on Sunday, killing more than 2,100 people and displacing a million others. [AP]

International aid agencies rushed staff, equipment and money to the region, warning that bodies rotting in the water were already beginning to threaten the water supply for survivors.

"Death came from the sea," Satya Kumari, a construction worker living on the outskirts of the former French enclave of Pondicherry, India, told Reuters. "The waves just kept chasing us. It swept away all our huts. What did we do to deserve this?"

The wall of water up to 10 meters (30 ft) tall flattened houses, hurled fishing boats onto coastal roads, sent cars spinning through swirling waters into hotel lobbies and sucked sunbathers, babies and fishermen off beaches and out to sea.

Worst affected were Sri Lanka where 4,890 were killed, India where officials reported as many as 5,600 could be dead, northern Indonesia with 4,500 drowned and the southern tourist isles of Thailand where as many as 430 were feared to have lost their lives. Many of the dead were foreign tourists.

"This is a massive humanitarian disaster and the communications are so bad we still don't know the full scale of it. Unless we get aid quickly to the people many more could die," said Phil Esmond, head of Oxfam in Sri Lanka.

The Geneva-based International Federation of Red Cross and Red Crescent Societies said it was seeking 7.5 million Swiss francs ($6.5 million) for emergency aid funding.

The world's biggest earthquake in 40 years hit southern Asia on December 26, 2004, unleashing a tsunami that crashed into Sri Lanka and India, drowning thousands and swamping tourist isles in Thailand and the Maldives. [Reuters]

"We are not well equipped to deal with a disaster of this magnitude because we have never known a disaster like this," Sri Lankan President Chandrika Kumaratunga, who declared a national disaster and appealed for donor aid, said from holiday in the UK.

It was Sri Lanka's worst natural disaster in recorded history. Officials expected the death toll to rise as troops recovered bodies dragged out to sea or smashed on golden beaches.

ROWS OF DEAD CHILDREN

Soldiers in Indonesia searched for bodies in tree tops and in the wreckage of homes smashed by the tsunami, triggered by the 9.0 magnitude earthquake that struck off the coast of northern Sumatra island killing at least 4,491 people there.

"It smells so bad ... The human bodies are mixed in with dead animals like dogs, fish, cats and goats," said marine colonel Buyung Lelana, head of an evacuation team in Sumatra's Aceh province searching for more dead.

Volunteers laid bodies of children in rows under sarongs at makeshift morgues. Others were stacked in white fish crates. Wailing mothers clutched dead babies.

Smaller tremors followed Sunday's earthquake, the world's biggest since 1964 and the fourth-largest since 1900.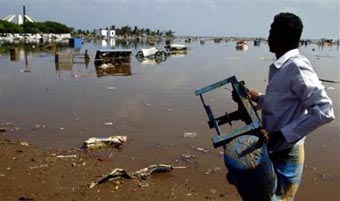 An unidentified man salvages his household items after they were washed away by tidal waves at the Marina Beach in Madras, in the southern Indian state of Tamil Nadu, Sunday, Dec. 26, 2004. [AP]

Hundreds of thousands left homeless in Sri Lanka and fearing another devastating wave sheltered in temples and schools. The southern coastal town of Galle, a major industrial hub famed for its historic fort, had been submerged by a 9-meter (30-ft) wave.

Weeping relatives scrambled over hundreds of bodies piled in a hospital in nearby Karapitiya, shirts or handkerchiefs clutched over their noses against the stench of decaying bodies.

"We are struggling to cope. Bodies are still coming in," said Karapitiya Teaching Hospital administrator Dr H.G. Jayaratne.

On India's southeast coast, thousands of villagers huddled in emergency shelters, too scared to sleep in case of another wave.

"I have been waiting for my husband and brother since yesterday," wept 38-year-old Narasamma as she stood on a beach near Mypadu, a fishing hamlet 600 km (375 miles) south of Hyderabad, capital of southern Andhra Pradesh state.

DEVASTATED REMOTE ISLES

Among the missing were 200 Hindu pilgrims who had gone for a holy dip on the beach. Hundreds scattered petals on the sea and sacrificed chickens to pray for the safe return of the missing.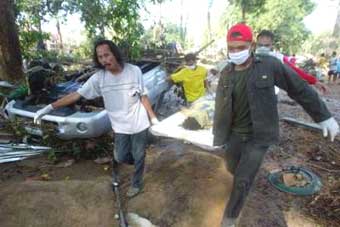 Thai rescue workers carry the dead body of a tourist in Phang Nga province, about 788 km (489 miles) south of Bangkok December 27, 2004. Soldiers searched for bodies in treetops, families wept over the dead laid on beaches and rescuers scoured coral isles for missing tourists as Asia counted the cost on Monday of a tidal wave triggered by an earthquake that killed tens of thousands. [Reuters]

"We are continuously recovering bodies. We are also seeing wrecked fishing trawlers and boats by the coast," Coast Guard Commandant Navin Chandra Pandey said in New Delhi.

One of the most devastated regions was India's remote Andaman and Nicobar islands, near the epicenter of the quake and where officials said the tsunami had killed 3,000 people.

The toll in the strategic islands, most of which is barred to visitors and home to several primitive tribes, included at least 68 air force personnel and families at a base, officials said.

The tourist islands and beaches of southern Thailand lay in the path of the wave that had killed 431.On the Patong tourist beach on the island of Phuket, hotels and restaurants were wrecked and speed boats were rammed into buildings.

Belgian tourist Christian Patouraux was on the island of Kho Phi Phi, famed as the site of the Leonardo di Caprio film "The Beach," and said he narrowly escaped the wave.

"I saw lots of dead bodies and many injured people, many with cuts and broken bones," he said.

The tsunami was so powerful it smashed boats and flooded areas along the east African coast, 6,000 km (3,728 miles) away.

In the Maldives, where thousands of foreign visitors were holidaying in the beach paradise, damage appeared to be limited.

With communications cut to remote areas, it was impossible to assess the full scale of the disaster, aid agencies said.

A tsunami, a Japanese word that translates as "harbor wave," is usually caused by a sudden rise or fall of part of the earth's crust under or near the ocean.

It comprises a series of waves that can travel across the ocean at speeds of over 800 kph (500 mph). As the tsunami enters the shallows of coastlines in its path, its velocity slows but its height increases and it can strike with devastating force.





Today's Top News
Top World News

Asia tsunami kills 15,500, rush to find bodies




Army to crush any Taiwan independence plot




Hu sends condolences; relief team ready




Anti-secession law called 'timely'




Antarctic team halfway to peak




Law to make officials 'take blame and quit'