Yushchenko wins Ukraine presidency
(Agencies)
Updated: 2004-12-27 14:53
Opposition leader Viktor Yushchenko won Ukraine's presidency after a historic and wrenching election in which he vowed to steer the strategic nation on a new course toward the West and away from Russia.
In his first comments after the close of polls, the beaming hero of the "orange revolution" that shook Ukraine to its core for weeks appeared in front of hordes of reporters and activists at his campaign headquarters in the early hours of Monday.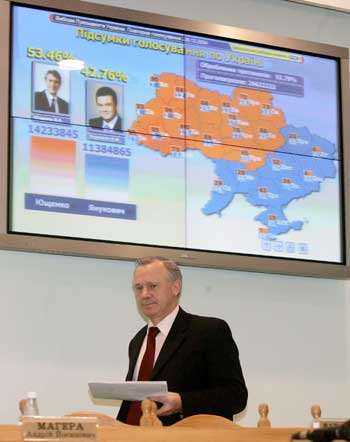 Ukraine's Central Election Commission head Yaroslav Davydovych passes by a screen showing preliminary election results as he leaves a news conference in Kiev, December 27, 2004. Western-leaning opposition leader Viktor Yushchenko took an unbeatable lead on Monday in Ukraine's re-run presidential election, claiming victory and hailing the beginning of a new era in the former Soviet republic. [Reuters]

"It has happened," he said to wild cheers and applause.

"For 14 years we have been independent, but now we are free. This is a victory for the Ukrainian people, for the Ukrainian nation," the 50-year-old opposition leader and former prime minister said as his audience broke into applause and chants of "Yu-shchenk-ko! Yu-shchen-ko!"

The central election commission said Yushchenko held nearly a 10-point lead over Yanukovich with more than 92 percent of polling precincts reporting.

Yushchenko had 53.53 percent of the vote, compared with the 42.69 percent for his pro-Russia rival, Prime Minister Viktor Yanukovich, a difference of nearly three million votes.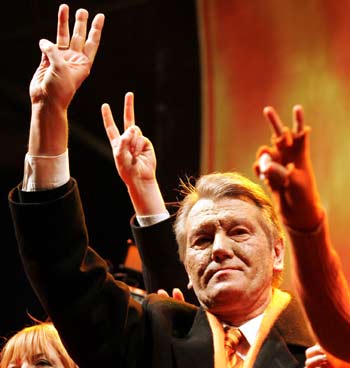 Ukrainian opposition leader Viktor Yushchenko greets supporters during a rally in Kiev's main Independence Square December 27, 2004. Viktor Yushchenko claimed victory on Monday in a re-run of Ukraine's rigged presidential election, hailing the beginning of a new era in the former Soviet republic. [Reuters]

Turnout was 77.22 percent.

Yushchenko's victory marked a political earthquake in a country where only last month national television had all but banished him from the air and Russian President Vladimir Putin publicly endorsed Yanukovich as the new president.

The 54-year-old Yanukovich was officially declared winner of a November 21 presidential ballot and was twice congratulated by Putin but, charging fraud, Yushchenko refused to concede and organized mass "orange revolution" protests in Kiev before the supreme court threw out the poll due to huge ballot fraud.

"Today we are turning the page on human disrespect, censorship, lies and violence," he said. "People who were dragging the country toward the abyss are today stepping into the past."

After speaking at his campaign headquarters, Yushchenko returned to Kiev's central Independence Square that has become the focal point of the "orange revolution," where he told tens of thousands of cheering supporters waving orange flags, that "an independent and free Ukraine now lies before us."

He repeated his call however for his supporters to remain in the square until he is officially confirmed as the winner of the election.

Earlier, Yanukovich held a press conference where he stopped short of conceding defeat but promised to fight in a new opposition should his rival assume the presidency.

"I expect to win, but if I am defeated then a strong opposition will be created, it will be in the parliament" and Yushchenko "will learn what an opposition really is," Yanukovich vowed.

Yushchenko, whose support is strongest in the agrarian, nationalist Ukrainian-speaking west of the country, has pledged to lead Ukraine toward eventual membership in the European Union and NATO.

Yanukovich, whose base is in the industrialized, Russian-speaking east, promised to preserve and fortify traditional ties with Russia and thus enjoyed backing from Moscow prior to the November 21 vote.

Apart from the east-west split within Ukraine itself, the battle to succeed President Leonid Kuchma after his decade in power has also inflamed tensions between a West seeking to accelerate democratic development here and Russia that has bridled at what it sees as encroachment into its strategic backyard.

The United States, which has rejected accusations from Yanukovich and Russia that it financed Yushchenko's campaign, warned Ukrainian authorities after the voting ended to make sure the count was honest.

"We hope for a free, fair vote that meets international standards and results in an outcome truly reflecting the will of Ukraine's people," a State Department spokesman said in Washington.

Throughout the evening after polls closed, Kiev's Independence Square, the center of dramatic protests following the now discredited November election, was again the scene of a raucous and jubilant pro-Yushchenko street party.

Some 12,500 observers from dozens of international and domestic institutions and a number of foreign governments were registered to monitor the voting, compared to the 5,000 who observed the previous runoff vote.

Apart from the national and international tensions it has generated, the Ukrainian election campaign was marked by a dioxin poisoning episode that took Yushchenko off the stump last September with a severe illness that has left his face sallow, puffy and pock-marked.

Yushchenko has insisted it was an attempt to murder him. He fell ill the day after having dinner with the chief of Ukraine's SBU intelligence service, Ihor Smeshko, who has denied that he or his agency had any role in the poisoning.




Today's Top News
Top World News

Asia tsunami kills 15,500, rush to find bodies




Army to crush any Taiwan independence plot




Hu sends condolences; relief team ready




Anti-secession law called 'timely'




Antarctic team halfway to peak




Law to make officials 'take blame and quit'