Iraq rejects U.S. talk of adjusting vote result
(Agencies)
Updated: 2004-12-27 09:19
Iraq's election body rejected a suggestion in Washington it adjust the results of next month's vote to benefit the Sunni minority if low turnout in Sunni areas means Shi'ites win an exaggerated majority in the new assembly.
Speaking of "unacceptable" interference, Electoral Commission spokesman Farid Ayar said: "Who wins, wins. That is the way it is. That is the way it will be in the election."
U.S. diplomats in Baghdad, at pains to keep their role in the election discreet, declined comment on a New York Times report from Washington which said Sunnis might be granted extra seats if the community's vote was judged to have been too low.
U.S. officials have expressed concern that if the ballot on Jan. 30 fails to reflect Iraq's sectarian and ethnic mix due to violence and boycotts in Sunni areas, then the assembly will lack legitimacy. But any attempt to fix the proportion of seats going to the main groups in advance could have the same effect.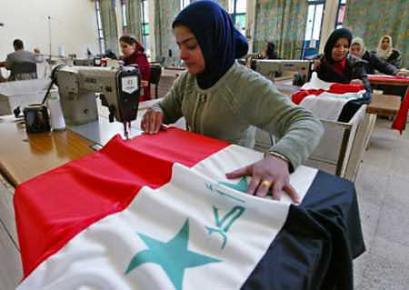 Workers make flags at an Iraqi government center for hearing and speaking impaired people in Baghdad December 21, 2004. The men and women at the center are sewing the flags as a contribution to the upcoming national elections on January 30, 2005. [Reuters]

"The Americans are expressing their views and those aren't always the same as the Commission's," Ayar told Reuters.

"But the Commission is absolutely independent. It is not acceptable for anyone to interfere in our business."

Some leaders among Sunni Arabs, a 20-percent minority who dominated the country under Saddam Hussein and before, have called for the election to be put off because violence in the north and west will make it hard for Sunnis to vote.

But Shi'ites, who account for 60 percent of the 26 million population, are keen to exercise their electoral weight.

The New York Times said Shi'ite leaders had been approached about the idea. Shi'ites would be reluctant to see the minority shut out of power if that means more violence, like the twin suicide car bombs that rocked their holy cities a week ago.

Next month's vote will elect 275 legislators who will appoint a president and government and oversee the drafting of a new constitution over the next year.

White House spokesman Trent Duffy insisted it was up to the Iraqis, not Washington, to decide the rules of the election.

"The United States supports the Iraqi election commission in defining those rules. But it's up to the Iraqi election commission to determine the rules," Duffy said.

POLICE CHIEF TARGETED

In scattered violence in the north and west, a police colonel was assassinated in Baghdad, the latest of many. Local witnesses said a civilian was killed in two hours of fighting near Samarra between U.S. forces and insurgents, and two civilians were killed in clashes in the desert town of Qaim.

Ansar al-Sunna, a militant group that said it carried out a suicide bomb attack on a U.S. mess hall in Mosul last week killing 22 people, released a video tape Sunday apparently showing the bombing and preparations for the attack.

Police in the Shi'ite holy city of Najaf said they were making progress in catching those responsible for the bombing last week that killed 52 people. Along with a bomb that killed 14 in nearby Kerbala, it was seen as an attempt to spark sectarian conflict in the run-up to the election.

Police chief Ghalib al-Jazairi said one man in detention had confessed to attending a guerrilla training camp in Syria. Iraq accuses Syrian intelligence of aiding former Saddam loyalists and Islamist groups in Iraq. Another man had been arrested who had filmed the scene before and after the bombing.

Police had also found a house where explosives, apparently for making car bombs, had been stored, Jazairi said.

Some violence is aimed directly at those publicly linked to the election. Three Electoral Commission officials were killed in Baghdad a week ago. Sunday, one of the 100-odd parties running next month said a senior member had been assassinated.

"We have lost today a hero killed by terrorists. Mohammed Abd Al-Hussein was a member of the DPIN's leadership and most of all a friend with a brave heart. He lived his life to protect the innocent and to fight for democracy and peace in Iraq," the Democratic Party of the Iraqi Nation said in a statement.

It said he received death threats after a demonstration at the Syrian embassy which accused Damascus of aiding insurgents.

SUSPECTS DETAINED

In Baghdad, the Defense Ministry said National Guard forces had killed 26 insurgents in southern Baghdad after the troops were ambushed. It was not clear when precisely the incident occurred. Another 11 guerrillas were killed in a battle around apartment blocks in Iskandariya, south of the capital.

In Kirkuk, the U.S. military said National Guards arrested 41 people suspected of belonging to Ansar al-Sunna, the Islamist group which claimed responsibility for the Mosul bombing, or a group led by al Qaeda ally Abu Musab al-Zarqawi.

"In response to an intelligence breakthrough, an Iraqi National Guard platoon took action against an Ansar al-Sunna cell and a Tawhid wal-Jihad cell operating in Kirkuk on Dec. 23," the statement said, giving no further details.




Today's Top News
Top World News

Asian tsunami kills 12,300, many more homeless




Hu sends condolences; relief team ready




Anti-secession law called 'timely'




Antarctic team halfway to peak




Law to make officials 'take blame and quit'




China launches new generation Internet