Ukraine's Yushchenko seen heading for win
(Agencies)
Updated: 2004-12-27 08:55
Opposition presidential candidate Viktor Yushchenko appeared headed for a comfortable victory Monday in a bitter campaign that required an unprecedented three ballots and Supreme Court intervention to pick a new Ukrainian leader.
With 40 percent of precincts reporting, election officials said Yushchenko led by just over 17 percentage points. Exit polls published shortly after polls closed Sunday projected him winning by at a 15-percent margin.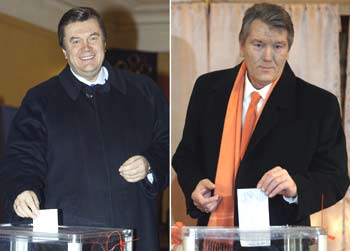 A combination of photos showing Prime Minister Viktor Yanukovych (L) and opposition presidential candidate Viktor Yushchenko (R)casting their ballots in Kiev on December 26, 2004.[Xinhua]

Thousands of elated opposition supporters flooded Kiev's Independence Square, the center of protests after the Nov. 21 election that was beset with fraud allegations and eventually annulled. Music blared from loudspeakers and fireworks lit up the sky.

"I will stay here through the night," said Anna Kravchuk, 60, standing in the square well after midnight when many others had gone home. "I really want to listen to Yushchenko's speech, the speech of our future president."

By contrast, streets were largely empty in Prime Minister Viktor Yanukovych's home base of Donetsk.

Three exit polls had projected Yushchenko winning with a margin ranging from 15 to 20 percentage points. With ballots counted from just more than 40 percent of precincts, he was leading with 56.70 percent to 39.55 percent for Yanukovych, election officials said.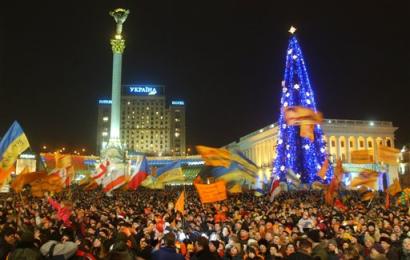 Supporters of opposition presidential candidate Viktor Yushchenko during a rally in Kiev's Independence square, Sunday, Dec. 26, 2004. Three exit polls projected Yushchenko winning a commanding victory Sunday over Prime Minister Viktor Yanukovych in the country's fiercely fought presidential election. [AP]

A dejected-appearing Yanukovych, who had the backing of the outgoing Ukrainian president and Russian leader Vladimir Putin, refused to concede defeat in a newsconference begun before the polls closed.

"I am ready to lead the state," he said, hinting he might file a court challenge. But with a nod to the exit polls, Yanukovych said: "If we fail, we will form a strong opposition." First official results were expected Monday morning.

The projected winner made no immediate public comment, but reporters jammed his headquarters in Kiev waiting for a statement. He had sounded confident as he cast his ballot Sunday morning.

"What we did during the last 30 days was a tribute to our ancestors," Yushchenko told reporters at Kiev's trade union building. "I know they are looking at us from heaven and they are applauding."

The election gripped the world's attention, not only for the bizarre dioxin poisoning of Yushchenko ! which severely disfugured his face and which he blamed on the political opposition ! but also for the flurry of recriminations that flew between Russia and the West after last month's court-annulled run-off. The Ukrainian Central Election Commission ruled Yanukovych had won the November ballot.

More than 12,000 international observers were posted at polling stations and counting locations to guard against the fraud that marred the November vote and spawned the so-called "Orange Revolution," named for Yushchenko's campaign color.

Tens of thousands of Yushchenko supporters filled the streets in central Kiev for weeks after that vote, blockading government buildings and eventually leading to Supreme Court intervention. The protests were a strong echo of the anti-communist revolutions that swept other East European countries in 1989-90.

In Moscow, the Kremlin had strongly supported Yanukovych and charged the West in general and the United States in particular with meddling in Ukrainian internal affairs for its clear preference for Yushchenko, a former Central Bank chief and prime minister.

The United States, the European Union and NATO all voiced concerns of Kremlin heavy-handedness in backing Yanukovych, the hand-picked successor of the increasingly authoritarian outgoing President Leonid Kuchma.

Yushchenko promised economic and political reforms while favoring closer ties to the Western democracies of the EU and NATO. Yanukovych was the candidate of the status quo, promising stability and even closer ties to Moscow, its former imperial and Soviet-era master. Yanukovych promised to further boost Ukraine's economy ! which enjoys the fastest growth rate in Europe ! and pledged an increase in wages and pensions.

Some eastern regions, fearing discrimination if Yushchenko were to win, had briefly threatened to seek autonomy.

The divisions in the country were drawn even more starkly by a geographic separation that saw the Russian-speaking, industrial east of the country solidly behind Yanukovych. Those in the cosmopolitan capital, Kiev, and the more agrarian and Ukrainian-speaking west backed Yushchenko

The state-funded Ukrainian Institute of Social Research and Social Monitoring Center showed Yushchenko winning with 58.1 percent of the vote and Prime Minister Viktor Yanukovych garnering 38.4 percent. The margin of error was 2 percentage points.

The Western-funded Razumkov Center of Political Studies and Kiev International Institute of Sociology showed Yushchenko winning with 56.5 percent and Yanukovych collecting 41.3 percent of the vote, with no margin of error given.

A third exit poll, by Frank Luntz, a pollster for the U.S. Republican Party, and Douglas Schoen, of the Washington-based market research company Penn, Schoen & Berland, showed Yushchenko winning with 56 to Yanukovych's 41 percent, Schoen said. The margin of error was 2 percentage points.

"Today Ukraine will have a new president ! Yushchenko. Everybody will feel the changes," Yulia Tymoshenko, a radical opposition leader and Yushchenko ally, told Ukraine's pro-opposition TV5.

Tymoshenko's calls for massive protest actions on behalf of Yushchenko earned her the nickname "Goddess of the Revolution." She appeared to revel in her role Sunday, wearing an orange-and-black shirt with the word "Revolution" running the length of the sleeves.

"We hope for a free, fair vote that meets international standards and results in an outcome truly reflecting the will of Ukraine's people," said U.S. State Department spokesman Noel Clay.

Kuchma said he hoped the results will stick this. "In my opinion, the one who loses should call and congratulate the winner ... and put an end to this prolonged election campaign."

Pollsters said they heard the same sentiment of fatigue from voters.

"I think the public is looking for this to be over," said Schoen. "The public is looking to move ahead," he said, adding that Ukrainians "are more excited about what the future might bring them."

The Central Election Commission said 75 percent of eligible voters cast ballots.

Despite the huge presence of foreign observers, both campaigns complained of some violations. Yanukovych's campaign alleged that Yushchenko campaign material was found near some voting booths. Yushchenko's headquarters, meanwhile, charged that the names of the dead were included on a voter list in Donetsk.

But some monitors said they'd seen far fewer violations this time round.

"This is another country," said Stefan Mironjuk, a German election monitor representing the Ukrainian Congress Committee of America, who observed the vote in the Sumy region in northern Ukraine. "The atmosphere of intimidation and fear during the first and second rounds was absent ... It was very, very calm."

Taras Korolyov, 28, brought his wife Lesya, 25, and three-year old daughter Olena to Kiev's Independence Square dressed in orange skisuits to celebrate a victory they described as "100 percent certain."

"We brought our daughter here to see the birth of freedom," Korolyov said as his daughter waved a tiny orange flag and chanted "Yu-shchen-ko, Yu-shchen-ko."

A World War II-vintage motorcycle draped in orange ribbons drove through the crowd, honking.

"This bike saw the liberation of Kiev (from Nazi Germany), and now is seeing another liberation of Ukraine," said Oleksandr, the biker, who gave only his first name.




Today's Top News
Top World News

Asian tsunami kills 12,300, many more homeless




President Hu sends condolences




Anti-secession law called 'timely'




Antarctic team halfway to peak




Law to make officials 'take blame and quit'




Synchrotron light source launched