Tidal waves kill more than 3,800 in Asia
(Agencies)
Updated: 2004-12-26 20:28
The world's most powerful earthquake in 40 years triggered massive tidal waves that slammed into villages and seaside resorts across Asia on Sunday, killing more than 3,800 people in six countries.

Tourists, fishermen, homes and cars were swept away by walls of water up to 20 feet high unleashed by the 8.9-magnitude earthquake, centered off the west coast of the Indonesian island of Sumatra.
A police spokesman in Sri Lanka said 1,677 people were killed in that country. Officials in India reported 1,100 dead. More than 400 were reported killed in Indonesia, 168 in Thailand and 28 in Malaysia. Hundreds were reported missing, and the death toll was expected to rise.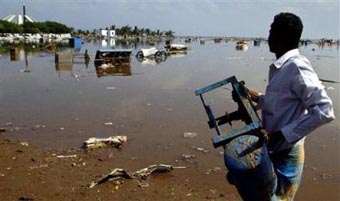 An unidentified man salvages his household items after they were washed away by tidal waves at the Marina Beach in Madras, in the southern Indian state of Tamil Nadu, Sunday, Dec. 26, 2004. [AP]
The U.S. Geological Survey measured the quake at a magnitude of 8.9. Geophysicist Julie Martinez said it was the world's fifth-largest since 1900 and the largest since a 9.2 temblor hit Prince William Sound Alaska in 1964.
"All the planet is vibrating" from the quake, said Enzo Boschi, the head of Italy's National Geophysics Institute. Speaking on SKY TG24 TV, Boschi said the quake even disturbed the Earth's rotation.
Devastating reverberations rippled across the Indian Ocean and Bay of Bengal, as towns were crushed by floodwaters and helpless fishermen were swept out to sea.
In Sri Lanka ¡ª some 1,000 miles west of the quake's epicenter ¡ª police spokesman Rienzie Perera said 1,677 had died. Some 1 million others were displaced.
"The death toll is going up all the time. Two hours back it was 1,000, one hour back it was 1,300 and now I am told it is climbing to 1,500," said Lalith Weerathunga, secretary to the prime minister.
An Associated Press photographer near Colombo, Sri Lanka, counted 24 bodies in a stretch of four miles. Rows of men and women stood on the road asking if anyone had seen their family members.
In India, beaches were turned into virtual open-air mortuaries, with bodies of people caught in the tidal wave being washed ashore. Some 800 deaths were reported in Tamil Nadu state, Home Minister Shivraj Patil said. In Andhra Pradesh state, 200 were reported; 102 were killed in Pondicherry.
"I was shocked to see innumerable fishing boats flying on the shoulder of the waves, going back and forth into the sea, as if made of paper," said P. Ramanamurthy, 40, who lives in Andra Pradesh's Kakinada town. "I had never imagined anything like this could happen."
Cabinet Secretary B. K. Chaturvedi told reporters that the Indian air force would drop food packets, medicines and diesel generating sets in the affected areas.
Near the quake's epicenter, in Indonesia, officials said the death toll was 408.
Communications were down in several coastal towns nearest to the undersea quake off the western coast of the island's Aceh Province, raising fears of widespread and as yet unreported damage.
"The ground was shaking for a long time," resident Yayan Zamzani told Jakarta's el-Shinta radio station. "It must be the strongest earthquake in the last 15 years."
Thousands of people abandoned their homes and headed for higher ground after the earthquake. At least one Indonesian village, Lancuk, was nearly destroyed, witnesses said. An Associated Press reporter in the village saw several bodies wedged in trees.
Some 168 people died in popular southern Thailand resorts, the Narenthorn Center of the Public Health Ministry reported. The center said people were swept away in Phuket by a tsunami with 16-foot waves. More than 1,900 were injured and many others were missing.
Waves reported to be up to 30 feet high crashed into beaches, where thousands of tourists were lazing on the country's renowned white sand beaches when the earthquake struck. Hundreds of bungalows, boats and cars were carried out to sea.
Police and rescue workers in Malaysia said 28 people were killed. More than 1,000 homes across numerous fishing villages were destroyed as waves roared into the coastline, leaving hundreds of families homeless, disaster officials said.
"This is a disaster that our country has never faced before in history," Deputy Prime Minister Najib Razak.
Indonesia, a country of 17,000 islands, is prone to seismic upheaval because of its location on the margins of tectonic plates that make up the so-called the "Ring of Fire" around the Pacific Ocean basin.
The Indonesian quake struck just three days after an 8.1 quake struck the ocean floor between Australia and Antarctica, causing buildings to shake hundreds of miles away but no serious damage or injury.
Quakes reaching a magnitude 8 are very rare. A quake registering magnitude 8 rocked Japan's northern island of Hokkaido on Sept. 25, 2003, injuring nearly 600 people. An 8.4 magnitude tremor that stuck off the coast of Peru on June 23, 2001, killed 74.
Today's Top News
Top World News

Tidal waves kill more than 3,800 in Asia




Stable price increases expected in 2005




Fiscal income growth to decline




Pakistan, China to set up free trade area




Revision of death penalty system urged




Millions celebrate Christmas across globe