Tidal waves kill more than 2,200 in Asia
(Agenceis)
Updated: 2004-12-26 18:16
The world's most powerful earthquake in 40 years triggered massive tidal waves across Asia on Sunday, killing more than 2,200 people in five countries.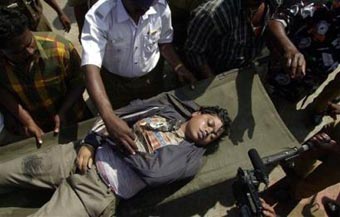 Volunteers take the body of girl who was killed by tidal waves at the Marina Beach in Madras, in the southern Indian state of Tamil Nadu, Sunday, Dec. 26, 2004. [AP]


Tourists, fishermen, homes and cars were swept away by walls of water unleashed by the 8.9-magnitude earthquake, centered off the west coast of the Indonesian island of Sumatra.

Government and hospital officials both in Sri Lanka and India said 1,000 people had been killed in each of those countries. More than 200 were reported killed in Indonesia, 61 in Thailand and 10 in Malaysia. Hundreds were reported missing, and the death toll was expected to rise.

The U.S. Geological Survey said the quake was a magnitude-8.9. Geophysicist Julie Martinez said it was the world's fifth-largest since 1900 and the largest since a 9.2 quake hit Prince William Sound Alaska in 1964.

The effects of the quake reverberated throughout the region, as waves as high as 20 feet crashed into coastal villages over a wide area.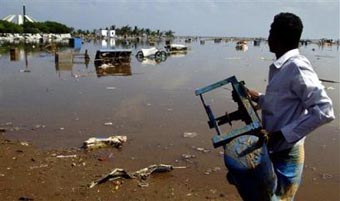 An unidentified man salvages his household items after they were washed away by tidal waves at the Marina Beach in Madras, in the southern Indian state of Tamil Nadu, Sunday, Dec. 26, 2004. [AP]


In Sri Lanka ¡ª some 1,000 miles west of the quake's epicenter ¡ª officials and hospital doctors said 1,000 people had died. They warned that the death toll was likely to rise. Military spokesman Brig. Daya Ratnayake confirmed up to 500 had died. He said a higher toll would not surprise him.

A wall of water slammed into southern India, killing about 1,000 people, mostly in Tamil Nadu state, Home Minister Shivraj Patil said.

Hospital and local officials said the death toll on Indonesia's Sumatra island was 201 people.

Communications were down in several coastal towns facing the epicenter of the undersea quake off the western coast of the island's Aceh Province, raising fears of widespread and as yet unreported damage on the island.

Martinez blamed the tidal waves on the quake.

"This is not unusual occurrence for an earthquake this size and where it's located," said geophysicist Julie Martinez.




Today's Top News
Top World News

Tidal waves kill more than 2,200 in Asia




Stable price increases expected in 2005




Fiscal income growth to decline




Pakistan, China to set up free trade area




Revision of death penalty system urged




Millions celebrate Christmas across globe