Beijing opens first fast bus line
(CRI)
Updated: 2004-12-26 09:49
China's capital city of Beijing has opened its first high-speed bus line Saturday.
A special bus lane, also reportedly the first one in China, has been designated for the exclusive use of a new type of bus with an advanced Global Positioning System installed.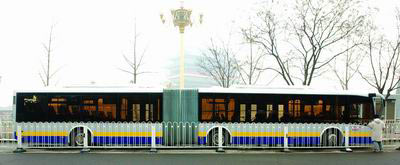 The new buses have about 40 seats and special seats with safety belts have been installed for babies, which is rarely seen in ordinary buses.
Starting from the city center Qianmen to Mu Xuyuan in the south, the bus route is about 5 kilometers long.
Ordinary buses take about 20 minutes or even more to cover that distance but the new fast bus can do the same distance in less than half the time with the usual ticket price of 2 yuan.
Commuters expresses their satisfaction with the travel on the bus.
"I feel great traveling on this bus. Sitting on the modern buses is really comfortable."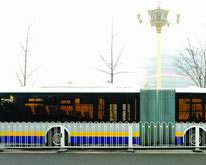 Today's Top News
Top China News

Experts call for revision of death penalty system




Millions celebrate Christmas across globe




Judge creates election twist in Ukraine




Chinese couple jailed in US$50m bank fraud




Over-40s egage in sex, but problems common




Southampton reject China captain Zheng