Yushchenko warns against election violence
(Agencies)
Updated: 2004-12-25 09:03
Opposition presidential candidate Viktor Yushchenko called on the government Friday to prevent any violence in this weekend's crucial presidential repeat vote, as the two campaigns rallied their supporters on the final day of campaigning.
In Moscow, President Vladimir Putin stated that Russia has not meddled in the affairs of ex-Soviet republics ¡ª in a reference to Ukraine ¡ª but accused other nations of having done so.
"We haven't engaged in any behind-the-scenes policy-making on the post-Soviet space, and that, to some extent, limits instruments we can use to defend our interests ... unlike our partners which have used them actively," Putin told the State Council, made up of Cabinet members and provincial governors.
Putin's blatant support of Yushchenko's rival, Ukrainian Prime Minister Viktor Yanukovych, strained the Russian leaders' relations with the West. Putin has since said he is ready to work with Yuschenko if he wins.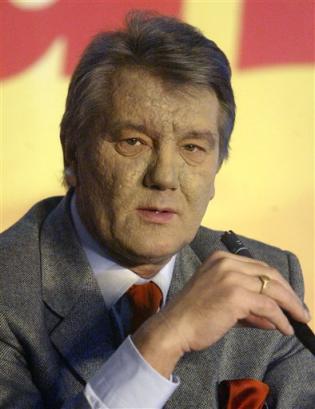 Ukrainian opposition presidential candidate Viktor Yushchenko speaks to the media during a press conference in Kiev, Ukraine, Friday, Dec. 24, 2004. Yushchenko said Friday that his top priority if he wins this weekend's rerun election will be to heal divisions within society. [AP]

In Kiev, rumors are swirling that Cossacks and miners from mainly Russian-speaking eastern Ukraine are readying to disrupt Sunday's vote or head to Kiev in case of a Yushchenko victory.

Campaign officials for Yanukovych, who draws most of his support from eastern Ukraine, have repeatedly denied the allegations. Law enforcement officials have said they would maintain law and order during the rerun.

Yanukovych claimed victory in the Nov. 21 runoff but suspicions of vote-rigging brought tens of thousands of Yushchenko supporters into the streets of Kiev for days of protests. The Supreme Court annulled the results, citing fraud, and ordered a revote.

At a news conference in Kiev, Yushchenko acknowledged being worried about rumors that the runoff might be disrupted, calling it a "working possibility." He warned the outgoing government it would be making a grave error if it allowed any violence.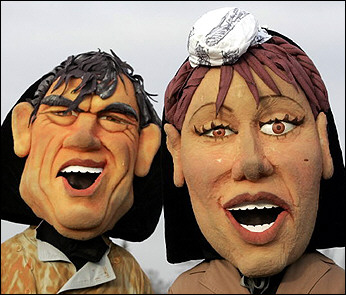 Dolls characterizing opposition presidential candidate Viktor Yushchenko and his political partner Yuliya Tymoshenko (R) are pictured in the center of Donetsk. [AFP]

"I think it will be a colossal mistake on the part of the current regime if even one drop of blood is shed in the coming days," Yushchenko said.

Ukrainian law requires all campaigning to end at midnight Friday so both sides rushed to spread their message.

About 10,000 Yanukovych supporters rallied in Kiev's Victory Square, chanting "Ya-nu-ko-vych! Ya-nu-ko-vych!"

"Together, we will be victorious," Yanukovych told the cheering crowd.

Anatoliy Zaverenya, 43, said he came to Kiev from the eastern city of Luhansk not so much to support Yanukovych as to defend Ukraine. "If Yushchenko wins, Ukraine will be sold to the west, to the U.S., to Americans," he said.

Olha Karatochko, 67, of Kiev, called Yanukovych "a guarantee of stability and peace in Ukraine"

Meanwhile, a pro-Yushchenko convoy headed to Kiev after traveling through eastern Ukraine. About 100 activists from the pro-Yushchenko youth group Pora waved yellow flags with a ticking clock as they waited on European Square for the convoy's arrival.

About 40 cars joined the journey to spread support for Yushchenko, but repeatedly faced roadblocks erected by Yanukovych's backers. Their numbers were expected to swell after entering Kiev, which overwhelmingly backed Yushchenko.

State Security Service chief Ihor Smeshko said law enforcement agencies would maintain law and order Sunday. "State security will do everything to prevent attempts by certain groups to violate law, order and people's constitutional rights," he said.

The bitter election campaign has underscored stark differences between Ukraine's pro-Yanukovych Russian-speaking east and the western and central regions from which Yushchenko draws his support. Some eastern regions have said they might pursue autonomy if Western-backed Yushchenko wins.

Yushchenko said Friday that if he wins, healing the country will be a top priority.

"The division between ... east and west is something very artificial," he said, accusing authorities loyal to outgoing President Leonid Kuchma of failing to promote dialogue between the mainly rural western regions and the heavily industrialized east.




Today's Top News
Top World News

A time for giving, a time for sharing




Nation joins groups against money laundering




Explosion rips Baghdad as Rumsfeld leaves




Premier calls for greater UN role in Iraq




Home-made films play a bigger role




President visits scientists